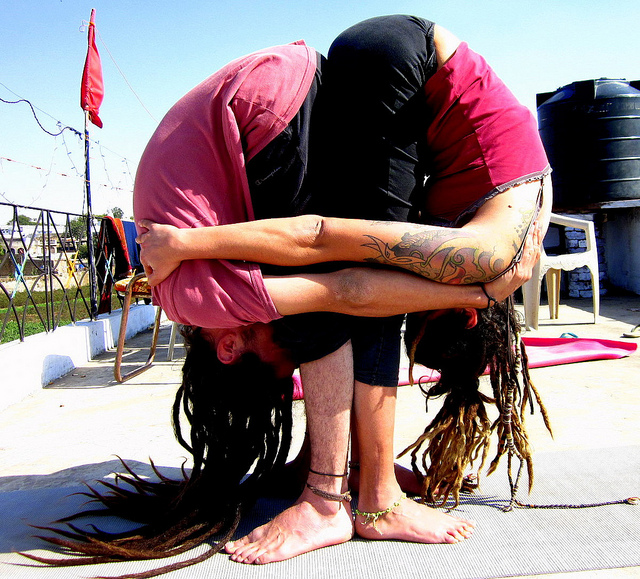 When I tell a guy I am just starting to date that I teach yoga, his face lights up for a moment.
Maybe it is out of awe and respect for the craft of yoga.
Maybe he is thinking that he always wanted to try yoga and now I can teach him.
However, most of the time I am pretty sure the glow emanating from his face is due to kama sutra poses dancing in his head like visions of proverbial sugar plums.
And yes, bring it, most yogis can go there. But bypass the flexibility and you will find lasting reasons to date a yogi.
Yoga cultivates awareness, an ability to focus, known as dharana, that no other discipline asks for—the being here and now both in your body and in the moment that lends itself readily to partnership.
When this awareness and ability to attune is given to a partner it is both utterly refreshing and slightly disconcerting. When a yogi is with you, she is truly with you—her to-do list is elsewhere. She may lose herself in the curve of your ear or the hair at the nape of your neck but you may be certain she is with you.
Her mind wraps itself in whatever topic you choose to speak about and, through the discipline that yoga instills, ceases chatter from other sources.
She loves herself and shows compassion toward herself and others, a yogic principle known as ahimsa. She cares for her body. As her practice deepens, so may her heart, where nonviolence and truth dwell.
She believes in speaking the truth, her truth, but with kindness. Satya infuses her being.
When she gives you her body she is giving you a nuanced art she has created and broken down and studied and built again. Through meditation she cultivates the ability to observe without judgment—both herself and others. There is a fascination with the movement in every toe, the twitch in every muscle, and the expansion with each and every breath.
So, too, if she finds you worthy, may she have a similar fascination with you.
She knows pain is fleeting and to breathe through it. For pain will bubble and morph and fade but never hold her captive. She knows love endures, if you choose it daily. But that love, like everything, is a choice. And that with each breath love changes.
But perhaps the best reason to date a yogi?
In every breath she finds something new to cherish.
She does not grow bored or look to you to fix her.
She relishes the novelty in each moment.
For her, her endless love affair with life is enough.
Love elephant and want to go steady?
Author: Lisa Manca
Editor: Emily Bartran
Photo: Christine Boose/Flickr