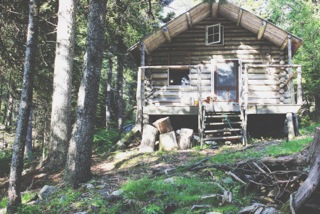 I want your musty walls, dim light settling between cracks.
Your hard-earned rest.
The creak of your cold boards on icy nights under warm wool socks.
I want to be taught to value life through each pure meal at your table, nicked by the chiseled hands that build it.
To teach my children to value more than material desire.
I want my pen to dance on the pages my own may someday read under your roof.
Your tin-can coffee over open fire.
Give me a rugged lover wielding an axe with grace and passion.
Afternoons spent stacking wood to heat your core, sweat trickling down the curve of my back and the creases of chest.
I want my chores and worries accomplished with hard work, my life cradled by you in this wondrous natural world.
I will build a life with you, if only for a while.
Give me candlelit dinners, with wax that drips silently onto the table then floor.
I want to sleep nestled in so many blankets I am lost in them and rise with the sun's first light.
To dance in your simple kitchen, honey-whisky bottle in my hand, sway my hips to the rhythm of life with you.
I'll find my god in the wild around you.
Open your door to the creases of mountains grand enough to make weather all their own.
Sip your cold fresh water, the smells of our kitchen to fill your entirety.
I will bathe on hot days outside your walls in the creek that swiftly runs by.
To have the sea at my weathered fingertips.
To huddle at your ashen hearth as snow silently settles like a coat, to feel the pure bliss of new life when your ground is covered by wildflowers.
Let me stare out the window in silence with my hands in warm soapy dishwater.
I want to hear my tea kettle screech each dawn and dusk.
To hear the rustle of my laundry drying in the wind.
And pop and crackle of spruce in the fire bringing warmth.
I want to let crisp air fill you in spring to heat it for clear-minded sleep at night.
Give me your one room simple life.
Each modern luxury you allow to be an understood gift.
Each trip to town to remind me why I love your cabin fever.
My fear to come only from nature's constant balancing act.
I want to die with a soul cleansed by life with you.
I want you to be my greatest footprint remaining when my days are numbered.
Your fever the only I've ever truly wanted.
Oh, give me cabin fever.
Love elephant and want to go steady?
Author: Erin Connery
Editor: Renée Picard
Photo: courtesy of the author