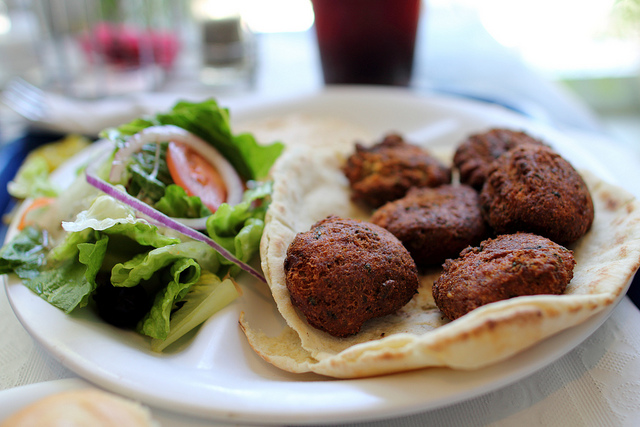 My love for Mediterranean food is in its "can't get enough of you, wanna be with you 24/7" stage, and I am reveling in the glow of falling head over heels.
I still can't get over the fact that before this year, I had never even tried Falafel, never plunged a forkful of Tourlou Tourlou into my drool-soaked mouth, never delved spoon first into a jar of tahini.
Sure, I'd been a hummus lover for years and have had my share of pita bread, but before I found a local Mediterranean restaurant (and subsequently ate there three times that first week alone…) I never truly experienced the simple, mouthwatering (and not to mention, very vegan-friendly for all you vegans like me out there who struggle hard at most restaurants) concoctions that make up Mediterranean staple foods.
Since I just spent $90 on a blender and Christmas is coming, instead of taking that familiar walk to my favorite restaurant fueled by my anticipation, I decided to make my own falafel to get my Mediterranean fix, while saving a few bucks in the process.
Vegan Falafel Patties with Garlic Tahini Sauce
For the Falafel:
1 can organic chickpeas, drained and rinsed
1.5 tbsp. olive oil
1 small handful cilantro
1 clove garlic
1 small onion, cut into chunks
1 tsp. cumin
1 tsp. red pepper flakes
salt & pepper to taste
1/4 cup unbleached white flour
In a food processor or blender, add chickpeas, onion, garlic, cilantro and olive oil. Pulse/blend until mixture is smooth, but remains just a bit chunky. Add cumin, pepper flakes, salt & pepper, adjusting seasonings as you see fit.
Form mixture into roughly 6 patties, and lightly coat each patty in flour. In a saucepan over medium heat, add a bit of olive oil or nonstick spray, and cook the patties for about 3 minutes on each side, so they're crispy on the outside, and warm on the inside.
For the Tahini Garlic Sauce:
2 tbsp. tahini
1 tbsp. soy sauce
1 tbsp. white vinegar
1 tbsp. water
1 clove garlic, minced
salt & pepper to taste
In a small bowl, whisk together tahini, soy sauce, vinegar and water. Once mixture is smooth, add garlic and spices, adjusting as needed.
Serve your falafel patties in a pita pocket or by themselves and top with some of this savory, tangy sauce and you've got yourself a pretty damn good take (maybe even better…) on a restaurant style falafel.
And the best part? It's healthy, cheap and satisfying—just like homemade meals should be.
Love elephant and want to go steady?
Author: Taylor Garritt
Editor: Emily Bartran
Photo: Mr. TinDC/Flickr