When elephant journal publisher Waylon Lewis was a little Dharma kid, looking a bit like that redhead kid in The Andy Griffith Show, he attended a public/private boarding school in Vermont (on scholarship).
As in most schools, cliques emerged, jocks here, nerds over there, rebels going to and fro.
Waylon remembers that one student, however, transcended all the cliques, and was cool enough to fit in everywhere: Bob Africa. While most of the boys sought to get around the dress code, Bobby dressed in wingtips and looked sharp, every day. He was cool but independent.
Now, 30 years later, Africa is still cool, still hip and still athletic. After leaving New England, he, like Lewis, ended up in Boulder, Colorado.
When I first met Africa several years ago, he seemingly had it all: he was fit, successful, had a beautiful daughter and beautiful wife, who was herself a top ultra runner, and he was president of a hip company headquartered on the Pearl Street Mall.
Africa had a custom home, a bunch of bicycles, a dozen pairs of running shoes, two fancy European cars. All the accoutrements that go along with being a successful 30-something blessed with intelligence, a good education and a New England work ethic.
Africa seemingly had it all. Or did he?
As he neared 40, Africa had what he calls a "midlife awakening" that contains some life lessons that might be good for all of us to reflect upon this holiday season, in the midst of messages of materialism.
I first approached Africa to write about him and fellow Boulder ultra runner Dave Mackey, about the two longtime friends' 1-2 winning finish in the 2014 Lifetime Leadman series.
The grueling series comprises five events—three running, two mountain biking—spread over seven summer weeks in Leadville. Africa finished ahead of Mackey in the Leadville trail marathon and both of the cycling races, while Mackey turned the table in the 10K to set up their duel before the final event, the venerable Leadville 100-mile trail run.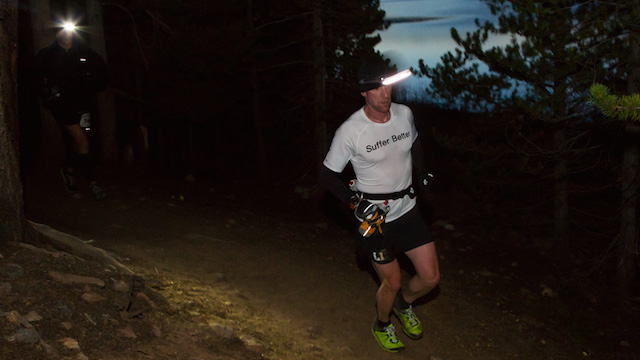 But what I found most interesting about Africa, 42, was how he came to define success as something other than running fast and far.
"I would not say it was a midlife crisis, but a midlife awakening," Africa said just before Christmas, taking a break from his duties as president of the iconic pop-culture firm Kidrobot. "I woke up to what is important in life. I realized it wasn't about all the stuff or the possessions but rather about being a great father, friend and colleague."
A focus on accumulating possessions, he found out, is in the end "a hollow vapor."
That was just one of the changes in Africa's life. He and his wife now live apart, raising their daughter together and remaining good friends. He then had knee surgery, which forced Africa to cut down on his five-hour trail runs and to change his training to "dramatically less mileage, radically higher intensity," helped by the CrossFit Roots endurance program. Africa also switched around his race-day nutrition after working closely with Skratch Labs founder Allen Lim.
"At that time, I had to change up what I was doing," he said. "I do not hold the bat too tightly now," referring to living a more balanced life while maintaining his focus and intensity in some areas.
One of those areas is racing. Entering the Leadville 100-miler—yes, that is 100 miles over tough Colorado trails at high altitude—the final event in the Leadman series, Africa had built a 2 ½-hour lead over Mackey, an ultra star and a former U.S. 50K, 50-mile and 100K champ. Seemingly a big enough cushion.
Mackey, however, made a run at Africa in the 100-miler by changing his racing strategy—but not by choice.
"I started the 100-miler just fine but developed bad muscle spasms, which made me literally walk 30 miles of the first half," Mackey recalled. "Around mile 40 at Twin Lakes, I almost threw in the towel, I was hurting so badly."
Recalls Africa: "I always joke that the only time I beat Dave before this was once when he got lost. He is a living legend in the ultra scene, one of the winningest runners out there, but he brings it in an extremely humble manner. He is a great ambassador for the sport."
Mackey's innate toughness, which helped him set numerous course records on his way to becoming a two-time USATF Ultrarunner of the Year, surfaced. He rebounded strongly, passed Africa at 70 miles and gained over an hour over the final 30 miles. Both finished well, Africa just out of the top 10 to win the overall Leadman title; Mackey, the first person I've heard of to run "negative splits"—the second half of the race faster than the first—at Leadville, finished fifth overall to clinch the second Leadman spot.
"Running negative splits wasn't in the plan as it is so hard to not get too far off the lead, and I like to stay close to the front runners," Mackey said.
Another lesson learned, another race run. While both Mackey and Africa wanted to beat the other while racing, afterward they shared beer and talked about their young daughters, who are similar ages. Friendship and family, health and happiness are what matter, both say.
"Sometimes I feel most alive when I am most on the edge," said Africa. "'Wow, I'm suffering; why am I doing this?' I think. Then the next day, it's 'What's next?' When I pin a number on, I want to challenge myself; I like to push myself.
"But competing is not everything to me. It is not the whole picture; it is only a piece of who I am and does not define me. It is about the relations, it's about community, and it's about giving back."
Love elephant and want to go steady?
Author: Michael Sandrock
Editor: Emily Bartran
Photos: Glen Delman