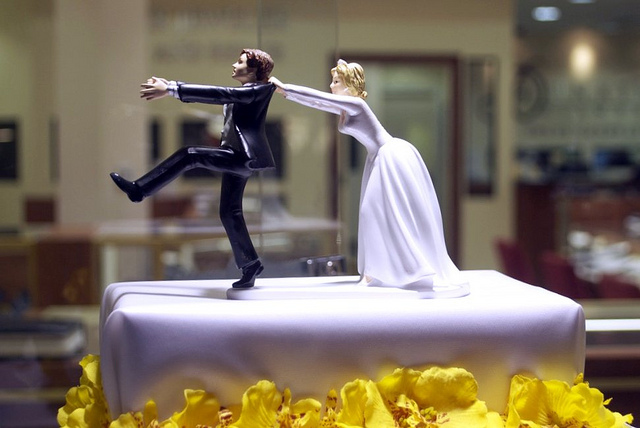 *Editor's Note: Elephant Journal articles represent the personal opinion, view or experience of the authors, and can not reflect Elephant Journal as a whole. Disagree with an Op-Ed or opinion? We're happy to share your experience here. 
~
Dear Elephants,
Welcome to this week's Ask Me Anything, where no question is out of bounds! To submit questions for next week, please email me at [email protected] or private message me on Facebook.
I look forward to hearing from you!
Dear Erica,
I am in my mid 30s, set to get married in a few months to my best friend, and I really need some advice about it.
I should state as well that, while I'd be happy to elope and just show up with our wedding rings later, my fiancé wants a wedding. He has always known where I stand about that.
I have an etiquette question I can't seem to figure out regarding the invitations. Even though I'm a pretty non-conventional person, it seems that the moment I got engaged, I turned into someone who was afraid about slighting anyone over getting invited to our wedding.
Our guest list now comprises about 100 people, which would be difficult for us to afford under the best of circumstances. A lot of the invitations are to my (blood) family, who live across the country and who I barely see, and who I doubt can actually afford to come.
My question in regard to that: if you're "having a wedding," should you invite all your family (thinking that there will be a lot of "regrets" coming in), or should you just invite representatives (like say, just my aunt and uncle) with a quick note of explanation? Is that even the thing to do?
I don't know if I even explained that well.
My second question is about cold feet. My partner and I have been together for five and half years. We've seen each other through good and bad, have honest communication, and even though we disagree from time to time (who in a long-term relationship doesn't?) we've always stayed respectful of each other and each other's best friends. I have said for years that if it didn't work with this guy, I'd give up.
So now we're engaged and you'd think I'd be over the moon. Maybe it's just that I'm in my mid-30s and have been "on my own" for so long, but I'm freaked out. I keep thinking things like, "What's the point in getting married if we're not going to have kids?" and "You hate being tied down, what are you doing?" and "Life could be a long time! You're way more nomadic than he is, what if you're stuck in the same city forever?"
All of these things we have talked about. We are going to even have a summit in the new year to discuss everything again (money, kids, moving, etc.). He's a great guy that I'm sure all my "wild sisters" would love and approve of, and I'm pretty sure this is just nerves, but…how do you know you're making the right decision?
Thank you for everything,
Cold Feet
Dear Cold Feet,
All this stress and worry about everything from the invitations to the implications of marriage are not just cold feet.
That quiet voice inside you is trying to tell you something. So what is it?
First, let's address the lesser but more practical issue. In terms of invitations—do not feel pressured to invite anyone and everyone out of guilt. I can pretty much guarantee you're going to piss off someone no matter what you do.
Also, never issue an invitation you are not willing to honor. Hoping for no-shows is disingenuous. You must be steadfast and thick skinned when executing a wedding that you and your fiancé want and can afford. Planning such a wedding together is a great first step toward a successful marriage.
But speaking of marriage—no matter how great your guy is and how much your "wild sisters" would approve, that doesn't mean tying the knot is the next inevitable step. The questions you raise are valid; what is the point of getting married? Until you can answer that well and honestly for yourself, you're not ready.
Though this will cause hurt and confusion all the way around, you need to step back and catch your breath. You must be true to yourself before you can be true to anyone else.
Once you know what you really want, all the questions of etiquette, wedding size and so on will seem much less problematic.
Dear Erica,
I wanted to write to you about my relationship problems, but now I realize it is my problem—jealousy.
It has happened in every relationship I've been in, and it holds devastating consequences.
I've been with my guy for just about three years, and jealousy creeps up all the time. I've learned to keep it to myself, but it always boils over at some point (with the aid of a few drinks), and for him, it's not nice.
I should trust my boyfriend, he's great. But now Christmas approaches and I'm about to meet his friends—he has a a big, tight group of friends—some girls (the skinny/beautiful kind)—and I'm ridiculously scared. I'm scared I'm going to act out and get upset from my jealousy.
I think the feelings come from way back when I was bullied at school by a large group of girls. I was purposely left out and not accepted. So now when I first meet new people I'm shy, and I feel wary of girls especially.
So my question is, how can I get over my jealousy and potentially have a good time over Christmas?
Jealous
Dear Jealous,
You've made a great start by recognizing the problem begins within you, understanding where it may have originated and the fact that it affects others in your life negatively.
From this, I deduce that you are an intelligent, sensitive and compassionate person—good news!
You don't mention if you've ever talked about this with your boyfriend and what his take on it might be. Just because you're the one who feels jealous doesn't mean you have to suffer in silence or alone.
Consider giving him the opportunity to understand and support you. Simply verbalizing your fears calmly might work wonders in dissipating them. You say, "James, I need to confess I get very jealous a lot of the time. This isn't because of anything you've done, it's really old stuff. Can you bear that in mind when I'm introduced to your friends for the first time? If I'm acting goofy, I might need a little hand squeeze from you."
If he reacts rudely to this request, I'd consider that a red flag. If he "gets it," or at least tries to be supportive, you've not only strengthened your relationship, you've probably found yourself a keeper.
Love elephant and want to go steady?
Author: Erica Leibrandt
Editor: Emily Bartran
Photo: Bob B. Brown/Flickr