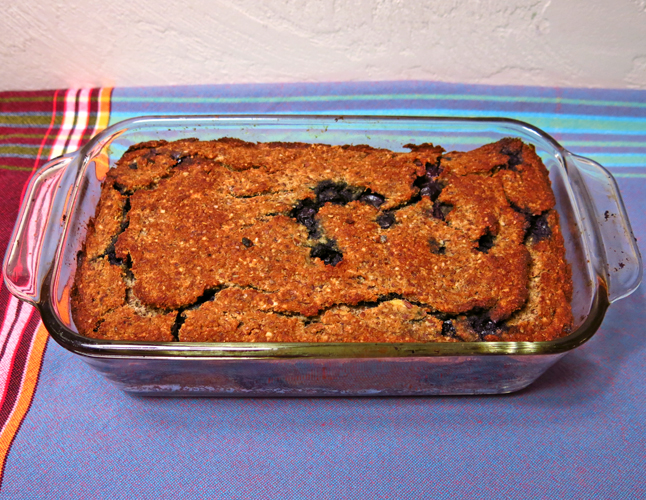 This bread makes a delicious breakfast bite that everyone can eat!
One of my favorite baked goods prior to becoming dairy and gluten free was banana bread. Sometimes it can be difficult to find delicious gluten free or vegan recipes that aren't loaded with processed sugar or have a cardboard-like texture. My banana bread is so tasty, you will have a hard time not eating it all within a few days!
Gluten Free Vegan Banana Bread:
2½ cups almond flour
½ cup coconut flour
1½ tsp baking soda
¼ tsp Himalayan pink salt
2 Tbsp of ground flaxseed
6 Tbsp of warm water
2 Tbsp melted coconut oil + more for greasing
4 very ripe bananas mashed (about 2 cups)
1 cup frozen blueberries
Preheat the oven to 350°F. Lightly grease a 10" bread pan with coconut oil.
In a medium bowl add the ground flaxseed and warm water. Stir and let this sit for about 10 minutes. In a large bowl mix the almond flour, coconut flour, baking soda and salt. Then add the melted coconut oil and mashed bananas to the flaxseed mixture. Stir well.
Add the wet ingredients to the large bowl of dry ingredients and stir until well combined. Carefully add the frozen blueberries to the mixture and stir gently.
Spoon the batter into the bread pan and smooth the top with a spatula. Bake for 60 to 65 minutes or until the bread is golden brown and cooked thoroughly in the center.
Remove the banana bread from the oven and let it sit 60 minutes prior to serving. Enjoy your healthy, delectable treat!
Love elephant and want to go steady?
Author: Marley Jennings
Editor: Renée Picard
Photo: courtesy of the author