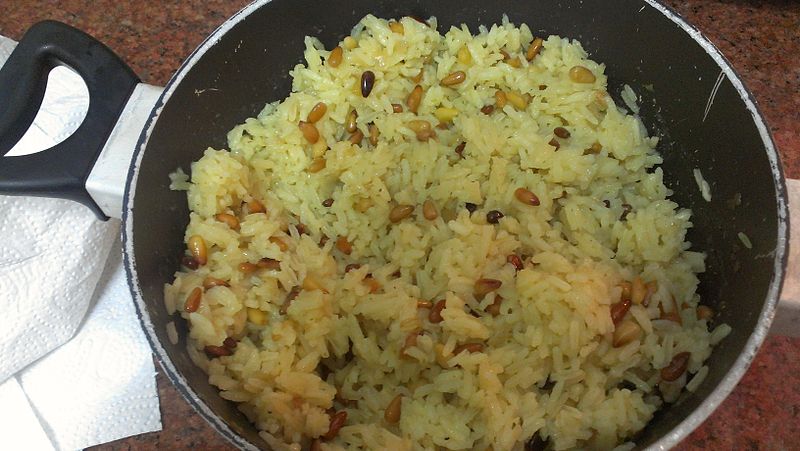 I eat a lot of rice these days. It's pretty economical, it's gluten free, it agrees with me.
But rice can get boring fast if you cook it the same way each time.
This is a Persian style of cooking rice; it's fragrant with spices and studded with pine nuts and currents. That's why I'm calling it jeweled rice, because the currents and pine nuts look like little gems in the pot while it cooks.
Here's what you'll need to make about 4-6 portions:
2 cups of basmati rice
1/2 onion
3 cloves garlic
1/4 cup pine nuts
1/4 cup dried currents
1 tsp thyme
1 tsp cinnamon
1 tsp black pepper
1 pinch saffron (or 1 tsp turmeric)
2 tbsp olive oil
Salt to taste
To make, start by mincing up the garlic and dicing the onion as finely as you can. Add these to the bottom of the pot where you'll cook your rice and fry in the olive oil. Once they're soft, add the rice and the pine nuts. Stir them around in the oil and toast them lightly for about 3-4 minutes.
Then, add 4 cups of water to cook the rice. Bring to a boil and salt the water. As it's boiling add the rest of the spices, the thyme, cinnamon, saffron or turmeric and the pepper. Also add in the currents at this point. Once the water is all absorbed, simply fluff it with a fork and it's ready to eat!
Serve it with a salad and maybe some falafel or other protein. Enjoy!
Love elephant and want to go steady?
Author: Kathryn Muyskens
Editor: Emily Bartran

Photo: Wikimedia Commons