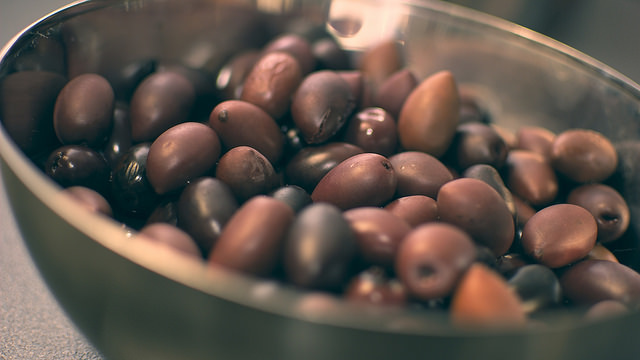 Many self-proclaimed health nuts parrot the mantra about the importance of eating "whole foods".
However, when it comes to the olive, most ignore this.
While olive oil is overwhelmingly popular, the olive is largely regulated to, at best, a "party food" or worse, part of a cocktail.
Well, we've been missing out!
Olives are truly an awesome food that are more than worthy of the title "super food".
In her forth-coming book, Passionate Nutrition, nutritionist Jennifer Adler writes that "eaten whole, olives have better anti-inflammatory and antioxidant benefits than olive oil."
Another reason to eat whole olives is that they just plain taste good.
I didn't always think so. Growing up, my only exposure to olives were the limp, overly salty ones that my grandmother bought at the supermarket and that most people associate with martinis. I had no idea until I was an adult and starting shopping at natural food stores just how many types of olives there were and just how delicious they could be.
And in addition to their taste, there is just something sexy and exotic about eating olives. Not only are many types of olives grown in places like the Mediterranean and Middle East, but olives are even mentioned in the Bible. Talk about truly old-school food.
Therefore, if you happen to be a current olive-lover, have never tried them, or, like my former self, only ever tried the less-than-great kind that most associate with cocktails, I urge you try out the recipe below for a quick and easy olive tapenade.
While this is perfect to make any time of the year, it's especially nice to try during the holiday season and makes a great addition to any holiday party or potluck. Your friends will think you slaved away for hours on it when it only takes mere mins to prepare it. (If they think the former, don't worry: we won't tell them otherwise.)
Olive Tapendae
(Serves approximately 5)
1 1/2 cups of pitted kalamata olives
2 cloves crushed garlic
1/3 cup of roasted red bell peppers (red peppers packed in oil may be substituted.)
1/2 cup of extra-virgin olive oil
1/2 teaspoon of sea salt
1/2 teaspoon of fresh ground pepper
dash of red chili flakes (optional)
Add all ingredients to a food processor and pulse until chopped. (Leave some texture if desired. I like mine a little chunky but those who prefer a smoother texture can chopped until smooth.)
Place in a serving bowl and serve with crackers and/or an array of toasted breads.
If desired, the tapenade can be chilled for several hours before serving.
Love elephant and want to go steady?
Author: Kimberly Lo
Editor: Emma Ruffin
Photo: Flickr