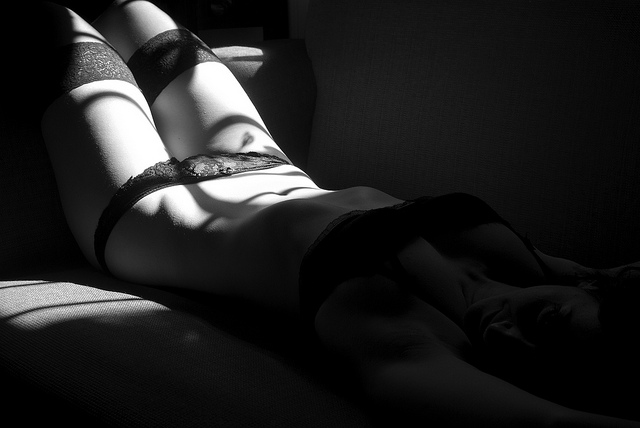 *Warning: Adult content and language ahead! 
Dear Elephants,
Welcome to this week's "Let's Talk about Sex" advice column!
It's time to break the Taboo around sex! Sex is one of the most natural things we humans do, but everyone is afraid to talk about it! Every week I will take your questions about sex, love and intimacy. Ask me your burning questions. Don't be shy—your questions will be anonymous.
To ask questions for next week, please email me at [email protected].
Share your comments on the comment board—I love it when you talk back to me!
~ Psalm
Dear Psalm,
I wanted to talk to you about the underlying worries I keep having about sex and about falling behind as an 18-year old.
I have only had two sexual experiences.
My first experience couldn't have gone any worse… I was 16 and a few months and it was with a guy I really liked but still felt very self-conscious in front of. Half way through, three of his guy friends walked in and all found it absolutely hilarious and so stayed for a minute. And I, unsurprisingly, felt very uncomfortable and so stopped to put some clothes on. So my fling with this guy ended here.
And then my second experience only occurred two months ago, with a friend of mine who had just broken up with his girlfriend of two years. This went much better and I felt much more at ease. But it still hurt, I wasn't sure if this was normal for the second time?
I am now absolutely terrified about meeting new guys I don't even know how to admit that I am still really inexperienced and have no idea how this all works. I feel that it is really abnormal to be at this age and still have no proper sexual experience! And I really don't want to embarrass myself in front of anyone. I really want to use this year as a chance to mature and to be able to have a few fun nights here and there.
I just wondered if you had any tips you could give me, are there any positions that are going to hurt less or that I need to know.
And also: how exactly does foreplay work?
I have masturbated twice, but then felt guilty and ashamed afterwards.
I think I feel I put pressure on myself to have sex, as if I need to catch up with all the rest, I see it as more of a competition or a tick-box than anything enjoyable.
Dear Embarrassed,
It is so refreshing to have teenagers write in for advice.
Sex is taboo, so no one talks about it, how can a young person get enlightened sexual education if they are too embarrassed to ask real questions?
Here are some tips for you and the Elephant Journal community.
Sexual Embarrassment
First, know that feeling awkward is normal for anyone's first sexual experiences and they shouldn't feel embarrassed or ashamed as if they are alone.
Try and think of sex like learning to ride a bike, at first people feel clumsy and awkward, but once they get relaxed and find a natural rhythm it becomes easy. Putting too much stress on yourself and worrying about what the other person thinks will only get you stuck in your head.
I have taught thousands of women in my Urban Kama Sutra workshops and one on one—many women of all ages have the same issue as you of too much mental stress to relax and let go sexually.
Masturbation and Shame
Here's a simple homework assignment: Masturbation.
The girl who sent us her letter said she masturbated twice and that she felt guilty and ashamed after. Unfortunately, many teenagers have been made to feel ashamed about masturbating from an adult in their life. This is ridiculous and harmful, because masturbation is safe, no chance of pregnancy or STDs.
Try to think what is the root cause of that shame? Did someone make her feel ashamed about sex and her body at some point in her life? She needs to let go of that shame and feel pride about how beautiful her body is as a woman and how empowering it is to be in sexual pleasure. Your biggest sex organ is your brain, so let go of the shameful thoughts.
Every woman should be sexually literate and understand their own bodies sexual response. Start by learning how to bring yourself to climax alone. Once you understand your own body sexually, you will be able to enjoy the connection with a partner more when the time comes.
Foreplay: Sexual Brain Chemistry and Orgasmic Triggers
She asked us about foreplay and positions that will make sex less painful. Foreplay is very important to learning how to stop the mental stress and relax and be in your body. Extended periods of foreplay also release more dopamine and serotonin, which trigger ecstasy in the brain and will lead to longer orgasms and multiple orgasms.
Orgasmic Triggers for Women
Men and women are wired different sexually. Every man is guaranteed an orgasm, but of course women are not. Women need to learn what their "orgasmic triggers" are, and how to "push the right buttons" for sex to be enjoyable and as pleasurable as possible.
You have "orgasmic triggers,"—places in your body with more nerve endings and more pleasure response. Once you learn how to activate those and have orgasms alone, you will be able to teach your partner how to bring you pleasure.
Two key orgasmic triggers for women are the nipples and the clitoris. Here are three specific ways to practice masturbating that will improve your sexual experiences both on your own and with partners.
1) Tease yourself: orgasmic breast massage technique
Nipples release oxytocin, a powerful hormone that acts as a neurotransmitter to the brain for bonding and connection. For women, oxytocin is greatly stimulated during sex and breastfeeding. Stimulating your nipples with an orgasmic breast massage will release surges of oxytocin and help you relax and create the right hormonal environment in your body for pleasure and orgasm. This technique has been 90 percent effective with women I have worked with who had never been able to orgasm before.
Practice Foreplay with yourself by flipping the script- try NOT to have an orgasm. The clitoris has at least 8,000 nerve endings- compared to the penis, which has around 4,000. Breathe deep and learn to discover the touch that turns you on the most. The longer you tease yourself, the more dopamine you release in anticipation of the climax. Breathe deep, climax is not the goal, relaxation into waves of pleasure is the goal.
3) Jade egg or dildo practice for penetration
To learn to relax so that sex is not painful, you should prepare the vaginal wall with penetration. Use a dildo or a "jade egg". Start by using a lubricant like coconut oil and slowly breath and relax until penetration is no longer painful. You can start with a smaller size diameter and graduate to larger size over time as you practice.
There is a special technique called, "milking," where you learn to isolate the muscles of the vaginal wall by squeezing them against the dildo or jade egg until you feel you can control these muscles. Try breathing deeply to help relax the muscles.
Inhale and contract the vaginal wall muscles against the dildo or jade egg and Exhale and relax the vaginal wall muscles.
After learning your own body's sexual response, you can show your partner how to pleasure you. Don't feel awkward; tell them that you need extra foreplay to relax and connect.
**
Relephant: 
Love elephant and want to go steady?
Author: Psalm Isadora 
Editor: Renée Picard
Photo: Valiente at Flickr