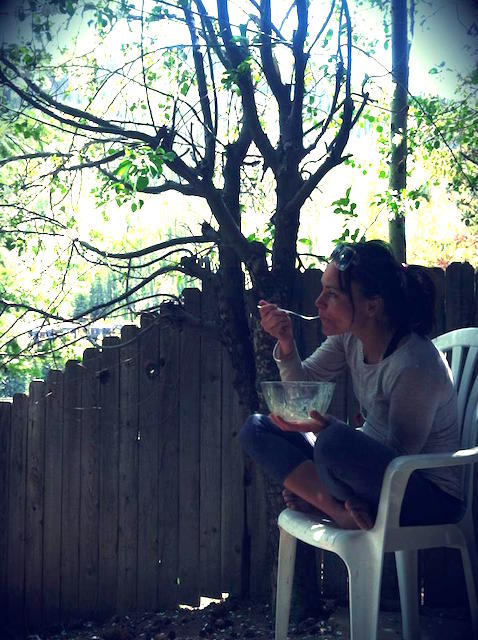 Get your cast iron skillet hot!
This creamy mushroom and broccoli soup is heaven on earth. It's tasty, quick and easy!
As always, this recipe is a blueprint, measurements are estimated, ingredients are optional and experimentation in pursuit of yumminess is encouraged!
Fresh Organic Ingredients:
3 tbs organic coconut oil
10-12 mushrooms
2 cloves of garlic
1 cup water
1 cup unsweetened almond milk
¼ tsp salt
¼ pepper
1 cup broccoli
1 green onion
¼ cup chopped basil
½ tbs oregano
1 cup chopped spinach
½ tbs dry celery
½ tbs dry powdered garlic
Slice mushrooms and garlic. Bring them to a sizzle in coconut oil. Add salt and pepper. Cover a few minutes, then stir. Once mushrooms are cooked to liking, turn off the stove for a few. Toss all but ten mushroom slices in a blender with water and almond milk. Blend. Put remaining mushroom pieces in the pot for soup along with blended mushroom milk water. Heat soup covered on medium high temperature.
Chop green onion and broccoli. Add a little more coconut oil and fire up the cast iron pan again. Sauté onion and broccoli. Cut and add basil, oregano, and chopped spinach to onion and broccoli. Stir, cover, and simmer. Add salt and pepper to taste. When flavor has cooked in (about 7 minutes) remove cast iron pan from heat and add veggies to mushroom soup.
Stir, bring to a boil, and let simmer for at least ten more minutes for awesome flavor!
What'd you think? Comments below!
More from Matilda Juliette: Organic Cookie Dough—Baking not required! 
Love elephant and want to go steady?
Author: Matilda Juliette
Editor: Emily Bartran
Photo: courtesy of author