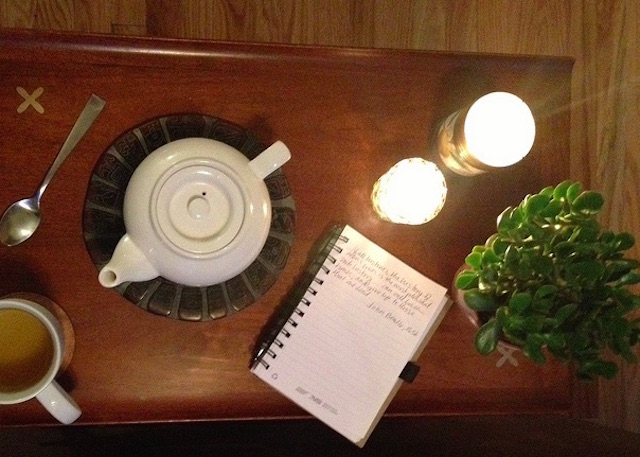 Motherhood and creative expression—impossible contradiction, or amazing opportunity?
When my son was born I said goodbye to a lot of time and energy, to directing the flow of my days according to my own rhythms, devouring novels whole and writing whenever I felt like it. But the drive to create didn't disappear and my focus and motivation actually increased.
For my upcoming book, Wild Motherhood, I interviewed creative mothers about their struggles and triumphs.
 How to start bringing the wildness of creativity back to our busy mama lives.
1. Transition into Creativity with a Ritual
I'm not talking about calling in the four elements and drawing a circle on the ground.
But we need ways to signal to our subconscious that we're stepping from our multi-tasking mothering world into a creative space. I can't hear my Muse if I'm still mentally making my way through the laundry or packing lunches.
So, I take a nature walk, or practice "Morning Pages": writing three pages—stream of consciousness—first thing in the morning. It helps me "brain drain" out and makes space for fresh ideas.
Yes, I know—first thing in the morning doesn't exist with young children. But I've found writing has benefits at any time. We can experiment until we find what works.
Artist mother-of-two Ellie says, '"I make some tea, light candles, create a quiet, sacred, special time for myself."
2. Validate Ourselves
Even if no-one else (yet) sees our creative work or cares about it, we have to believe it matters. And tell ourselves so, often.
Why?
Because being creative makes us feel alive and it's who we are. To validate my creative efforts—rather than results—and counter the tyranny of "to-do" lists, I write a "ta-dah" list at the end of each day, a practice recommended by Julia Cameron.
A poem written, a tantrum smoothed over or a new soup made will find its way onto the list. I let myself appreciate how much I have created in an ordinary day.
3. Using Creativity With Our Children
The more we get our children involved in creativity, the more we do it too. Sophia, artist and dance teacher mother-of-two, suggests developing our creative process alongside our kids:
"Use the baby as a model to draw. Dance your heart out and have the baby sitting looking. Don't give up when they start taking to crawling or walking, just adapt the space and do it outside as well."
We can be open to new possibilities: I can't include my son in my solitary writing, but I can delight him with stories, play music around him and draw together.
4. Change How We Think about Time
We need to be warriors of resourcefulness to transform little pockets of time into something magnificent.
Often all it takes is some acceptance and finding a different way of looking at things.
"I can lose perspective on time," says Annabelle, photographer and workshop leader mother-of-two, "thinking everything has to be done now and forgetting that children grow up. But in fact, artists I am really inspired by have taken a long time."
Petra has these encouraging words:
"2 hours a month on a thing we love will change our worlds. Any project can be achieved, we've just got to take that first step between now and where we want to be. Don't worry about the whole thing—it gets overwhelming."
5. Change How We Think About Creativity
Creativity isn't all about the finished product.
Sometimes as mother artists we can feel frustrated waiting for the time and space to go deeply into our artwork, to create something beautiful. But could we shift how we think about it? Ellie says:
"I just use the creative process, go into it and come out a better person the other side."
Sometimes we have to let go of what we think we need to create and create anyway. Crimson, another artist mother-of-two, is converting her bedroom into an art studio, rather than waiting to be able to hire a studio.
6. Take Care of Ourselves
Often, creativity is self care.
I feel better when I dance or write. But we shouldn't expect consistent productivity of ourselves—periods of collapse are necessary.
I used to feel guilty hearing how other mothers caught up on housework during their baby's naps, until I realised that I was practicing crucial self care by napping along with my son.
We can journal, meditate, spend time in nature, or soak in a lavender bath. If we prioritise looking after ourselves it will spill over into our creative efforts.
Let's replenish ourselves with creativity and celebrate the magic of creative acts in every area of our lives.

~
Love elephant and want to go steady?
~
~
Author: Morgan Nichols
Editor: Ashleigh Hitchcock