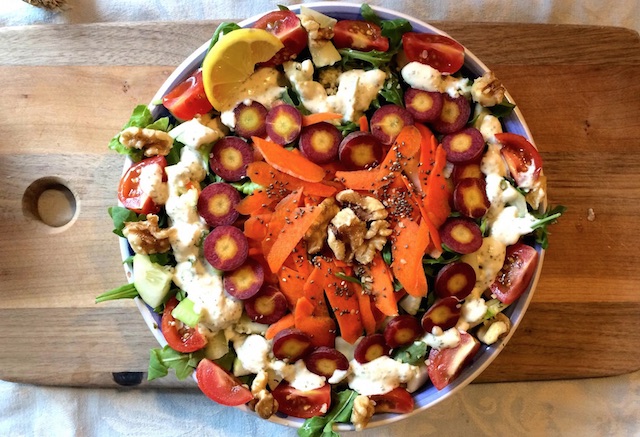 This is my all-time favorite dressing that has been perfected over the years.
I have been dairy-free for over a decade, but even dairy lovers will enjoy this treat. The kelp granules give that "sea" taste that anchovies provide in traditional Caesar dressing.
Pour over any salad, use in a veggie wrap or as a dip.
Vegan Caesar Dressing:
½ cup of raw ground cashews
3 Tbsp raw sesame seeds
1 Tbsp raw sunflower seeds
2 cloves of raw garlic
1 tsp Himalayan pink salt
2 tsp kelp granules
ground black pepper to taste
6 Tbsp lemon juice (~2 lemons)
1 Tbsp extra virgin olive oil
½ cup of water
1 tsp grade B Vermont maple syrup
Put all of the ingredients into a wide-mouth jar and blend with an immersion blender (alternatively you can use a food processor or standard blender). You can thin the dressing with additional water if desired.
Enjoy!
Love elephant and want to go steady?
Author: Marley Jennings
Editor: Emily Bartran
Photo: Author's Own