In Stockholm, yoga instructor and chef, Belén Vazquez Amaro, hosts frequent yoga sessions followed by homemade vegan brunches as a reward for all her guests.
Belén has prepared a series of lunches to help start 2015 right.
Admittedly, no matter how devoted we are to balanced eating, the last days of every year leave our taste buds perplexed and our stomachs possibly inflamed from the overconsumption of sugars and alcohol.
As the new year passes by, we regret our indulgent cheats and prepare a road paved with kale leaves and wheatgrass dust. But, quite often, flavor is lacking and certain dietary restrictions seem so overbearing that we often tend to cut our determined new habits midway.
Sometimes, bad food happens to well-intentioned people.
The key to maintaining a balanced set of habits that don't leave us exhausted is treating food as both physical and mental nourishment. In her book, In the Making, Belén notes,
"Your body is the vehicle of your mind and soul so it is very important to treat it well. From paying attention to the way you breathe, to the food from which you get nutrients and to have a positive attitude. Food can be medicine!"
Belén has incorporated yoga, mindful eating and balanced, plant-based eating habits in her daily life for a holistic approach to health that's easy to follow without compromising taste and pleasure.
Health can go hand-in-hand with taste and enjoyment, a fact often misunderstood by many. Belén's dishes are characterized by bold colors, textures and a variety of ingredients.
She tries to stimulate an eating experience where all senses are engaged.
The first dish in Belén's lunch series is a quinoa salad with greens and mung bean hummus which, in her words constitutes, "the perfect yogi lunch."
"Something that we always have in the fridge, is a jar of homemade hummus. I make hummus with different kinds of beans—chickpeas, red lentils, white beans—I just love it! I mix it with lemon and fresh herbs, sometimes with tahini, sometimes not, and I add spices like turmeric, cayenne or cumin.
After yoga practice, my body asks for a healthy enriching meal. It doesn't need to be fancy, just a bunch of fresh veggies, greens, grains and a bit of hummus. The good part is that it contains turmeric, lemon and you can even add a pinch of cayenne, so you get a fantastic anti-inflammatory elixir.
Good for the body and it tastes amazing."
For the hummus:
1 ½ cup mung beans (cooked previously)

1 lemon

1/2 garlic clove

5-6 tbsp olive oil

5 tbsp water

1 tsp cumin powder

1 tsp turmeric powder

Sea salt

Black pepper

Fresh parsley (to garnish)
For the salad:
1 big or 2 small sweet potatoes

2 tbsp yellow curry paste

3 tbsp lemon juice

Sea salt

1 1/2 cup mixed quinoa grains (cooked previously)

Green salad (spinach, kale, rocket)

Purple cabbage

Cherry tomatoes

2 apples

Olive oil

Sea salt & black pepper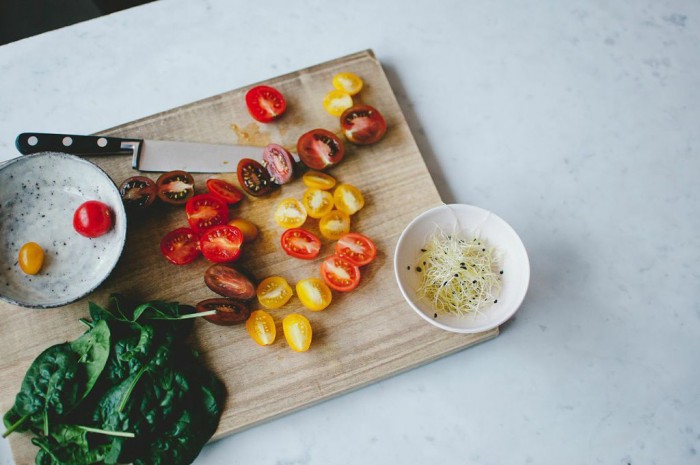 Method:
Rinse and drain the mung beans. Squeeze lemon for juice. Place all the ingredients for the hummus into a blender or use a hand mixer. Mix in high speed until smooth.
Preheat the oven to 250°C. Peel and cut the sweet potatoes in small bites. Put them in a big plate, adding the curry, lemon juice and salt to marinate them. Cover an oven tray with parchment paper and place the sweet potato bites. Roast for approximately 20-25 minutes.
Prepare the salad ingredients by washing the greens and slicing the cabbage, tomatoes and apples. Make a nice salad bowl by combining the quinoa and the veggies. Drizzle the salad with some olive oil and sprinkle sea salt and pepper.
Add the hummus on the plate or spread it over rye bread toasts.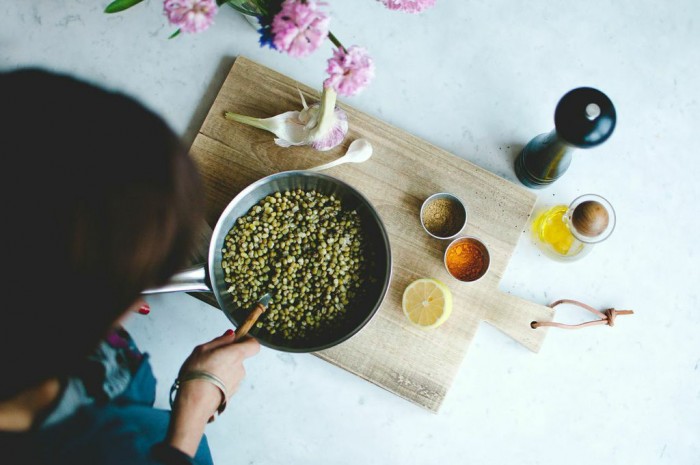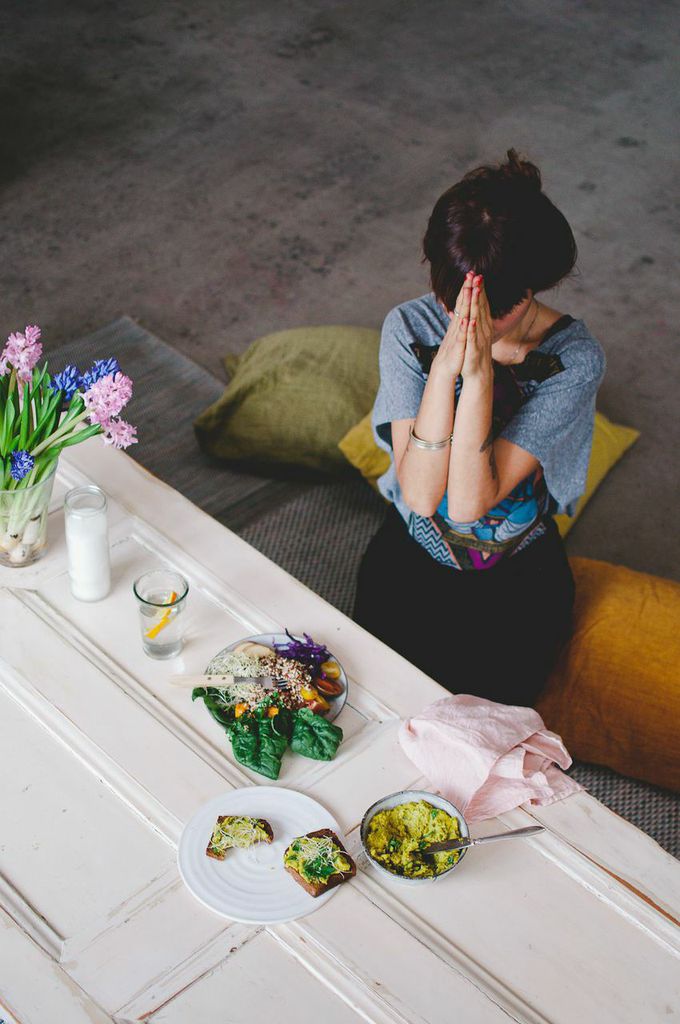 This story is also published on Freunde von Freunden, an online journal of intimate discussions with people from the creative world.
Relephant Reads: 
Savory Vegan Veggie Crumble. {Photo Guide}
Vegan Roasted Pear Salad with Burgundy Notes. {Recipe & Photo Guide}
Author: Effie Efthymiadi
Editor: Emma Ruffin
Photos: Marta Vargas