It is the "off season" and I finally took the plunge in signing up for Yoga Teacher Training.
It is time to give back, to share my years of knowledge and experience from so many teachers including two of the best I have known, Mary and James, who are leading the training.
I have been practicing yoga for over twenty-five years now.
I have tried it all. I am comfortable in any yoga setting.
Blast the temperature up to 120 degrees?  Do it! I want a good rinse. I want to feel my kidneys as I bind. I want to set an intention every single time I am on the mat, for it's the time to reflect, regroup and reinvigorate.
I posted photos of me doing Acrobat Yoga. I boosted my muscle tone and shared all the great smiles from class. I even had free guest passes.
So, why was it so hard to get my triathlete friends to come join me?
I started to ask around, and I got responses of fear.
Fear of looking dumb; fear of not being able to do the poses; fear of dying; fear of getting injured; fear of men having wardrobe malfunctions wearing the wrong shorts; fear that the studio is creepy; fear of other people sweating.
These were Ironmen and podium placed athletes that have tackled long bouts of pain, suffering and intense training along with peeing on bikes and vomiting frequently to get where they are today saying.
And, yoga is scary. I was in shock.
During "in season" there is little time to think, let alone try something new.
We are on a schedule, fitting in workouts in the wee hours of the morning and not finishing our day until our second workout is complete, Garmin data locked and loaded. Maybe a juice, perhaps a better meal than Gu and Roctaine, if we're lucky.
But now is the time to let our hair down, still enjoy some post holiday food, be playful. Yet that's frightful.
What is our biggest fear?
Fear of the unknown. But truly what do we really know, what can we really predict? Failure can easily come from trying or not trying. However, I think the biggest failure in life could be if you don't try at all.
Once I got on schedule and connected with a coach, I knew getting to Ironman was going to be a lot of hard work. There were a lot of unknowns. I didn't know anything about riding a tri bike for 112 miles, let alone how a marathon would feel after a 2.4 mile swim and the 112 mile bike.
In a nutshell, it felt awful for a long part of one full day.
Let me put some ease into the minds of those who think Yoga is unattainable.
It's typically just an hour and a half long class. That's it. It is so short compared to a typical triathlon workout that it's almost comical.
Next, yoga is about the breath first, the poses come after. It's about calming the body. Studies have shown that the long deep breathing, wait for it, "prayanama" breathing, encourages the actions of the parasympathetic nervous system and allows relaxation and healing to occur.
Yep, I might have lost a few people at this point. I used a Sanskrit word and "healing" all in one sentence. Come back, I promise not to talk about the 7 chakras in this post. That is phase 100.
So, for the most part, your first journey to the yoga mat could be you simply breathing. That's it. Think about it, would your coach ever just say to you,
"Just sit on the bike and you will be cycling."
No way!
So far this is easy, so you must be asking yourself,
"Well then, what's the point?"
Yoga has been known to improve overall wellness, flexibility, digestion, stress, opens up tight parts of the body and so much more.
When you take it to phase 1000, you get to understand the lifestyle of it all.
(Dare I say eating clean and lessening the animal and dairy intake.)
Oh, I see the eyes rolling now. It's ok. That's not the foundation of this. It's not the point of the story.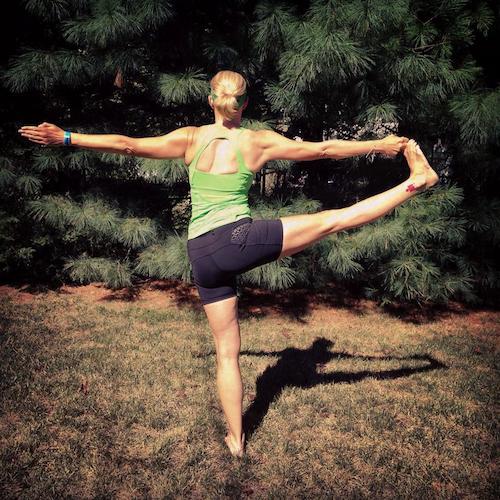 I know that my swimming arms are now loose, my rotation and entry into the water is more at ease.
I know my back muscles, shoulders and arms are more developed and help me with strength in other areas.
I know my hamstrings are not so tight and my calf muscles are strong to support me in my running.
I know my core is getting stronger to help me keep aero to hold for seven+ hours on the bike.
Yoga is very powerful. These benefits are the reasons why professional NFL teams have incorporated yoga into their workout routines.
Yoga is known to help all eleven systems in the body: cardiovascular, lymphatic, nervous, respiratory, digestive, muscular, skeletal, endocrine, urinary, reproductive and the largest of them all, integumentary (or skin).
And, the different styles aid in different ways.
For the triathlete, hot or Bikram style gets you acclimated to intense conditions while still being able to perform.  Sweating also releases the body's toxins and the breathing styles help re-purify the body.
Ashtanga or vinyasa styles can help in building cardio strength, flexibility, core strength, digestion, alignment, posture and simply helps you get closer to touching those toes.
All styles will help flush out the lactic acid, build better posture and alleviate stress.
This is what I know, but yoga is about discovering things for yourself.
And one huge discovery for me was if I was stressed out, tense, worried and scared, my workouts would falter. So, setting an intention at the beginning of class, a quick chant of om to unite with the class and staying present, not thinking about the day, the next day, the next project, the grocery list is a big accomplishment in itself.
So, the poses help you stay present, get you to places you have not seen before and helps your body evolve one muscle, organ and breath at a time.
My great yoga teacher Mary said in class the other day,
"Worrying is like praying for unwanted things to happen."
Don't let worry stop you from discovering the better side of you.
We, as triathletes, are Type A, competitive folks. We can be better in everything we do, by simply taking one foot and placing it on a 72 inch rubber mat.
After a few chaturangas, you may be easily convinced that yoga is not for the weak.
It's actually for the very strong.
Love elephant and want to go steady?
Author: Constance Korol
Apprentice Editor: Brandie Smith / Editor:Renee Picard 
Photos: Courtesy of the Author