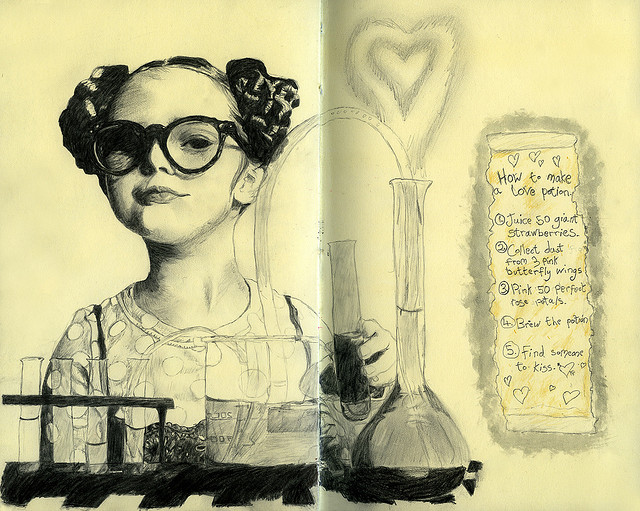 I'll be frank. Usually I'm Nick, but for sake of this message, I'm going to be frank.
I've read a few articles here on elephant journal about the topic of "soul mates" and quite frankly I feel it's time I speak up.
There is something I want to share that I've only found glimpses of in each of these articles. While acceptance, intimacy and honesty are the absolute foundations of a successful relationship there's a missing piece to the puzzle that's gone unspoken.
The missing piece is you.
Rather than set out on a wild goose hunt—or no hunt at all—for our soul mates, we first need to know a few things:
We need to know that we are loved and lovable—may I go as far to say, know that we are love. Initially, we begin life with confidence on both ends. We were bathed in a mother's unconditional love and swaddled in our own innocence. Love and this idea of a soul mate were never in question. However, over time our confidence clouded.
When you look at yourself today, can you still own the two truths of every newborn?
"I am completely loved. 
I am completely lovable."
Few people can, for looking at themselves honestly, their attention is highly focused on flaws that make them less than absolutely lovable and less than wholly loved. For most of us, this is completely normal, perhaps a deep underlying idea that we were born out of sin, and thus true love exists only in a begotten land we don't belong to.
Yet in a purer awareness, what we see as flaws are nothing more than scars of hurts and wounds accumulated over a lifetime. When we look in the mirror, we think we are looking at "ourselves" realistically, but the mirror only shows a fragment of who we are. The mirror doesn't reflect that we are true love—not unless that's what we know to be true.
In a way, it is amazing we do not realize our true nature, because underneath all the thoughts and feelings is a highly intact, pure innocence. Time cannot blemish essence; love is eternal. To believe we are only the reflection in the mirror is to confuse ourselves for the dirt on a window, rather than light that passes through it.
It's when we lose sight of our essence, that we mistake ourselves for experiences. There is no doubt that certain experiences can do much to obliterate love. Unless we can know ourselves for who we really are, we will find ourselves experiencing only fragments of love; hence our desperation for it.
Rumi says, "Your task is not to seek for love, but merely to seek and find all the barriers within yourself that you have built against it."
This quote alone is all we truly need to understand in our quest for true love. Many of us are seeking love as if we have none. Our searching is undoubtedly from a deeper underlying sense of lack. It's no wonder so many attract relationships that end up reflecting those darker intentions.
Today, people are consumed by doubts regarding their relationships: Have I found the right partner? Am I being true to myself? Why do I give too much of myself away? As a result, there is a restless kind of consumer shopping for partners, as if the "right" one can be found by toting up a potential mate's pluses and minuses until the number of pluses matches some mythical standard.
Love is never about externals.
The truth we seem to run from in the pursuit of finding a soul mate is that whatever person you are with at this moment is the "right" person, because he or she is a mirror of who you are inside.
Our culture hasn't taught us this; instead, we have been sold a ready-made idea of what love is—"soul mate" becoming a buzzword. Stop looking for a soul mate and start seeing what the people in your life now are trying to tell you about yourself. Every fault you see in another touches a denied weakness in yourself. Every conflict is an excuse not to face a conflict within.
Instead of searching for "the one," it's time to become the one. The beloved you are seeking is yourself. Be your own soul mate, love yourself so completely that if someone comes into your life you are simply happy to share your presence with them.
When we love and accept ourselves we are no longer concerned with our needing—when we stop focusing on needing, we can then focus on giving. That is the true love we seek.
When you truly find love, you find yourself.
Author: Nick Kowalski
Editor: Catherine Monkman
Photo: L. Whittaker/Flickr