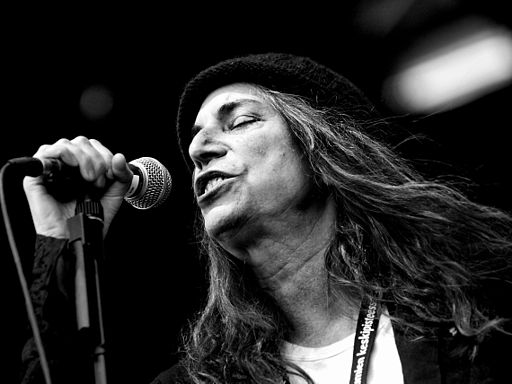 "In art and dream may you proceed with abandon. In life may you proceed with balance and stealth." ~ Patti Smith
Punk Rock pioneer and poetry aficionado Patti Smith is a role model to many.
Whether her groundbreaking music of the mid 70's gets your soul groovin' or her hairy armpits on the cover of Easter inspire us to tell modern standards of feminine beauty to f*&k off, Smith constantly proves to us that (literally and figuratively) she totally rocks.
In this short clip, she speaks to young people with humble strength and peaceful wisdom.  Here, Smith broaches important questions like "What do we do with this [modern] technology? What do we do with our world? Who are we?"
She goes on to say that "the people have the power, now more than ever."
Other topics of discussion include building a good name, not worrying about earning a bunch of money, transporting others through your creative work and the accessibility of self-expression.
So, this one's for those who aspire, those who feel the pain of uncertainty in a world full of hard choices and mainly for anyone who exists.
Relephant: 
Author: Alli Sarazen
Editor: Renée Picard
Photo: Wiki Commons