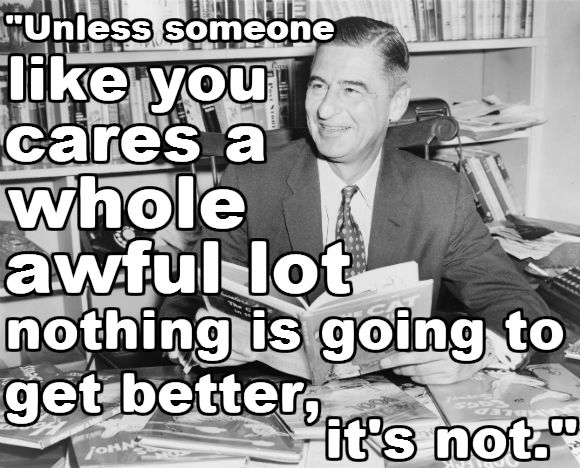 "Unless someone like you cares an awful lot, nothing is going to get better. It's not." ~ The Lorax, Dr. Suess
On Dr. Suess' birthday, I implore you to remember the gentle wisdom of his words.
I think to myself just how often I look out into the world and see abounding injustices.
A few problems that are currently on my mind:
The regular indiscriminate attacks on Syrian civilians.
Ignorance about climate change.
Here's what I realized though, I'm aware. I'm able bodied. I'm intelligent and capable of inspiring change. But I am not actively doing anything to make any of the soul-crushing injustices plaguing this world better. Instead I'm watching enraged from my safe little ivory tower.
And if I haven't done anything remarkable to spark change, I'd wager a guess that most of you haven't either.
So today, let's honor Dr. Suess by dedicating some time to making a change. Find a way to make your voice heard. Write. Make art. Volunteer more of your time. Donate money. Participate in respectful debates. Plant trees. Read. Stay engaged. Or be really brave and go on a crusade.
The next time you wonder nobody has done anything to fix a problem, take the initiative. Realize that you are somebody.
Malcom Gladwell said, "The tipping point is that magic moment when an idea, trend, or social behavior crosses a threshold, tips and spreads like wildfire."
Just don't bury your head in the sand thinking you can't effect change. You can. We can.
Together, let's care enough about humanity and this planet to make it better. Let's quit just feeling the warm ember stirring our souls and start a magical fire. I'll go first!
Today, I'm putting on a cape and heading out to save the world. Who is with me?
"Kid, you'll move mountains. Today is your day. Your mountain is waiting, so get on your way." ~ Oh, the Places You'll Go, Dr. Suess
~
Relephant:
~
Author: Jessica Chardoulias

Editor: Travis May

Photo: peta.org