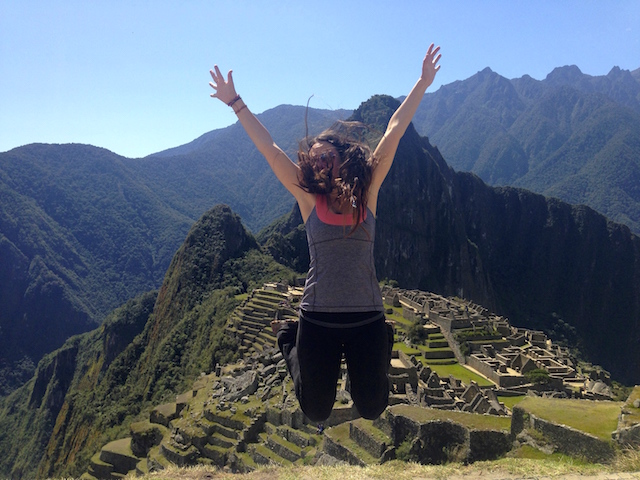 As a long time solo wanderer, I believe it's important for everyone to travel alone at some point in their lives.
Whether it's traveling for short term stints or a long term "stay-cation," any time spent outside your comfort zone will change you profoundly, but doing it alone adds a whole new dimension of freedom.
As a woman traveler, there are definitely a few added safety precautions, but if you stay alert and keep your wits about you, there is no reason to not move about alone as easily as a man.
Here are just seven of the endless reasons to book a ticket and discover the joy of traveling alone.
1. Realize what you're capable of handling.
Missed planes, delayed buses, losing your ATM card to a foreign machine.
All crises will become manageable when you realize you only have yourself to rely on. While this sounds scary, the first time you handle a potentially disastrous situation on your own you will feel so empowered you will wonder why you ever needed anyone's help for anything!
In addition, you realize you are never really alone. It's amazing to witness how many people will volunteer to help you out when you are in a jam. Dealing with crisis in a foreign country has proven my faith in humanity's ability to rise up and help their fellow (wo)man again and again.
2. You bond with new friends faster.
If I travel with already established friends, I will usually meet a couple people, but when I travel alone I meet hordes of people, and sometimes pick up travel buddies who become life long friends. Solo travelers find other solo travelers, and many groups adopt you. The best part is if you don't click with someone you can easily move on with no hurt feelings.
3. You find your natural rhythm.
It's amazing how fast you fall into getting up when want, eating when you feel like it and going where you want to when you do not have to plan things with other people.
There is nothing more freeing than having absolutely no plan, or better yet, having one and changing it whenever you desire. This type of spontaneous movement is one of the things I miss most when traveling with others.
4. You stop wasting money or time on things you don't love.
I can't tell you how many times I've spent money and time on something I wasn't crazy about because the person I'm traveling with wants to do it. Sometimes it ends up being a cool experience, but more often than not, it's just irritating. Being alone ensures you never waste money on anything, if it's not what you really want to do.
5. You open the door to opportunities.
When you are alone countless opportunities present themselves. I've been invited to stay at the homes of locals, given rides to remote places, taken to hidden travel spots—all because I was alone and it was easy to have me tag along or give recommendations.
6. You experience true freedom.
There is no better feeling in the world than being free of the conditioning of your culture, expectations, schedules and typical ways of being.
It creates space and liberation to be whatever or whomever you feel like being—to meet yourself or reinvent yourself.
I must say, solo travel is the greatest experience in the world, and rather addictive. I can pretty much guarantee once you find this state, you will truly see the deepest and most beautiful reason to travel alone.
7. Love affairs.
Okay, I couldn't help but throw this in.
Since traveling solo, I have discovered beautiful short-term, spontaneous love affairs with wildly free, passionate and wonderful men.
There is no better way to get to know someone in a romantic and meaningful way than to team up for part of a journey. With a traveler, a day will seem like a month. In no time at all, you will feel like you have known the person forever, only you will know their hopes and dreams instead of what their last desk job was.
I have friends back at home who constantly tell me how hard it is to meet good men. Through traveling alone, I meet amazing men all the time, who are not remotely boring or typical. It might not be an ideal way to meet marriage or long term partners (although, I should mention It's definitely possible, and I have met some of my serious partners this way).
But, if you are wanting to experience, learn, grown and have a all around good time, these types of spontaneous relationships are for you.
When you travel solo, you come to see you are never actually alone.
Whether it's in backpacker hostels or nomad communities, I have never felt more surrounded by love and connection then when I'm on the road.
You'll discover that adventure, friendship and love will find you anywhere, you just have to open your heart and mind to experience it.
So, don't wait for your best friend to take work leave or for your boyfriend to take you somewhere exotic.
Book where you want to go and get moving! I can guarantee you won't regret it.
~~
Relephant Read:
~
Author: Erin Eber
Editor: Asheigh Hitchcock
Photo: courtesy of author
~
Facebook is in talks with major corporate media about pulling their content into FB, leaving other sites to wither or pay up if we want to connect with you, our readers. Want to stay connected before the curtain drops? Get our curated, quality newsletters below.