My almost 60 year old, bald and bellied husband constantly says he "loves yoga mat".
Not your typical yogi. In fact Paul would rather go to the gym than do yoga any day. Truth be told, if he was not married to a yoga therapist and teacher, he probably would never set foot in a yoga class. But yoga has been in our lives for decades now, and that translates into dozens and dozens of yoga mats. Mats for students, mats for groups, mats for the kids, mats for therapy clients, mats for friends, my personal array of mats: for teaching, for travel, for camping, for the beach, for extra cushion, for sweaty yoga, for rolling and folding, for meditating, for demonstrations, for 108 on the solstice, for restoratives (after the 108), for the best and for the worst of times.
So the question is: When does a mat no longer make the yoga cut? Such a personal decision. I feel it's at the end of its life when:
– gauges are left by the washing machine spin cycle
– it simply wears through and your hands and/or feet touch the ground
– the dog marks his territory or uses the corner as a chew toy
– the cat gets artistic with sharpening her claws and makes a lovely abstract design on its surface
– bits of the mat find themselves in your hair, under your nails or somehow into the salad
– the kids used it as their pirate flag (replete with skull and bones in black indelible marker
– the grass stains grace both sides now
– the smell of old rubber (or is it petrol?) waft up from the floor to fill the room
– it is the mat your friend always used before she died
– it was left behind by an ex-husband/lover/girlfriend
– the color, texture, material or huge funky pink flowers no longer appeal
– it kinda sorta melted in the back window of the car
– it no longer sticks to the floor and you don't stick to it either
If any or all of these apply to you, I think it's safe to finally make the decision to decommission your yoga mat. Ah sweet freedom, mat Moksha.
But wait—not quite yet. It is still caught up in the circle of Samsara and recycling.
In my opinion, the best thing about a discarded mat is its adaptability—it is easy to cut, roll, shape and glue, staple or tape. You can compress it, stretch it, mold it, or shred it. It is fine in the cold and wet, outside or in and almost always a willing and compliant participant.
Paul, who does not do yoga, walks around on a yoga mat all day long. Not only were his shoes cold in the winter, but also hard and uncomfortable. What a difference a cushioned mat insert makes. Hence, "I just love yoga mat!"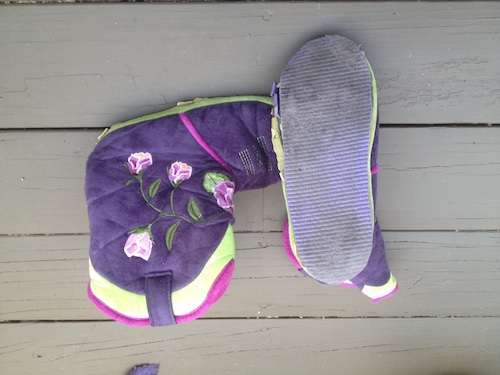 In addition to insulating shoes, repurposed mats work well for drafty doors and windows. Door stops too.
And what great protection for cars carrying bike racks and the bottom of that scratchy vase or ceramic bowl! Perfect for under heavy furniture and kneeling in the garden. One could even try making custom fit car mats. Take a hiney cushion with you to the game.
Oh, and let's not overlook yoga mat fashion. Repurposing makes it easy to make your own Halloween costume: wings, Statue of Liberty's crown, kings' belt, pirates eye patch (you already have the flag), armor or dragon's tail.
Mat-ends even come in handy in the kitchen as pot holders, oven mitts, a gripper for that stuck jar lid, trivets, beer cozies and cup coasters.
And it doesn't stop there. So many uses in the bedroom and bath as coat hanger grips, toe separator for applying nail polish, earring backs, soft hair rollers, ear plugs, toilet lid silencer and non-slip in the tub (thin mats only).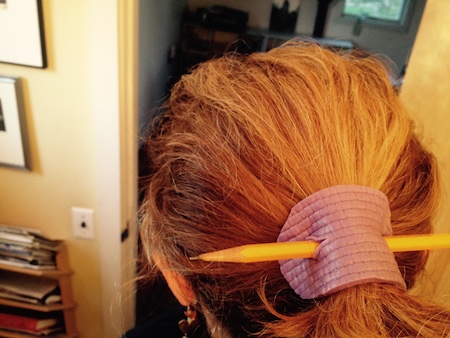 Weaving them into the crib bars keeps the baby safe from injury (wash first) and protects equally well when packing breakables or paintings.
And then there are the less popular reincarnations like shredding it for hamster cage stuff or using it as a mouth guard.
So take a bow to your mat that has served you so well. It is strong, flexible and ripe for transformation just like the yogi to whom it once belonged. Like life itself, it is anything you make it.
~
Author: Lisa Manheim
Editor: Alli Sarazen
Photos: Quinn Dombrowski/ Flickr & Courtesy of Author