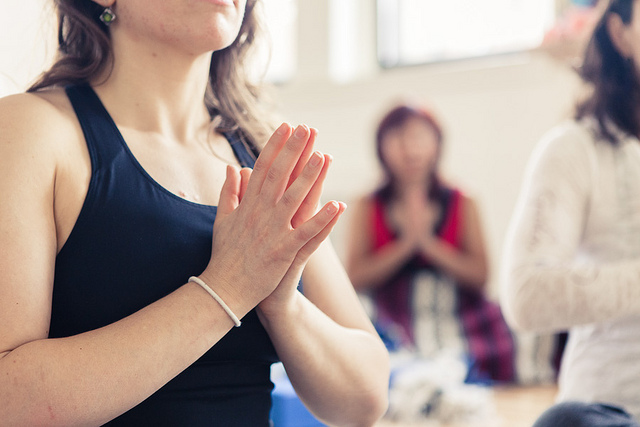 Dear new student,
I see you walk in before class starts. I'm in the front row and spot you in the mirror. You stand for a moment, taking in the scene and then find a spot in the back. I can see in your face that you are a combination of petrified and curious. I want to come hold your hand and give you a block and tell you to relax.
I was you once. And I can tell you, if you're anything like I was, you weren't thinking nice thoughts about me.
It was 12 years ago but I remember it like yesterday. From my spot tucked away in the back corner I watched the girls in the front row chat and laugh before class and I instantly judged them—so full of themselves in their perfect matching Lululemon and hundred dollar yoga mats with fancy towels. I hated their lithe, twisty bodies. As I tried to shrink into nothingness, I imagined that they were laughing in their heads at me, eagerly watching to see how awkward and unflexible and terribly balanced I was.
During class I tried and failed to keep my belly covered with my slouchy tee shirt and slipped around my mat in a pool of my own sweat.
But in that class I tasted it for just a split second. I tasted a moment of freedom. Not just freedom from my two young kids and incredibly stressful job producing TV news but freedom from giving a shit what anyone thought of me.
It was a tiny moment of space where the voices in my head were quiet.
Just for a moment. And that's all it took.
In the years since I found my practice, tiny step by tiny step has evolved into massive leaps into compassion for myself and in turn others. Appreciation of the strength and power and grace and patience we contain. The ability to know beyond any doubt that I am capable of so much more than I can even imagine.
My practice led to my teaching, leaving a career that didn't fulfill me anymore, moving across the country and traveling around the world sharing my passion for yoga.
And that's why, when I see you come into your first class I tremble with excitement for you. I see such powerful possibility for you to unlock the confidence, compassion and strength inside of yourself that you can't even imagine! The incredible gifts you are holding inside that are about to be coaxed out through the simplicity of moving and breathing, from setting your intention and really feeling your feet on the floor.
I can't wait for you to taste freedom from whatever is resting on your shoulders. I get blissful tears in my eyes as I see the breakdowns and breakthroughs that lie ahead for you, the wisdom you will share with the world as your practice unfolds.
With love,
From the girl in the front with the matchy Lululemon, the expensive yoga mat and fancy towel.
Relephant:
Author: Carrie Hopperstad
Volunteer Editor: Kim Haas / Editor: Catherine Monkman
Photo: elidr via Flickr