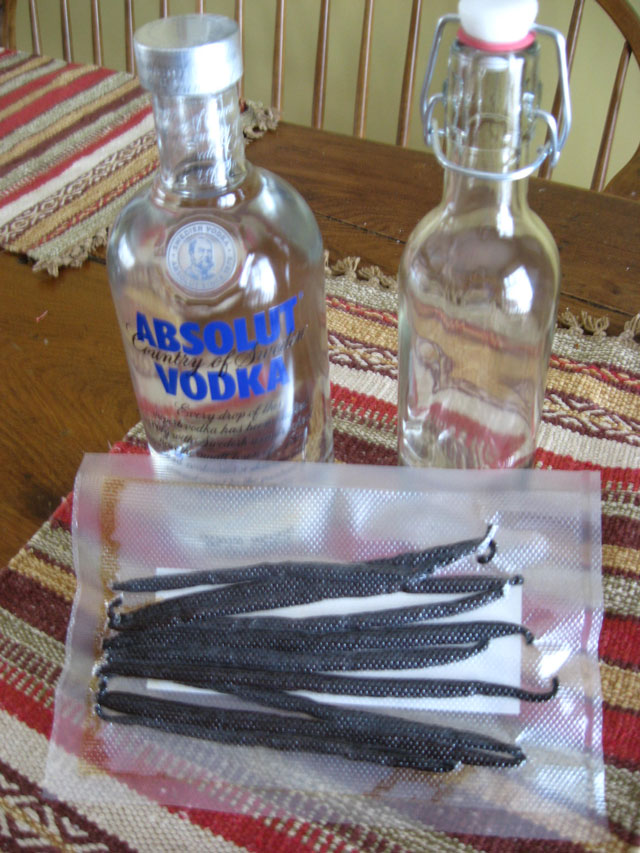 Vanilla…mmmmm! The quintessential essence and flavor that evokes images of delicious baked goods and comfort factor extraordinaire.
I heard that men love the smell of vanilla on women—some say it's because it makes them feel safe and cozy (memories of their moms?) others say it makes them hungry and triggers that "you're so yummy" instinct.
My real estate agent says that vanilla scented candles sell a house. Personally, I thinking crème brûlée does the trick.
I'm a bit of an addict of vanilla and have always used the real vanilla extract as opposed to the artificial. But, organic vanilla extract costs $18 dollars per three drops (or at least so it seems), I started making my own. It's so much more affordable and incredibly rich in flavor. It's fun and easy, and makes a great gift.
I use Madagascar vanilla for a creamy flavor. Ugandan is also nice, for a more smokey extract, although most stores local to me only carry the Madagascar. At first I used a spice agent in town to get the vanilla beans, then I started using organic ones available at the health food store and now I mostly source the online. Either way, make sure the vanilla beans are still moist.
Vanilla extract
You will need:
Vodka, Bourbon or Rum (I use Vodka for most tinctures/extracts)
a bottle with a good seal
10 vanilla beans
What to do:
1. Slice the vanilla beans lengthwise with a sharp knife, to release the liquid center of the bean.
2. Place in a jar or a bottle, making sure that the beans are totally covered with alcohol.
3. Seal the jar/bottle and leave in a dark place for 8 to 10 weeks. Shake once or twice a week. Make sure the beans stay covered, if not, add more alcohol.
4. When ready, decant into an amber bottle with a good cap. And that's it—you've made the best vanilla extract money can buy!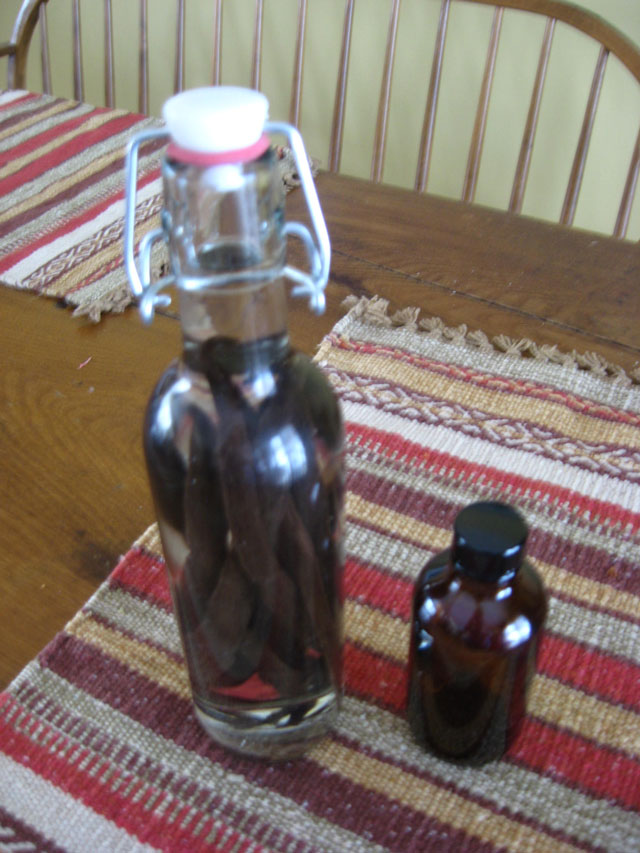 Vanilla sugar
You will need:
24 ounces sugar
4 Madagascar (or other type) vanilla beans (split and scraped)
What to do:
1. Combine the sugar and vanilla bean scrapings in a medium bowl. Use your hands or pulse in the blender to combine together the sugar and the vanilla bean scrapings until all the scrapings have been dispersed well throughout the sugar.
2. Store in airtight glass container. The vanilla and sugar will age over time and acquire a richer flavor.
Enjoy!
~
Author: Monika Carless
Editor: Katarina Tavčar
Photo: Author's Own