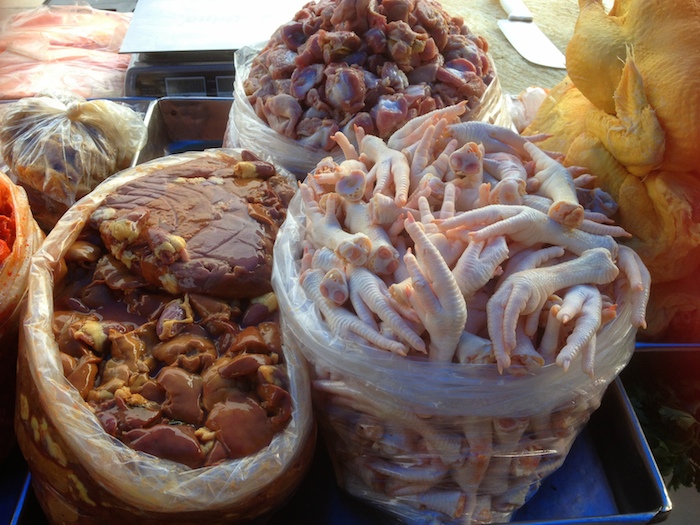 When I went to my first real Mexican market or "tianguis" (tee-ang-geese), it was over-the-top exotic to me.
The sounds, the colours, the produce, the dollar store junk, the jeans, the incense, it went on and on. Now, if I need anything in Mexico, from underwear to goldfish, I hit the tianguis. But mostly, it's where I grocery shop, especially when entertaining.
While they are farmers' markets in the purest sense, the Mexican tiangius is nothing like the the urban North American farmers' market experience. It really feels like another world.
Yes, they all sell food. However, strawberries at the tianguis, for example, are piled high on a plastic tablecloths like a mountain peak. And a kilogram of these red, ripe, beauties only cost me the equivalent of $1.00. That's in January. In June, they're only 80 cents.
Once I managed to get past the tables of chicken feet and occasional pig heads, the markets became a gastronomic culinary adventure of the highest ranking. Everything's fresh. Everything's homemade.
Everything is cheap. A fresh squeezed juice stand stretches down 20 feet of colourful counter. They chop pineapple and mangoes and lychee nuts right in front of me and will make me any fresh juice (or combo) my little heart desires. A 16-ounce serving is just 70 cents. A table full of ripe avocados beckons—at 70 cents a kilo. (That's the equivalent in U.S. funds of 10 pesos, a very common price point.) We make fresh guacamole most days; just beat up some avocados, squeeze a lime, grind some sea salt. Voila.
One of the most exciting buys at these markets, to me, anyway, is the squash blossom bouquets—in this case, zucchini blossoms or "flores de calabaza." I can find them almost all year-round and they are huge and orange and beautiful. I march them straight home, usually buying two bundles of 10 (at 70 cents a piece) and cook them that very day.
They don't last long once they've been picked, but they are in season about 10 months a year. They're low in calories (think lettuce), at least until I get my hands on them. My favourite trick is to stuff them with cream cheese, roll in panko crumbs and fry in coconut oil. This is no longer a low-calorie snack. But I use them in soups, salads and even as a garnish. They're a gorgeous color with a nutty popcorn kind of flavour.
The size and spirit of the tianguis is really dependent on the size and spirit of the city it's in. If the town has a smaller population, the market is smaller and by default, has less choice. In one market I frequent in Mexico City, I bet there are 50 food stalls to choose from, offering ready-to-eat food cooked right in front of you (and that's just in one neighborhood). Tacos, gordas, gorditas, chicken, beef, pork and more.
Before my Spanish became bearable, I'd just point. And then take my repast back to one of the plastic-covered tables to sit and eat amongst the bustle of the market. I watch the old women shuffle by with their colourful shopping bags, their faces leather, thanks to the sun. I see the men with their calloused hands and straw cowboy hats and the beautiful women in their four-inch heels (how do they walk in those things?). Most times, I'm serenaded by wandering guitar players—usually for two or three songs before they move on. I give them a 10 peso tip and they are delighted.
Churros are another of my weaknesses. Long tubes of fried dough (like a long ribbed doughnut), usually hot out of the fryer and tossed in sugar. The worst part is (oh, okay, it's also the best part), I find these vendors everywhere—the tianguis, the town square, outside the church. They're hard to resist.
Some of these markets go on for miles, with booth numbers in the high hundreds if not thousands. And after market day, the space returns to being an empty parking lot (or in some cases, actual park) again. All of the fruit, vegetables, meat, honey—everything they hawk (and I mean hawk)—has come from the field.
And have I mentioned the flowers yet? How about a dozen calla lilies for $1.50? Or a dozen long stem roses for $2.00? And those are the expensive ones. I'm stunned every day by this. I can fill my arms with more flowers than I can carry for $10. It adds up to one heck of a dinner party.
Some markets have ice cream cones for sale (the vendors use dry ice to keep it frozen). The most outlandish flavours are Camaron (shrimp), Cerveza (beer) and Chicharrón (pork rind). I prefer the more traditional Mango & Coconut, Guayaba (Guava), and Sandia (Watermelon). I did try the tequila ice cream once. It was a novel flavour, but I'll stick with the fruits.
Speaking of chicharrón, there are tables of the real thing, just cooked fresh pork rind, at the tianguis. They are fantastic—fresh, crispy, rich-tasting—nothing like those things I buy in bags at 7-Eleven. These look like elephant ears on steroids and come from the same tables that have the pig heads.
The freshness is what gets me. Everything is just picked, harvested or otherwise brought to market, having recently been alive. There are plenty more things to buy, from underwear to housewares to glassware. But the main thing for this gringo is the food. It's real food, farm to table. And this little piggy ran all the way home, cooked dinner for eight, filled the table with flowers and still had money left for tequila. Olé!
Relephant:
~
Author: Beverley Wood
Editor: Travis May
Photo: Author's Own