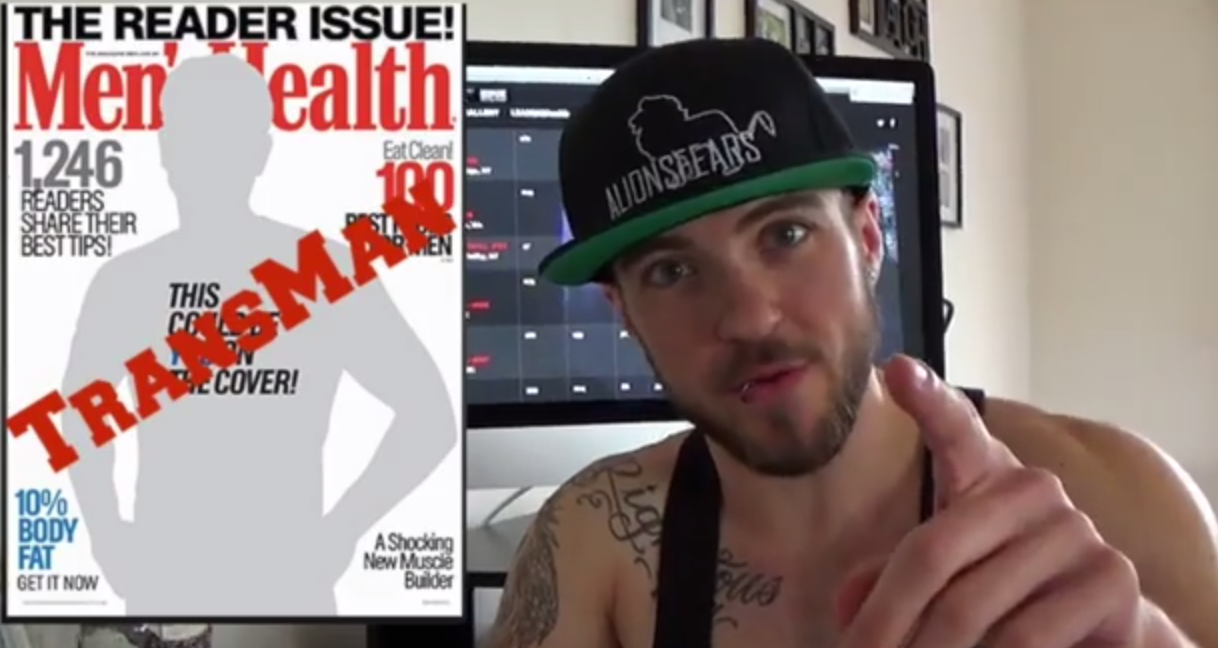 "To those who are gay, lesbian, bisexual or transgender, let me say you are not alone. Your struggle, for the end to violence and discrimination, is a shared struggle. Today, I stand with you. And I call upon all countries and people, to stand with you too.
A historic shift is underway. We must tackle the violence, decriminalize consensual same sex relationships and end discrimination. We must educate the public. I call on this council and people of conscience to make this happen.
The time has come."
~ Ban Ki-Moon
I recently covered a story in which FTM (Female To Male) Magazine carried out a powerful photo shoot featuring trans model Aydian Dowling, which was created to raise awareness among the transgender and also the cisgender (non trans) community.
Showing Aydian naked on the front cover of the magazine—which was a recreation of the iconic shot of Maroon 5 lead singer Adam Levine's pose for Cosmo Uk magazine—proved that side by side, there were no noticeable outward differences between the two male bodies. More importantly, it was a way of showing society that after four years of transitioning, Aydian is now entirely comfortable within his own body. He has worked hard to achieve the image that he feels represents how he feels on the inside.
The photo shoot went viral, being featured on many high profile websites and caused a flurry of attention on social media sites.
Aydian has recently made the decision to enter the Men's Health "Ultimate Guy Search," which would land him on the cover of the magazine. This would be the first time Men's Health would feature a trans male on it's front cover. Aydian's plight is reaching the eyes of social media users worldwide, with thousands using their voice of support to click and send a vote of support.
If Aydian is voted most popular male, it would no doubt raise international awareness of the struggles the trans community faces on a daily basis.
In the video Aydian explains why he thinks it is so important: "Even if we don't get a trans guy on the cover, we're gonna make some waves in men's health…this could be a really big thing for the trans community…"
Approximately 2-5% of the population is transgender.
A nationwide survey showed that from 1985-1998, bias-motivated violence against LGBT people found that incidents which targeted transgender people account for 20% of all murders and approximately 40% of all police-initiated violence.
The LGBT mental health charity PACE's chief executive Margarat Unwin explains: "The lack of visibility and acceptance in society contributes to these shocking figures about suicide attempts and self-harm in trans young people. While society's attitudes towards transgender people are changing, it is still not fast enough and the negative impacts on trans people's mental health every day are huge."
Juliet Jacques is a journalist and campaigner whose transition pre- and post-surgery was published in a blog for the Guardian Juliet explains:
"Many young trans people experience discrimination, intolerance, bullying, rejection and violence from several spheres. First at school, a place where gender norms are enforced and policed, where you're told by teachers and other pupils that boys do x and girls do y. Within the family there can be rejection, verbal and physical abuse, and then also at street level, in the media and in the workplace. Together this can render people unable to see a future for themselves. It is no wonder suicidal thoughts are so common.
I have suicidal thoughts every day, even now. A lot of that is to due with the scars of childhood, feeling I lost my youth to this, things I wasn't able to do because of the discrimination I experienced and because of the trenchant mental health problems that came with it. I've found a way of dealing with this. But I've been pretty close to the edge several times, and pretty much constantly during my teens, when I didn't feel I could talk to anyone about it. I found a way back. And I have a lot of support. But not everyone has that."
The National Gay and Lesbian Task Force and the National Center for Transgender Equality carried out a comprehensive study of the discrimination that trans people face. In it, 6,450 participants answered a 70 question survey and included a diverse set of people from 50 states, of different ages, races, ethnicities, trans identities and income levels.
The survey found that of the respondents;
41% had attempted suicide.
51% were harassed or bullied at school.
61% had a low household income or were victims of physical assault.
64% were victims of sexual assault.
Many of the participants reported that transgender bias-related events led to insurmountable challenges and devastating outcomes.
The HRC (Hate Related Crimes) Website reports:
"Though most people feel sympathetic toward hate crime victims, lesbians and gays are blamed for their attacks at higher rates. When a person survives a particularly severe hate crime, the incident may go on to impede their well-being, leading to higher attempts at suicide, drug or alcohol abuse and sexual risk-taking behaviors, including possible exposure to hIV/aIDs (cannon and Dirks-Linhorst 2006; Dunbar 2006; saewyc et al. 2006). These negative outcomes affect everyone in our society, underscoring our urgent need for education and sensitivity around sexual orientation- and gender identity- based hate crimes. Improving our legislative, prosecutorial, training and reporting efforts will send a strong message that our society will not tolerate such attacks and will unequivocally support their victims, no matter their sexual orientation and/or gender identity and expression."
Education and awareness must happen in order for things to change. Keeping LGBT issues in the limelight will encourage more people to stop, take note and hopefully begin to understand and accept that every person in our society has the right to live free, without violence, without hate, without judgment, without discrimination and also without fear for their lives.
Everyone has the right to live without feeling that life is too difficult and traumatic to navigate to the extent that they take their own lives.
Social media is a tremendous tool for creating global change, for breaking down barriers and for highlighting topics that would previously not have taken centre stage. Featuring a trans male on the front cover of a magazine that describes it's website as "The best men's health website in the world," is another step towards greater awareness and one huge leap closer to creating an equal society where everyone can thrive.
This is not about one man's aim to be on the cover of a magazine for fame or to be in the limelight for his own personal gain—it is far more than that. The campaign is about one man's struggle to raise awareness for the transgender community, to close gaps in society and allow people the opportunity for people to see that we all deserve the right to be whoever we want to be.
Aydian's four year journey is documented in the video below. He is now married to an amazing woman, Jenilee, who is by his side throughout his campaigns, even lending a hand in the photo shoot that recently caused an Internet storm for all the right reasons.
Check out the Men's Health website to vote and be part of creating an unprecedented moment in the history of men's health magazines.
"People changed lots of other personal things all the time. They dyed their hair and dieted themselves to near death. They took steroids to build muscles and got breast implants and nose jobs so they'd resemble their favorite movie stars. They changed names and majors and jobs and husbands and wives. They changed religions and political parties. They moved across the country or the world—even changed nationalities. Why was gender the one sacred thing we weren't supposed to change? Who made that rule?" ~ Ellen Wittlinger, Parrotfish
References/for further reading: 
"A Transgender Journey." The Guardian, Oct.2012. 
Transgender Law and Policy Institute website 
Viral recreation of Adam Levine photo with model Aydian Dowling, by Jason Robert Ballard. FTM Magazine. 
Injustice At Every Turn: Study of Trans Discrimination. Filed By Dr. Jillian T. Weiss | February 07, 2011. Bilerico Project website.
Relephant:
Author: Alex Sandra Myles 
Editor: Renée Picard
Photo: screenshot