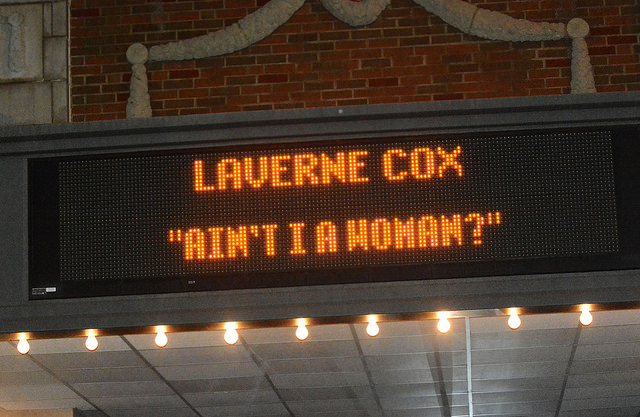 Laverne Cox is an actress, dancer, writer, activist, producer, director and an advocate for transgender rights.
She is a transgender female and has this very powerful message to send out about body image, "There's beauty in the things we think are imperfect. That sounds very cliché, but it's true."
Laverne is alongside with actresses Jordana Brewster, Sandrine Holt, Nicole Beharie and Kathery Winnick who are all featured naked in the May 2015 edition of Allure magazine's annual Nude issue. Laverne spoke of her reasons for agreeing to appear in the magazine:
"I'm a black transgender woman. I felt this could be really powerful for the communities that I represent. Black women are not often told that we're beautiful unless we align with certain standards. Trans women certainly are not told we're beautiful. Seeing a black transgender woman embracing and loving everything about herself might be inspiring to some other folks."
The Orange Is The New Black actress explained that at first she was reluctant to do the photo shoot and turned down the invitation twice before having a changing of mind, understanding how empowering her images would be for the the LGBTQ community, "Going through life, you try to cover and hide, but it doesn't really work."
In a behind the scenes video taken prior to the Allure photo shoot Laverne spoke of her preparation saying, "My friends were like, "You should be juicing darling and fasting", I had mac and cheese last night."
Laverne thanked Allure magazine and photographer Norman Jean Roy on Instagram, for making her feel so comfortable taking her clothes off and used hashtags #TransIsBeautiful and #CelebrateYourBody.
Jazz Jennings an author, advocate and star of a forthcoming TLC docuseries, aged 14, wrote the profile for Laverne Cox for TIME magazine and explains why she is her idol:
"As a transgender child, I was always looking around for someone like me, because I thought I was the only one. It's hard to feel like that. But having support from my family changed everything. They helped me love myself and embrace who I am.
Not all trans kids are so lucky. And for them, having someone as visible and strong as Laverne Cox to look up to is inspiring. She's done so many amazing things—not just acting on Orange Is the New Black but also loving herself enough to share her story with the world. She's a pioneer for our community.
When Laverne and I met for the first time, it was honestly so exciting. She started screaming like a little girl, because she thought of me as a celebrity! She told me to keep up the good work and how happy she was about my success. Now I want to do the same for her. Laverne, I love you and I'm so proud of you and you're definitely making a difference. Keep it up!"
This week has been a powerful week for the trans community with transgender male Aydian Dowling also causing an Internet frenzy as he is currently leading the Men's Health Magazine Ultimate Guy Search. The story quickly went viral, with almost every major news media site covering it.
Aydian is in topping the leader board with 40,000 votes, second place is at 9,000 so if his lead continues, he will be the first transgender male to appear on the cover of the magazine, which calls itself, "The best men's health website in the world."
As a pioneer and advocate for the transgender community, Aydian explains why he thinks it is so important to continue to raise awareness and to keep visibility at the forefront:
"Even if we don't get a trans guy on the cover, we're gonna make some waves in men's health. This could be a really big thing for the trans community. At the end of the day, If I get on the cover, it's not about me, it's about the community as a whole. The transgender community wanted this. They're the ones that decided to make this a big deal."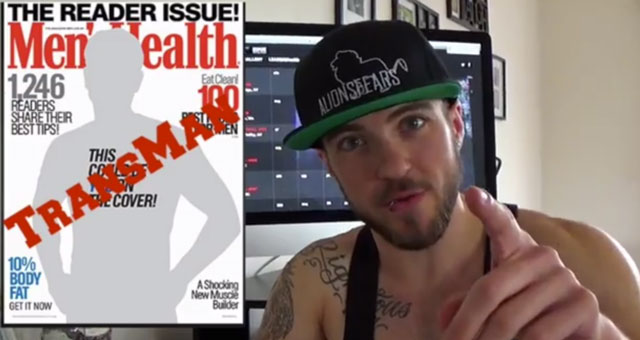 Recently Aydian also made headlines worldwide with a naked photo shoot carried out for FTM (female to male) magazine. It showed a recreation of Maroon 5 frontman Adam Levigne's iconic pose, proving that side by side, there were no noticeable differences between the two male bodies, Aydian spoke of the recreated shot saying, "Some areas of my body used to remind me of everything I'm not. Now they represent everything I am."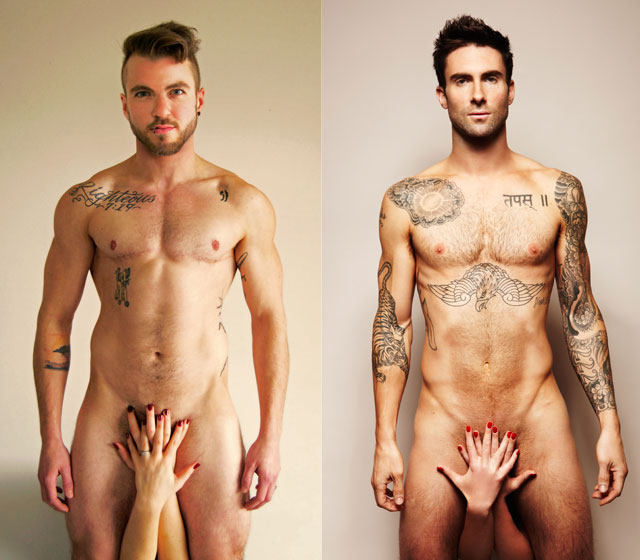 After news came to Aydian that he was in the lead in the Men's Health search, he posted the picture below to his Facebook, alongside the quote, "The past can hurt. But the way I see it, you can either run from it or learn from it."
A video for Aydian Dowlings campaign, made by AJ+, has already been viewed 160,000 in 24 hours, showing that awareness is growing, society is taking notice of the transgender community and the more campaigns that are carried out, the visibility is raised and the quicker acceptance will arrive from society as a whole.
To place a vote for Aydian, click here.
Laverne and Aydian would both get my vote for the most inspirational people of 2015.
Many might ask why they have to get naked to raise awareness and prove a point. I guess one reason is because they are both now very proud of their bodies, another to show others in the transgender community what can be achieved and how we are able to achieve whatever we put our mind to and most importantly, because sometimes, showing the body naked causes an Internet viral storm, and why not—naked bodies are all incredibly beautiful, and each one is entirely unique. We should be proud of them!
~
Relephant: 
Another amazing woman who's changing the world:

~
Author: Alex Myles
Editor: Katarina Tavčar
Photo: COMUnews on Flickr, screenshot, used with permission from FTM, personal photo