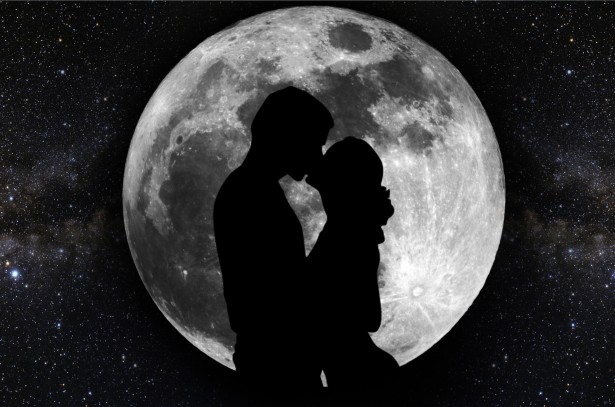 Editor's note: Astrology isn't a religion. We're not sure it's a science, either. It's magic, maybe. But, as with feng shui, say, things affect things. So as long as we don't go blaming our problems on the stars, as long as we assume responsibility for our own actions…well, hell, a little auspicious coincidence and applicable wisdom can't hurt. And so, with that grain of salt…enjoy!
This Full Moon in Scorpio will have us delving into the deep mysteries of the heart and feeling our truth. We are being asked to feel instead of think and to act instead of speak.
"We cannot discover new oceans unless we are willing to lose sight of the shore." ~ Andre Gide
On the evening of May 4th, the moon will be full in Scorpio.
I can promise you, this moon will be a big one. It seems that many of us—myself included—have been struggling with having a full restful nights sleep this past week. A big reason is the energies are incredibly heightened right now. Between the festive time of Beltane and the polar opposites of Taurus and Scorpio getting ready to clash and set the stage for some drama come Monday.
Everything is on edge.
Though this moon will have a lot of drama associated with it, know that it's all necessary to help move the wheel of change.
Monday's moon is about asking us how comfortable we are with the uncomfortable. It's about challenging us to walk through difficult times knowing that we need to in order to get to the other side.
During this moon, words will be superfluous, and we will instead rely on our actions to say all that needs to be said and done. We've all been there; sometimes so much has been said that it's time to stop the talking and start the doing.
This moon will propel us forward in following our heart with decisive action.
Full moon in Scorpio's energy will shine a light onto anything hidden. It is all about highlighting culminations, realizations, and desires in the world of the five senses—the more deeply it affects us, the more likely it will be brought out into the light.
We will be asked by Scorpio to deal with that which we've tried to ignore the most, and to deal with it head on this time—not by masking it or burying it like we have in the past few years. This time is the culmination of all that we have learned and personally have experienced since 2012. It's the Universe waking us up to our highest desires and potential, and then giving us the courage to go after it.
The energies of this moon will offer us courage to step outside of our comfort zone.
This moon is going to strike a chord in our hearts and not let us settle. The time of playing small has passed and the Universe is challenging each and every one of us to Go Big.
Whether or not we feel entirely ready, this time around the Universe will not be taking No for an answer. This can translate to the acceptance of change. Whether it's our careers, our living situations, relationships, or new opportunities, there is a chance now for us to begin a new chapter that has been in the works for quite sometime. It's less about the creation of something new, and more about the acceptance of what already is.
It's about looking at situations differently, almost like we suddenly have new glasses on.
Everything that confused us previously will suddenly become clear.
We are being pushed to make big moves and we will be doing it like the CEO of a company—not like a toddler having a tantrum demanding our way or the highway. We will not only make the right choices, but we will make them at the right time which will make all the difference. Full moons are traditionally the time when we tend to more easily let go of that which is no longer serving us, and this moon is only amplified by Scorpio's passion to be free.
There's no mistake that there is going to be tension here—a lot of tension.
However, there is potential for a big win as well.
There are times in life when small bets are not allowed.
It's time to truly Go Big or Go Home.
And of course, May the Fourth Be With You…
~
~

Bonus: Elephant's founder Waylon Lewis in astrology:
And the three requirements for the ideal job:

Author: Kate Rose
Editor: Renée Picard
Photo via Public Domain pictures 
Sources: