There is fog of war as well as dust of disaster. Not until the fog has lifted nor the dust settled can we see what really happened.
I've never been in a war, but I'm in Nepal and I can speak to what I am seeing following the disastrous earthquakes and aftershocks that occurred this spring. In general, things are different from what I was led to believe. They're very bad, but not as bad as I had believed. Reports from my personal contacts, plus mainstream media accounts contribute to my own dust of this disaster.
I co-founded and run a 501(c)(3) charitable organization, Himalayan Development Foundation, which does good works in Nepal. From the beginning, we've centered our activities in and from the village of Chhulemu, in Solukhumbu, that predominately Sherpa district of Nepal where Mt. Everest is located. When we heard through our contact, Karma Sherpa from Boulder, that the entire village had been destroyed by the May 12 earthquake, we determined we would do what we could do to rebuild Chhulemu.
Karma dispatched a team from Kathmandu to go to Chhulemu to deliver orange tarps used in building temporary shelters, and to get a firsthand assessment. Their report described a better picture. Only 12 of the 30 homes were destroyed. The other houses were badly damaged and may need replacement. To better understand what it would mean to rebuild Chhulemu, the HDF board of directors has sent me here to conduct a firsthand assessment.
Approaching Kathmandu on our descent into the airport, we skirt over suburban areas and below me are mostly undamaged single and multi-story buildings surrounded by lush fields and green grass. I'm puzzled that very few structures seemed to have suffered from the earthquakes. Yet, just before touchdown we pass over a tent city where scores of displaced families are living.
It looks like the earthquakes did hit the capital city, but not nearly as badly as I had imagined.
There is virtually no damage along the road leading from the airport into the city.
Later, my host, Ngima (one of Karma's brothers), guides me on a walking tour of Thamel, the "tourist area." When I ask him why there is relatively little damage, he says, "The first quake's epicenter is to the northwest. It is in the cities of Pokhara and Bhaktapur where most of the death and damage occurred."
In the parts of Kathmandu I am seeing I pass by more than a hundred unscathed buildings for every damaged or destroyed one. Most of where nature took its biggest toll in this city was on the oldest of buildings, especially ancient shrines.
Kathmandu Durbar Square, a UNESCO World Heritage Site, is that courtyard and collection of structures built adjacent to the royal palace, home to the royal family during centuries gone by. It contained intricate and elaborate displays of craftsmanship and architectural design created over the centuries by the indigenous Newar people. Many of the structures and the craftsmanship that went with them, are in ruins from the first earthquake.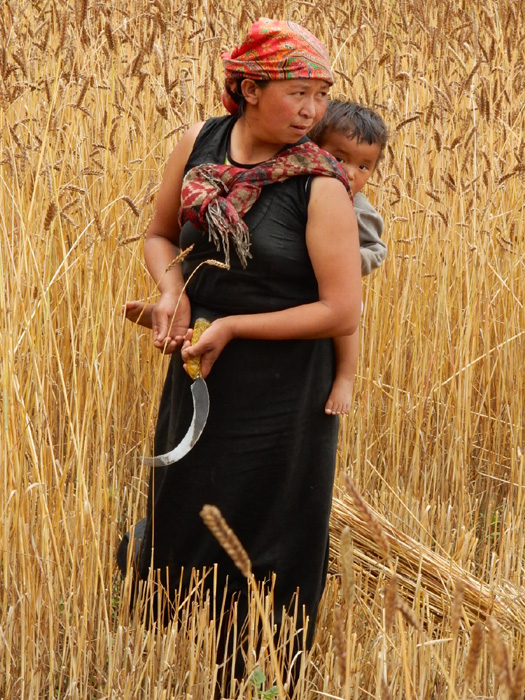 I remember the awe I felt on my first visited.
It was a late afternoon and the setting sun cast a shimmering yellow glow over the vast collection of ancient red brick buildings. Swarms of pigeons rose and fell in unison as hundreds wandered about, taking in the splendor of it all. I remember climbing the steps to the top of one of the temple-like structures, spending several minutes doing my best to absorb all that was spread out below.
Now those temples that sat atop the pyramidal stairs are gone. The stairs lead to nowhere. I snap several pictures of the destruction before a soldier taps me on the shoulder and motions for me to stop. This is sacred ground and I was not showing my proper respect.
Now knowing that, I stop.
In the evening Ngima and I meet Ashesh Dangol, the extraordinary blues guitar musician (Hendrix of the Himalayas) I'd met last November in a Kathmandu club. Now, because there are no paying patrons for him to play for, he's volunteering all his time in the relief effort.
Kathmandu is a sprawling city and just 20 minutes away from where we sit, all 71 homes that make up a village were completely destroyed. He shows me the pictures and tells the story of these villagers. Ashesh has designed a temporary structure and today before we met, they built the first one.
I ask about the massive destruction there, but not here. He replies, "Construction methods and materials. The village homes were built more than fifty years ago and of clay bricks. The buildings you've seen are of relatively new construction and made of concrete, bricks and mortar."
**
It is early morning the next day. Ngima, Chhirring (my translator) and I board a commercial domestic plane and fly to Phaplu. (Ngima's English is passable, but Chhirring's is masterful). Flying over the villages dotting the mountainsides below, I notice myriad swatches of orange—temporary shelters.
According to many Western reports there was only one earthquake, the 7.8 magnitude that occurred on April 25. The events on April 25 and May 12, magnitudes of 6.7 and 7.3 respectively, were major aftershocks from that first quake. The Nepalese emphatically claim they were hit by three major earthquakes in 17 days, and bristle at the claim that two and three were mere aftershocks. Out of respect to them, I adopt their nomenclature.
The May 12 event, the third earthquake, was centered north and east of Kathmandu, just 50 miles west of Chhulemu.
I'd been to Phaplu several times before, and from here it's only a day's walk to Chhulemu. Because of its relative closeness to the epicenter of the third quake and given the reports coming from Chhulemu, I expect to see downed buildings and widespread destruction in Phaplu. Instead all the buildings are still standing, albeit some with major cracks in the exterior walls. I feel good for the people of this village and for myself, a bit confused. This is too close to Chhulemu to not have also suffered complete destruction of at least some buildings.
After breakfast and tea at a local tea house, we start out on our trek north to Chhulemu. Along the way many of the walls of the buildings have the telltale earthquake-caused cracks, but none have been reduced to rubble and none have missing walls like I'd seen in so many online pictures and videos.

Five hours later we arrive in Ringmu and stop for lunch before hiking up and over the Taksindu pass. In my mind I had imagined faults in the trail and in the walls supporting the terraced farming fields. None exist.
It's not until after lunch and we begin climbing up to the Taksindu pass that I see the first totally destroyed house—nothing left but a pile of stones and broken timbers.
We decide to spend the night at a lodge in Taksindu and while we are there, we visit the damage done to the local monastery. The two buildings that house 54 orphaned boys are standing, but have suffered major damage. The original report was that they were destroyed.
All the boys have relocated themselves and their beds from their rooms to the orange tarped temporary shelters outside.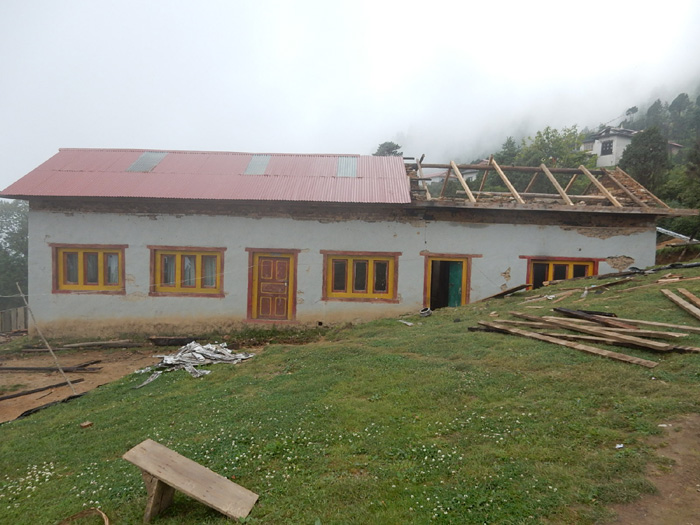 Local carpenters are working to rebuild the caved in roof of one of the dormitories. The newly built Taksindu Resort lodge owned by Kale and his wife Urken has suffered no damage at all. I remain confused from the disparity of the reported "twelve homes destroyed" with what I'm witnessing.
On the following morning we make the remaining 30 minute hike down the mountainside to Chhulemu. When we arrive I find there are no destroyed homes, at least in the way I interpret "destroyed."
The houses are still standing from the quakes.
What I learn is the local carpenters have inspected all 30 homes and concluded that 12 of them are so badly damaged they need to be taken down and replaced. All village families have relocated from their homes to the recently built temporary shelters. This contrast of what my mind has made up and declares is true with what is revealed by the day's sunlight further cements my confusion.
The dust of this disaster has settled and what is real is now obvious. What is further obvious and explained by what I see, is why there were no deaths and no injuries in the village.
Further, my confusion does nothing to ease their real suffering—about which I'm to learn plenty.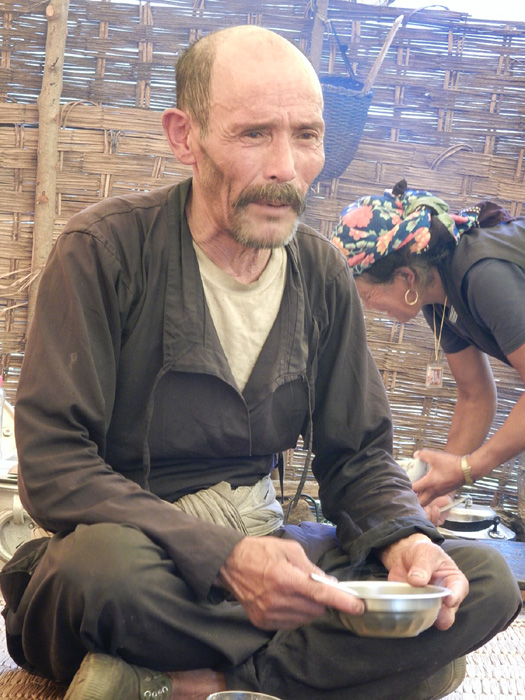 Read part two here.
Relephant: 
Author: Don Moore
Editor: Renée Picard
Photos: courtesy of the author