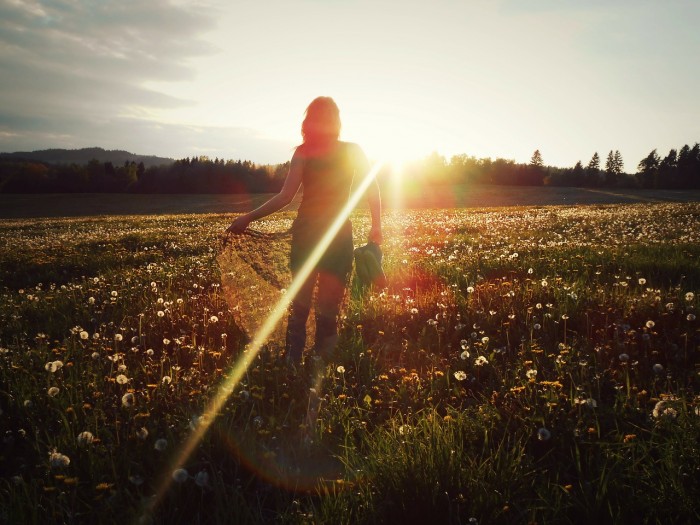 We are healers, truth-seekers, wild-hearted dreamers and bubbly beacons of inspiration.
Swaying through wide open fields with frothy, cotton-candy smiles, we throw our heads back and laugh like we haven't got a care in the world.
But, we know life isn't just pretty and shiny.
We have tasted the depths of hell.
We know abuse and loss and tragedy and struggle.
Our hearts used to hide from that pain—but not anymore.
We close our eyes, become flames and sprout Phoenix-like feathers, so our hearts can burn without dying.
Reborn daily from the ashes of crushing hardships, we are just as fierce as we are soft.
We are sensitive warriors.
We see hollow sadness behind empty smiles and feel envy's bitter fingertips behind rainbow bubbles of false happiness.
We let the world's hot breath crash inside us like salty sea waves, tasting splashes of sorrow and joy and brokenness as often as we blink.
Because we feel so much, we haven't always known our place in this life.
We've lurked in darkness and uncertainty, drowning a little every day.
We've been unsure how to value ourselves and honor our sacredly beautiful destinies.
We've labeled our gifts shameful burdens rather than precious jewels.
No more!
It's time to own the oceans of delicate power that course through our magical veins.
It's time to dive deep and touch the iridescent pearls of our phosphorescent radiance.
Look directly into your light.
Isn't it f*cking magnificent?
Scream out in pure ecstasy and nourish every ounce of your brilliance, letting it erupt and expand outward like blooming rays of hot sun.
These rays—our rays—they can warm the world's cold tears. They can open up closed hearts and soothe wounded souls.
We are meant to help, but we must help ourselves first.
Close your eyes.
Bathe yourself in the glittering net of your own infinite light.
Become whole.
Honor each delicious piece of yourself.
Gather your gifts, strengths, wounds, flaws and brilliancies, for they will be of use now more than ever.
Do you hear the breeze hissing softly as it clearly whispers your name?
You've been called.
There's no turning back now.
This world needs you.
It needs your creativity, your magic, your intuition, your empathy, your sensitivity.
It needs your soft strength, ferocious perseverance and inspiring Phoenix-like resilience.
Take all you've learned: every painful lesson and crushing moment and delicious sparkle of joy.
Step into the light.
Spread your wings.
Catch the wind at midnight.
Howl into the frosty moonlight.
Become who you were meant to be.
And
Fly.
~
Relephant read:
~
Author: Sarah Harvey
Editor: Ashleigh Hitchcock
Photo: Pixabay