Warning: naughty language ahead. 
The emergency room doctor came back with my lab results.
She was concerned because one of the heart enzymes was elevated. It meant that my heart was under stress and they wanted to admit me to the hospital.
I was officially scared shitless.
She was concerned about my heart. 
After much extensive and expensive testing, I found out the next day that I'm not actually dying. Whew. My thyroid had become overactive and was making my heart beat as if I were sprinting when I was merely brushing my teeth.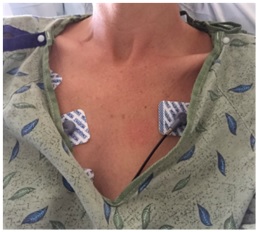 This is good news but now I feel like absolute shit. I get winded walking to the bathroom. My career and passion is coaching woman to take charge of their lives. Right now, I can't take charge of dinner. As a coach, this really made me wonder about all of the other people who sick and struggling.
How do you stay happy, optimistic and moving forward when you feel like shit?
I decided to make my own How-To list to see what I needed to focus on myself and, hopefully, it will help when you are struggling physically or emotionally.
1. Humor: I love to laugh and I really love gallows humor. Inappropriate laughter is fun! Some levity is in order when the situation gets too real. I joked with the doctors, nurses and technicians. It gave me moments of not being a sick person and being a joyful person.
2. Rest: Oh Lordy, is this one hard for me. I love to get shit done. Now is not the time to get anything done except for watching Netflix and doing puzzles. Yes, puzzles. The dishes can stack up and the laundry can wait. There is a gaggle of people who keep asking how they can help. Laundry, cooking and cleaning are fantastic options for my helpers.
3. No "Why Me?": Health issues and accidents happen to everyone. If I sat with the energy of "Why is this happening to me?" I would really be stuck. Focusing on the unfairness of life keeps me the victim. I need to move forward, feeling empowered and focused on healing. Why not me? There are great lessons to be learned from struggle.
4. Gratitude: In the hospital, I passed plenty of other patients who had much more serious health issues than me. I am grateful to walk out of the hospital and go home. I am grateful that I can seek medical attention, get an accurate diagnosis and start healing. I am grateful for what I can still do and my impending recovery.
5. Prayer: There's really nothing like a complete cardiac workup to help me flex my prayer muscles. During the CT scan of my heart and lungs, I reminded God that I have 12 and 14-year-old sons. Through creating my intention and desire to have a positive outcome, I asked God, the universe and any other entities in the neighborhood to help with my healing.
6. Follow orders: When my doctor told me that I couldn't have caffeine, I was stunned to say the least. Whatever it is, no caffeine, no smoking, no sex, no sugar, no salt, elevate your feet, rest, drink water, take your meds, for crying out loud, listen. 
7. Acceptance: As I write this, I am breathing like I just walked up a flight of stairs. It's uncomfortable and distracting. It is what it is. The more I focus on my symptoms, the more freaked out I feel. For now, I am going to breathe like I'm working at a 900 number (without getting paid for it). I have to accept that and focus on the things that I can do. It creates more compassion for myself.
8. Seek Joy: I cannot tell you how many videos I've watched of odd animal friends. Cats and squirrels can really be friends! So can elephants and dogs! I watched movies that I've seen a zillion times but love. I am surprised by the excitement that I have when I find an unexpected puzzle piece. Consciously finding small bits of joy adds up.
When I write these eight steps, I feel sad because some of my favorite people did not recover from their illnesses. I know that we don't all have positive outcomes. I cannot let that minimize my experience.
What I do know is that there are a lot of us walking around, looking normal, when we are truly struggling. We feel afraid, exhausted and, often, financially pinched. We still need to work, parent and maintain a home. Use these eight steps to cope, remain optimistic and get back to enjoying your life.
Your attitude is everything!
Relephant: 
Author: Heather Sayers Lehman

Editor: Catherine Monkman
Photo: Lauren Hammond/Flickr, Author's Own