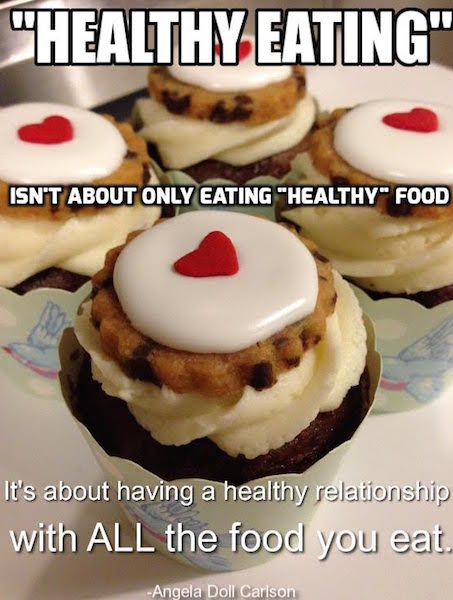 Over the years I have visited the domains of the vegan, the vegetarian, the omnivore, the Paleo and the Atkins diet, to name a few.
I followed the trends, read all the articles and tried to sift through all of it until I found some common sense to it all.
That led me to some very dark places where food was concerned.
I know loads of people who've told me that one or more of these trends has changed their life, their health or their perspective.
However, what following these diet trends changed for me was my relationship with food, and not in a good way!
For me, eating became about feeling anxious, feeling guilty, feeling accomplished or feeling better than the guy next to me who was eating fast food. It was then that I realized—it wasn't my food that needed changing.
It's not the food that needs to be healthy. It's my relationship to food that needs to be healthy.
When I start to label food as "poison," when it isn't literally poison, that's a problem. When I start to demonize entire food groups, when I have no medical reason to avoid them, that's a problem.
When I stop enjoying the tastes and textures of the meals I am eating, or when I stop going out to restaurants with friends—because of self-imposed restrictions, or because I feel the need to lecture others about what they eat—then I know I have an unhealthy relationship with food.
For the last year, I've begun to shift my way of thinking where this is concerned.
I've started to say to myself, like a mantra: "What if there is no 'healthy' food? What if all that is truly necessary, is a healthy relationship to all the foods?"
Then I eat the food, and usually it is delicious.
So I propose a new kind of diet we can follow. I call myself a "delish-atarian," which has one simple rule—if the food is delicious, I will eat it not too much, not too little, not in secret and not for show.
I will simply eat the food, and I will stop stressing about it.
Sometimes it's a fruit salad, and sometimes it's a kale salad. Sometimes it's a crab cake, and sometimes it's a cupcake. So long as I greet each meal without the guilt, the shame or the rigid judgment of myself or anyone else around me—I am winning on this new diet.
It is possible to have my cake and eat it too.
And each time I eat the food, I remind myself of this basic truth: it is not the food that has to be healthy in order for me to be healthy—it's my relationship with the food.
Having a solid approach to how I view food then cascades into all the other relationships in my life—my relationship with my husband, my children, my friends and my extended family. It even helps the relationship I have with my own body, by giving me back the power I used to give to "evil" foods.
Food isn't evil. It is just food. So I say—follow me down the delish-atarian path!
Eat the food. It is delicious.
Relephant Read:
~
Author: Angela Doll Carlson

Editor: Yoli Ramazzina

Photo: Author's own.