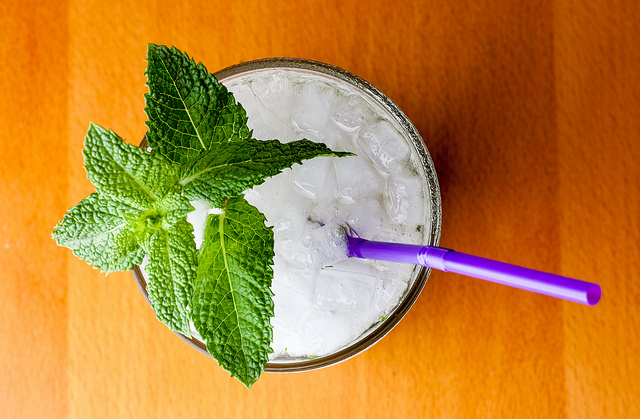 These days are long, the nights are hot, and nothing says "summer" like a fresh, cool mojito.
I frequently host themed get togethers and am affectionately known as a mixologist amongst my friends. This recipe was tweaked with love, and it was such a big hit I decided that I had no choice but to pass it on!
~
Summer Mojito
Yields 1 gallon of the good stuff:
Half a gallon of white rum
6 cups of the homemade mint infused simple syrup (see recipe below)
2 limes, squeezed and cut
About 1 cup of sweetened lime juice
A bottle of plain club soda (set aside for topping off individual drinks)
Pro Tip: If made and refrigerated the night before you intend to serve/drink it, the flavors have a chance to fuse together even more.
~
Mint Infused Simple Syrup
6 cups of water
6 cups of sugar (white or raw)
1 teaspoon of mint extract
About 3 cups of fresh mint leaves
Add all ingredients into a sauce pan and boil until the mixture is rolling. Turn off heat and cover for about an hour. Let cool then add right into the mojito mix.
~
Once the mojito mix is made it can be placed in a glass container with a spigot and can be easily poured for parties. Just get your favorite glass, fill with ice, add about ¾ full of the mojito mix, top off the glass with club soda, and add a slice of lime and a few mint leaves for garnish.
~
Secret Strawberry Mojito Variation
Shhh! This is my secret recipe that actually was even more popular than the original.
In a food processor, blend up about 2-3 cups of fresh washed and cut strawberries. Place the mixture into a cheese cloth and place into the mojito mix. The strawberry mixture will turn it pink, and add incredible flavor.
Sit back, relax and enjoy—it's summertime!
~
Relephant Recipes {to pair with your mojitos):
~
Author: Kate Rose
Editor: Alli Sarazen
Photo: Andres Nietto Porras/Flickr