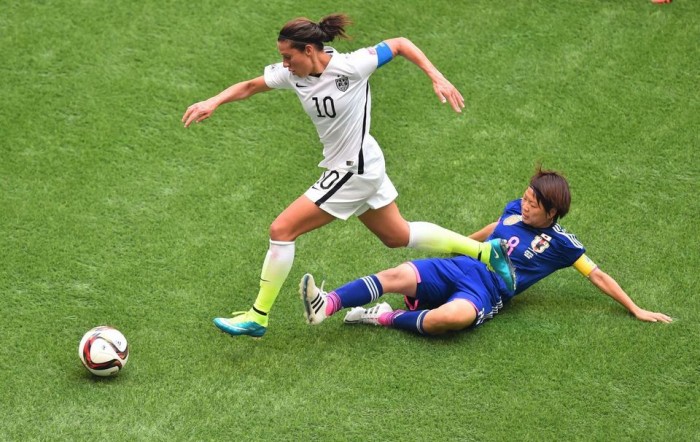 "You kick like a girl" is a phrase that's been directed to me—and countless others—often.
I played soccer from age six until my mid thirties. I was MVP of my high school soccer team for a couple of years and many will tell you I was tough as nails. I wasn't afraid of the dirt or bruised knees and I could slide tackle a boy to the ground with skill and quickness. Regardless of these facts, when I played co-ed I was taunted by many of my peers with this statement. It was meant to belittle me and remind me that girls aren't as good as boys and for most of those years I believed that sentiment.
I wasn't the only girl to hear this as she was growing up. "You hit like a girl" and "you play like a girl" were often shared.  Grown men said it to motivate their daughters on softball fields and basketball courts. Coaches said it to "toughen" up their female teams. These words weren't only meant to take us down, they were also meant to build us up. Those words had the ability to make us powerless or powerful. Perhaps if we acted more liked boys or men we would play tougher and harder?
I like to think that now, times are changing. We don't have gender equality in sports yet, but women are gaining much more respect and notoriety.
Recently, many of us watched the USA women's soccer team outplay the Japanese team in the Woman's World Cup.  These women played like champions. The women on both sides played rough and took each other to the ground when necessary. There was sweat and grit. They pushed and shoved and helped each other back up after they took the other down.
These women literally played—like girls.
These women played with pride, skill and a toughness that proved they were unstoppable. The women also exhibited sportsmanship and class. They played with the same amount on the clock over the same two halves as the men do. The rules stayed the same and the women kicked the same amount of a**.
The match carried with it historical significance as well. The U.S. national women's team is now the most decorated in women's World Cup history, becoming the first nation to win three World Cup championships. In addition, American Carli Lloyd became the first woman to score a hat trick (three goals) in a women's World Cup final.
"You play like a girl" took on new meaning in the minds of many. They played fiercely. They played like women.
The FIFA Women's World Cup first took place in 1991. The first Women's World Cup tournament, named the Women's World Championship, didn't take place until sixty-one years after the men's first FIFA World Cup tournament in 1930.
It's rare that we see a women's sport embraced by social media with such excitement and engagement. I was proud to see just as many men as women on my Facebook feed celebrating the victory of this women's team.
More than one man posted that statement that used to take me down, "you kick like a girl". Except, this time, it was meant as a compliment and a sincere show of respect for the women who played their hearts out on that soccer field.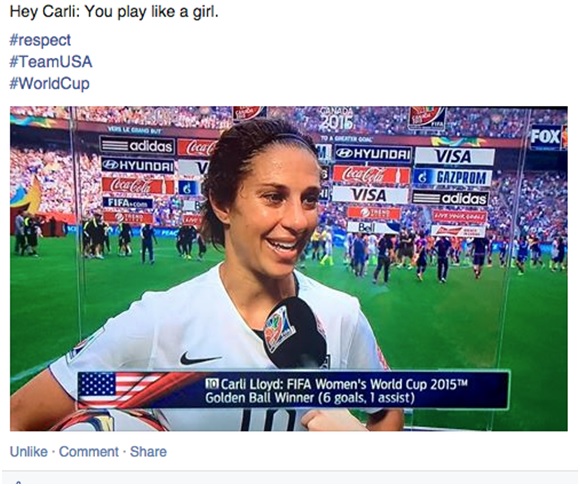 This championship celebrates women and sports and brings our attention to the benefits of girls in sports. According to the Women's Sports Foundation, it's time we afford more girls the access to sports:
"Sport has been one of the most important socio-cultural learning experiences for boys and men for many years."
Those same benefits should be afforded to all girls and women. It is important for all of us to know that:
· High school girls who play sports are less likely to be involved in unplanned pregnancies and are more likely to get better grades in school. They are also more likely to graduate than girls who do not play sports.
· Girls and women who play sports have higher levels of confidence and self-esteem than those who do not play.  Involvement in sports helps decrease  the likelihood of depression.
· Girls and women who play sports have a more positive body image and experience higher states of psychological well-being than girls and women who do not play sports.
All those women on that field filled up my heart with pride and made me shed a tear of gratitude for the role models these champions are to all the girls who have ever been told they weren't good enough.
We've come along way in women's sports. Yet, we still have a long way to go.
It is my hope that this win for the USA Women's National Soccer Team helps put the spotlight on the importance of not only getting girls and women more involved in sports, but also toward closing the gender divide.
I hope it opens up conversations between parents, coaches and the girls and boys who play sports about the power of words and how we can use them to influence and motivate effectively. I hope these discussions remind our youth that girls are powerful and can play with the boys on any level playing field.
Tonight, I am proud to be a woman. Tonight I am proud I still play like a girl.
This victory is not only for the USA Women's Soccer Team. This is a victory for us all.
~
Relephant Read:
~
Author: Kelly Chesney
Editor: Alli Sarazen
Photos: Author's Own