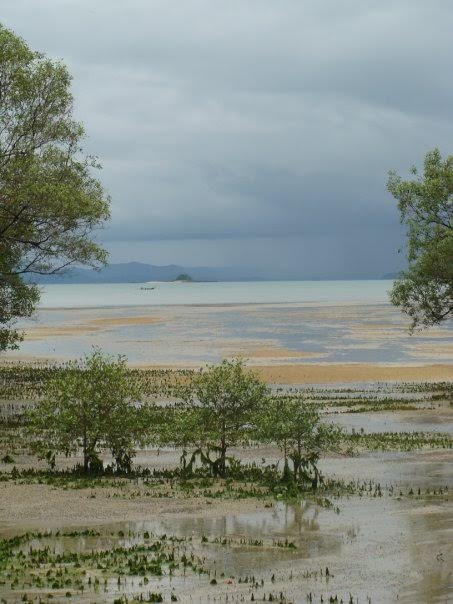 I fell in love while taking a course focused on minority populations in Thailand back in 2008.
Toward the end of the course we went down south and visited with the Sea Gypsies or Chao Le. They told us of their strife to survive amongst the commercial fishing industry taking over and public land being sold off for commercial tourism by corrupt politicians.
I listened as the rain poured and one man told a story of his brother's devotion to protecting the land for many years.
Tensions grew between "elected" officials and the locals—public land where food was grown and entire, thriving eco-systems were demolished. The man's heart thumped inside his chest as he spoke. His hands clenched up. I stopped breathing with him. His brother was murdered because he wouldn't keep quiet. Silence filled the air until we were summoned into the kitchen to watch how curry is made.
I stayed outside and cried by the side of the house.
The rain eased up and we went into the mangrove. I took my shoes off and handed my bag to someone who didn't want to get wet. It was love at first step. The cool, soft, wet ground embraced my feet with warmth, the tree crabs welcomed me with excitement, a branch of leaves from the Rhizophora kissed my cheek.
I was enamored, euphoric, enchanted…until I heard my name called from the rest of the class to come back and get lunch.
Lunch was so far from my pallet. I was in love! It had been so long. I wasn't ready to go just yet. I hesitated and gazed into this alternate universe I wanted to badly to stay in. This only made people call my name even louder. The rain cried even harder as I reached the shore.
I had never been with a mangrove before—but I'm forever haunted, in the best way.
I spent a month in Thailand and that one day changed me forever. Seven years later and I want more than ever to restore, preserve and share this love.
Mangroves are fascinating places where land, fresh water and salt water meet. A fusion of evolution all happening at our tropical and sub-tropical coastlines. Mangroves are endangered, and declining worldwide mainly because of coastal development. They are cut down, and the swamps filled up for construction.
"There are 110 species of mangroves in the world, and more than 16 % are in danger of extinction." (IUCN Red List Threatened Species)
During my time teaching yoga and mediation in Belize City this past spring, I met Jaen Nieto Amat, a marine biologist and instructor with Ecology International Project in Belize, and here is what she has to say in regard to mangroves and what we can do:
"Mangroves are important because a wide diversity of species depend on them for survival, shelter and food. Also, they act as a nursery, many of these species are reef species, and are commercially important. Mangrove and reef ecosystems are closely linked, and if one is affected, the other will also be. Nowadays both are under huge anthropic pressure, which ultimately affects us, humans, since we depend on resources provided by the environment. Also, mangroves, together with the reef, act as barriers to hurricanes. Climate change is increasing natural disaster, and we now have less protection because we are destroying mangroves and reef ecosystems."
Since everything is connected, some of these tips might not seem directly connected to mangrove, but they are, and here's what we can do to save them:
1. Use alternative products—biodegradable for personal hygiene and cleaning the house, clothes, etc. These products are absorbed through the food chain and can cause diseases and hormonal disorders.
2. Reduce the amount of plastic produced, because when "thrown away," about 10 percent end up in the sea, causing the deaths of millions of animals either by ingestion or getting tangled.
3. Be conscious in the type of hotel you choose for holiday on tropical coastline: avoid the big hotel chains, prefer the small, eco-friendly ones.
4. Use biodegradable sunblock, since many of the other's contain products responsible of coral diseases.
The human connection and why mangroves are important:
– Mangroves form dense barriers against storms and tsunamis.
– Mangroves produce seafood, fruits, medicines, fiber, and wood.
– Mangroves stabilize shores by trapping sediments and building land.
– Mangroves improve water quality by filtering runoff and polluted waters.
– Mangroves protect the climate by absorbing carbon dioxide and reducing the amount of greenhouse gas.
– The intricate root system of mangroves provides protection to fish and other organisms seeking food and shelter from predators.
July 26th is International Mangrove Day. If you feel called to take action or want to submit personal photos of mangroves, you can do so here.
Sources/Further Reading: 
Author: Kathryn McPherson
Editor: Emily Bartran
Photo: Author's Own