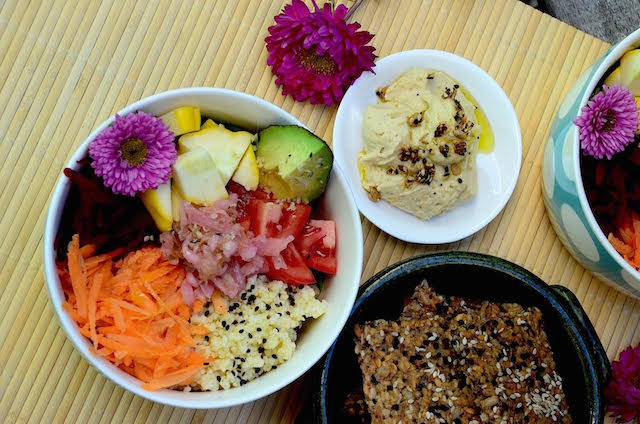 Nourishing bowls, soul bowls, rainbow bowls—they have taken the social media world by storm as of late; vibrant creations that are as beautiful as they are good for you!
The reason I love nourish bowls so much is that I can confidently sit down and know I am giving my body all the nutrients it needs to thrive. The infinite number of variations assures that nourish bowls never get boring or dull!
These joyous little bowls can grace a breakfast, lunch or dinner table and will delight those familiar with healthy cuisine and those new to the world of quinoa, chia seeds or kale!
Here is a delicious recipe to try for yourself at home:
Rainbow Nourishing Bowl:
Ingredients: 
1 cup of cooked millet
1 large carrot grated
1 medium beetroot grated
2 roma tomatoes chopped
2 cups of mixed leafy greens
½ a ripe avocado
1 teaspoon of hemp seeds
1 teaspoon of black sesame seeds
optional:
olive oil
lemon juice
tahini
fresh herbs
Preparation:
1. Place the leafy greens into the bottom of two bowls.
2. Then simply arrange the millet and vegetables around the bowl in different sections.
3. Add the avocado and top with hemp seeds.
4. Scatter the millet with black sesame seeds for contrast.
5. Add the sauerkraut in the center.
6. Feel free to top with tahini, olive oil, lemon or your favorite herbs.
Author: Kelly Fielding
Editor: Katarina Tavčar
Photo: Author's Own