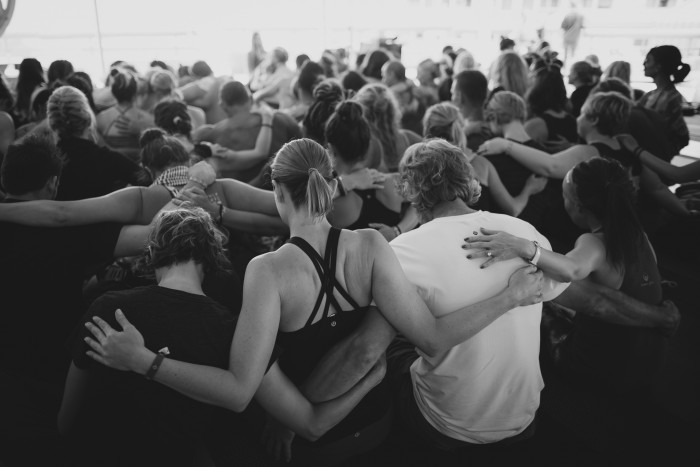 I've got that weary after festival glow; tired from giving so much energy out, but also elated beyond words.
I head into the presenter's shala at Wanderlust Snowmass for what is probably my twentieth Evolution green juice—the ones they give away free to the presenters—before I hit the road.
One of the staff at Wanderlust asks me, "Are you to going to Squaw?"
"Nope."
"Ok, I'll see you in Whistler"
"I'm not going there either. This was my last event for the summer."
Similar conversations seem to come up every five minutes. I can't take ten steps in public without a yoga instructor, a DJ or a festival attendee asking me this.
I'm supposed to feel lighter saying these words of freedom. The truth is that as the words come out I feel the weight of my heart sink into my belly. I've been manifesting this time at home, but when it comes it is a transition that is harder to process than I imagined.
I think to myself sometimes that aside from traveling yogis, the only other people who would understand the paradigm-shifting feeling of sitting the summer yoga festival tour out are professional athletes, musicians and, perhaps most fittingly, circus performers.
This is a circus. I am surrounded be people with one foot in Burning Man and another foot in Lululemon. Most of what people experience at the festivals is so new, but to the teachers and musicians on tour we are one big, weird family. Every few weeks we all see each other in a new town: the wolfman, the fat lady, the trapeze artist and the knife swallowers. At first we watch each other's routines, but over time we learn to really connect with each other.
In spite of industry gossip (and the potential of third chakra, ego reactions) I am legitimately excited when I see each one of them in a new town and I will miss them all this summer.
I focus on the positive. I can teach to locals who live down the street from me in Santa Cruz. I can take my four-year-old son camping, have dinner with my family, have a yoga practice not just at the same time but in the same time zone every day. I can surf often, grow food and finally get that book written that I've been talking about for years.
That's my dream, anyway. The reality is a massive mountain of work to attend to as well as plenty of bills and paperwork to organize. I have a theory called Paper Karma: Because as a species we have cut down so many trees, as cosmic justice the universe creates a world of endless paper that needs to be filed. Yoga Instructors are not exempt.
I should be elated to have most of the summer off, but the fact is I am also sad. I am writing about it now to try to figure out why.
I know one thing. It isn't the money. People have the impression that teachers on the festival circuit have "made it." The top of the yogi totem pole. The fact is that these trips barely pay for themselves. It's still yoga, so welcome to the world of making "tens of dollars!"
Maybe it's an ego-thing. Maybe I'll miss all the attention from the throngs of people who come up after class and tell me, "that was amazing," or "best-class ever" as they take selfies with me that will later be tagged on Facebook. Part of this it does feel good, I admit. We all want to feel appreciated for what we do. But it's not that.
When I probe deeply, it's about my life mission to be a "Conduit for Love."
Although I could never prove it scientifically, it feels to me like Love is a force in the universe like gravity or electromagnetism. The experience of yoga allows us to let the tension leave our bodies, to let the prison of incessantly thinking about our problems melt away. This allows Love to flow through us in powerfully. Meaningfully. There is something about the large collective experience of practicing yoga together that allows us to plug into the Love force with so much resonance.
People often ask me if I feel nervous teaching to a room of 250 people, but the fact is I don't. In fact, I never feel that I am living my dharma as authentically as when I get out of my own way and channel in an open hearted way. I am not even slightly nervous on stage. I am in a Jacuzzi. It's a total joy.
When I was a younger yoga teacher I used to think that the litmus test for a good yoga class was how sweaty everyone got. Over the years that has switched. Now, I am clear that my main test of how good a class was is how much the barrier between every heart in the room got broken down; how much we opened up to the bitter-sweetness and tenderness in one another.
There is a reason people pilgrimage to Mecca en mass to have a spiritual experience. It's why when one person has a candle it is only so bright but when all that fire comes together something can erupt if and when it goes right. When you add in music to those classes, we are talking about a heavyweight "one-two" spiritual punch to the Anahata chakra. It happens in smaller classes too but more often than not as a teacher seeking to be a conduit for love, at the end of the "festival" classes I am always blown away at what gets created collectively.
There have been times after Michael Franti or Nahko sang at a class that have impacted me to such a degree, that I have had to lie down in quiet in my hotel room just to process what just happened. The questions that always came up? Who was really in charge? What just came through me? What energy did we all just share? If this was not a powerful, collective experience of channeling love through the human spirit, I don't know what it was.
I write at our kitchen table, the Santa Cruz sunshine streaming in, my son is taking an afternoon nap, my arms are tired from my morning surf. I am present…mostly. I smile. There is still a little restlessness in my soul.
Life exists in the tension of such extremes.
Yep, I will be in Squaw in July. July 2016, that is.
A year away used to seem so far, but time has taught me that waiting a year for things to unfold is no big deal.
Relephant Read:
Author: eoin finn
Editor: Emily Bartran
Photos: Pablo Tsukayama; Ali Kaukas