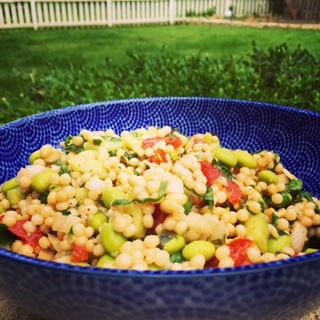 I love meals where my nutritional and flavor needs come together in one vessel.
In the winter, that tends be a pot, in the summer, a bowl.
This fresh and easy recipe—which I affectionately call "The Ed and Izzy"—is packed with protein and fiber—satisfying and refreshing all at once. It will last up to a week in the fridge, it makes a big batch so you'll have lunch or dinner for days.
You will need:
3-4 cups cooked Israeli couscous (You can use more or less depending on what you have or want.)
*Israeli couscous is much different than standard couscous, in that the grains are larger and meatier and stand up to the other ingredients of the salad well. If you can't find Israeli couscous, try using quinoa or brown rice rather than standard couscous.
1½ cups cooked, shelled edamame, cooled
2 cups tomatoes, chopped
2 medium cucumbers, peeled and chopped
½ large or 1 small red onion, chopped
½ cup walnuts, chopped
4-6 cups baby spinach, chopped
1 cup fresh basil, chopped
juice of 2 lemons
1 t. apple cider vinegar
¼ cup olive oil
2 T. honey
sea salt and fresh cracked pepper to taste
Combine all ingredients in a large bowl and mix thoroughly. Let chill for at least an hour and stir again, checking seasoning before serving. Garnish with fresh basil leaves and/or a lemon wedge if desired. This would also taste great over some fresh avocado slices with a slice of hearty bread and olive oil on the side.
~
Author: Erica Leibrandt
Editor: Ashleigh Hitchcock
Photo: courtesy of the author