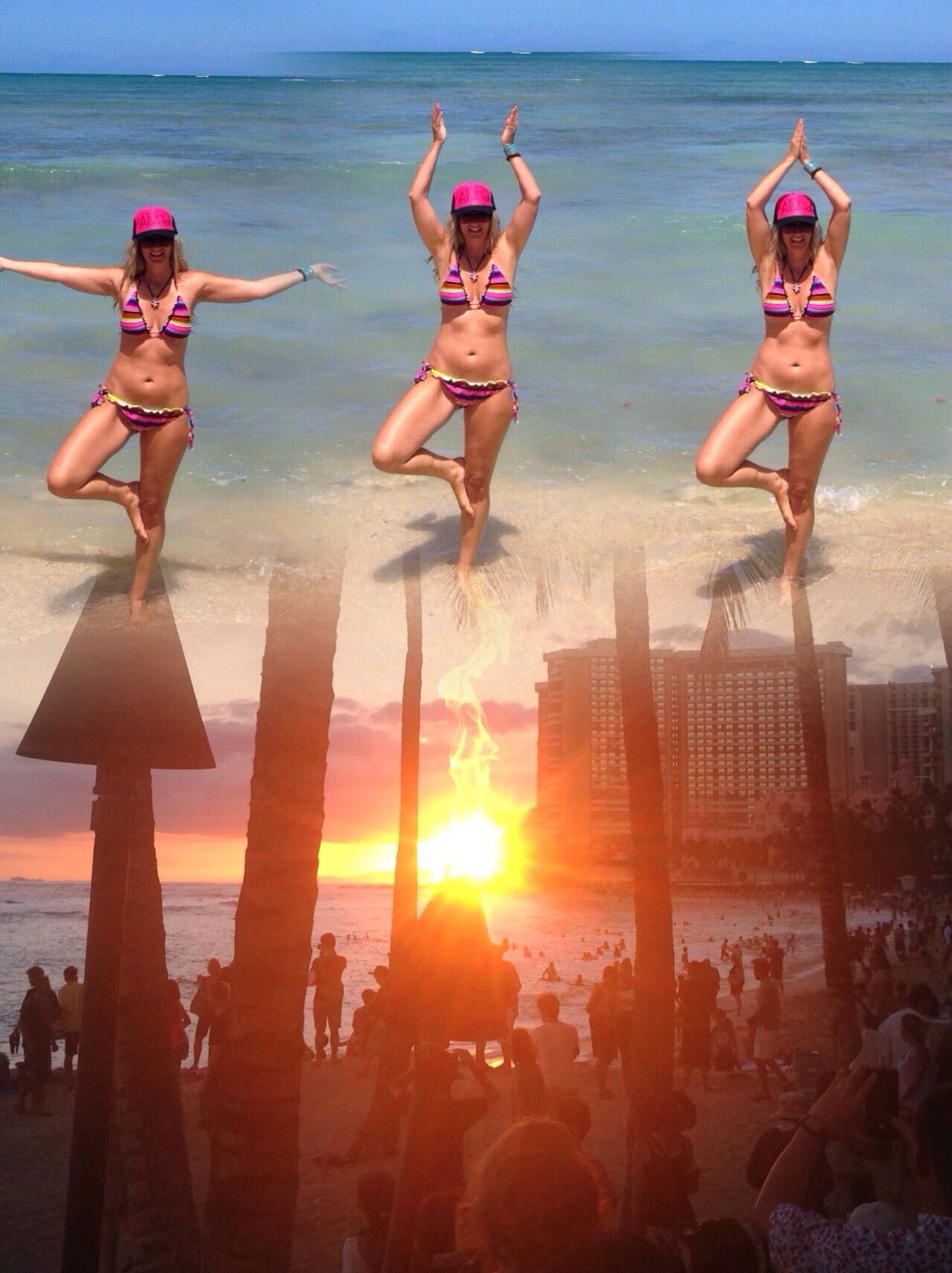 Warning: F-bombs below! 
"I fully believe that one of the greatest gifts I have given my children is the example of a mother who pursues her passions like a mother fucker." ~ Cheryl Strayed
I paddled into the tropical waves on Waikiki Beach and wondered if I would actually be able to catch the wave that was quickly approaching me from behind and stand up on the 12 foot surfboard I had rented…. I could see Diamond Head crater in front of me and the Historic Pink Royal Hawaiian Hotel to the left of me.
I felt alive.
Catamarans and outriggers pushed their way through the oncoming sets of waves. The bright equatorial sun was radiating on my back…a Hawaiian honu (sea turtle) popped up it's head beside me as I tried to stay in the right position to catch the wave.
I couldn't believe that I was sitting in this reality. Every cell in my body felt awakened in that moment.
Five days before, I had made a last minute decision to take my first solo trip to Hawaii for a vacation. But the night before I was suppose to go, I was so anxious to leave my daughter, I almost cancelled my trip. I felt her in my arms as she lay fast asleep….her breath peacefully going in and out of her lungs, and I thought, how can I possibly get on a plane and fly 4000 miles from the child who came from my womb? What if something happened to her…or me?
What if the plane crashed and she was left without me? What if she was sad and I couldn't come to her? The fear was overwhelming.
Luckily when I woke up in the morning…that fear had lessened to a more congenial degree. Even so, I was still afraid. I was still anxious. But I knew I had to go. I knew I had to fill up my spirit. I was running on less than empty. I had been running on empty for a long time leading up to this point. I cried for two hours before my mom picked up my daughter…like a sobbing, ugly cry.
I tried to keep it together for my daughter, but my love for her was so deep, I just couldn't contain the tears.
Once my mom picked her up, I quickly said goodbye and jumped in the car. I forced myself to drive to the airport and I forced myself to get on the plane. It felt so odd to be on my own, but at the same time it felt strangely exhilerating. I felt a little guilty about the exhilarating feeling. I arrived in Honolulu late at night. There is nothing like stepping off the plane in the tropics and feeling the warm trade winds blowing across your face.
I felt alive.
When I finally got to the hotel, I fell into my bed out of pure emotional and physical exhaustion. I had booked a room in Waikiki that was more on the 'budget' side, and it reminded me of a room from when I went on a road trip with my family to Disneyland in 1984…it was not spectacular.
A little loneliness crept in as i pulled the polyester comforter up over my shoulders.
When I woke in the morning, I knew I had to get to Waikiki Beach—one of my favourite places in the world. But I still felt guilty about being so far away from my daughter. I had checked in with my mom and was assured she was more than okay…but I still felt "mama guilt." It was at that moment I believe serendipity took over the situation. I checked my Facebook account and noticed that Elizabeth Gilbert had posted a new Podcast she had done with the author of 'Wild' Cheryl Strayed.
The topic of the podcast was pursuing your passions when you're a mother. Cheryl discussed how when she was finishing writing the book Wild, she left her children for three weeks to work on what needed to get done. She said that when she got back, it was like no time had passed. Her children were happy and they were more than fine. Her next sentence stopped me in my tracks as a mother and gave me wings all in one moment.
Cheryl said to Elizabeth on the podcast, '"I fully believe that one of the greatest gifts I have given my children is the example of a mother who pursues her passions like a mother fucker."
What?!
The realization that I will be the best mom if I pursue what I love poured over me like a healing balm. It gave me permission to seize every moment of my Hawaiian vacation, and continue that passion filled living when I returned to the mainland. I left the hotel room with a spring in my step and a little extra aloha in my heart.
I knew what i had to do.
I have always felt like a surfer, but never had the skills to back up the name. After having heard that podcast, I knew today was the day: I marched down to Waikiki beach, signed up for lessons and rented my own board.
When the instructor took me out towards the break, I felt immediately at home. Something about paddling in the warm Hawaiian waters felt completely comfortable to me…but this was just paddling on the board…how the heck was I going to stand up on it. After paddling for what seemed like an hour out to the break, my instructor, Pono, told me it was time to get ready to catch my first wave.
I had no idea what to expect. Finally the wave was getting closer and he said, "Paddle, paddle, paddle!"
I thought maybe I would catch the wave and then quickly fall, but I didn't. I caught the wave…waited until the board was stable and then I stood up and rode the wave! As I stood on the surfboard and stared at Diamond Head crater and all the incredible vistas around me, I recognized that I couldn't remember the last time I felt this passionate and alive.It…felt…incredible!
I didn't want that feeling to go away. After the wave died down, I paddled back to the break and caught wave after wave until my arms couldn't paddle anymore. It had been so long since I felt like a person and felt every cell in my being stand at attention and engagement. This was a feeling I didn't want to lose again. I stayed for the rest of the week and continued on with my passion filled choices. I went catamaraning, snorkeling, circle-island touring, mai tai drinking. It was amazing. Every single day reminded me how great it was to be alive! The time finally came for me to leave. I was very sad to go, but I really looked forward to seeing my daughter after I left.
When I got home, something remarkable happened. My daughter was absolutely fine. She was happy to see me. She was exactly the same as when I left. But it was me who was different. I was more present with her. I was less stressed as a mom. I laughed more with her. I had filled my spirit and as a result I could more naturally share that joyous spirit with her. I mentally stood in my tracks again as my daughter and I giggled while I tickled and played with her. I was acutely aware that I was a much more present mother after following my passions and doing what I needed to do to fill my soul. It had been so long since I had done that, but I knew it had to become part of my everyday life.
It wasn't possible for me to live on Waikiki beach everyday, but it was possible for me to make following my passions and interests part of my daily life. I took a pen and paper and wrote down what makes me come alive and interests me. And now, as this coming school year is about to unfold, I'm going to make sure those passions are part of my life because I will be a better mom, if she can see someone who, in the words of Cheryl Strayed, "Pursues her passions like a mother fucker!"
There is a lot of guilt that seems to come hand in hand with motherhood, but it doesn't serve us. The best gift we can give our children is to figure out what we are passionate about, write it down, then figure out a way to make those passions part of our lives, and let our children see what it looks like to truly be alive.
When we are regularly participating in activities that we are passionate about, we will be more present and engaging in the day to day life of motherhood, and that infectious energy translates directly into our children's souls.
Relephant:
Author: Wendy Haley
Editor: Renée Picard
Photo: via the author