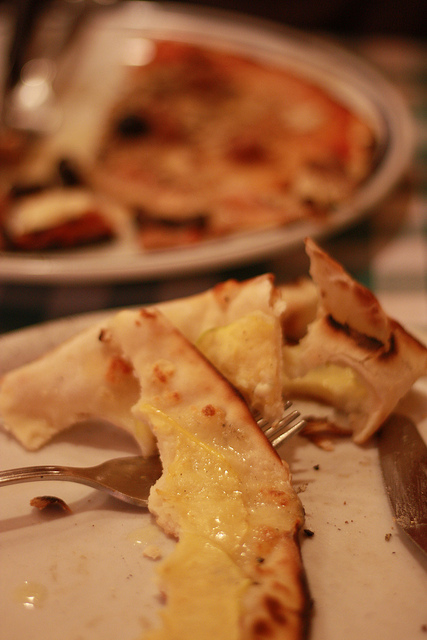 When I was growing up back in the 1950's my Italian born mother and Italian American born father used to have pizza parties.
They would invite what seemed to be dozens of people, play The De Mari Sisters on the record player, drink lots of wine, and eat fresh from the oven pizza that my father spent all day preparing.
Pizza with sausage on it.  Pizza with pepperoni on it and my favorite, pizza with anchovies on it.  All cut into small pieces not with a fancy pizza cutting wheel, or even with a knife, but with a pair of my mother's sewing scissors. The pizza would be served fresh and hot from the oven all night long.
The morning after the party, of course there would be leftover pizza for breakfast—which my sister, my baby brother and I would find all around the house.  Some would be carefully wrapped in waxed paper in the fridge, some on top of the stove, still uncut in their pizza pans, some with bites taken out of them on plates and end tables, and crusts galore all around the house.
The most notable thing about the pizza of my past was that, compared to today's pizza, it had very little to no mozzarella on it.  In fact, it was almost cheese-less.  My father, the main pizza maker, would dust fresh grated parmigiano over the tomato sauce and the meat and then, just a few minutes before it was entirely baked, sprinkle a handful of grated mozzarella over the top to finish it off.
His pizza didn't have the thick-entirely-obscuring-all-other-flavors layer of cheese on top of it.
Cheese was used lightly to bind all the flavors together and was definitely not the star of the show.
Today, I am a plant based person who doesn't eat cheese or meat at all on pizza yet, the method I have developed for baking homemade pizza gives me all the nuances, flavors, and spiciness of the homemade pizzas that my parents used to make.
And better yet, it doesn't take all day.
In fact, in less time than you can say "Dominoes" you can have fresh baked real Italian pizza right in your own kitchen.
How to Make Real Homemade Vegan Pizza:
Pre-heat the oven to 400 degrees.
The Crust:  As an alternative to commercially grown white flour I now use spelt flour grown and produced by Berlin Natural Bakery for all my baking.  In fact, I use their pre-made, 12 inch pizza crusts which come half baked via UPS.  Because I make these pizzas so often, I order 6 crusts and store them in the freezer when they arrive. They do not have to be defrosted before using them, which is a great convenience.
I find this pizza crust to bake up crisp and non-soggy and to be free of all of the toxins that are present in commercially grown flour which prevented me from eating pizza for years.
Full disclosure:  If you like a soft, chewy type pizza crust, this is not the crust for you as it is more like a thick crackery crust.  A great benefit to this crust however is that it can stand up to the amount of toppings that I put on it without caving in or getting soggy.  Also, while the way I make vegan pizza can easily be adapted to any other kind of pizza dough or crust – I can't vouch for how it will turn out as this crust is the only one I have used for this particular method.
Spread a small amount of olive oil onto a large cookie sheet and place the frozen pizza crust on top of it.
The Sauce:  As far as I am concerned it is the sauce that makes a pizza, not the cheese.  The sauce is the conveyor of all of the savory spices one expects when biting into a pizza and can turn what should be a light, flavorful and almost sweet tomato base into a thick, heavy, overdone kind of red sludge.
My parents would make a basic marinara sauce, cooking it in a large pot for several hours on the back of the stove.  While I have followed my parents' ingredients, I have greatly simplified the method they used so that I can have a pizza ready for the oven in about 10 minutes without any loss in flavor.
I use Muir Glen canned organic tomato sauce and, using a pastry brush or rubber spatula, spread a thick coating of sauce directly from the can onto the still frozen pizza crust, being sure to spread it evenly to the edges and to not leave any "white" or thin places.
Directly on top of the sauce I sprinkle 1 scant tablespoon of Brewers' Yeast, 4-6 cloves of chopped fresh garlic, 1 tablespoon each dried basil and dried oregano (note, I use dried as I find they impart the smoky/earthy flavor that I am looking for), crushed red pepper and salt to taste.
The Toppings: I use whatever toppings I have in my refrigerator such as sliced yellow bell peppers, sliced fresh tomatoes, sliced mushrooms, sliced red onions, sliced green or black olives and capers (I always put capers on the pizza to pick up the flavor), and arrange the toppings in an appealing circular array on top of the tomato sauce.  There is no end to the variety of toppings that can be used with creativity carrying the day.
To Bake: It takes 20 minutes to bake the pizza but, after 15 minutes, I take it out and spread handfuls of fresh baby spinach or fresh basil on top, sprinkle the whole thing with a little tiny bit of olive oil and put it back in the oven for 5 more minutes or until the spinach is al dente.  (By the way, if you are using mozzarella, use fresh mozzarella and put it on during the last five minute bake.)
Take it out and let it cool for about 5 minutes and cut it into slices with scissors.  It's way easier than knife.
I find this no cheese or meat vegan pizza to be  easy to cook, satisfying, light and easy to digest and extremely delicious!
As my parents would say, "Mangia!"
Relephant Read:
~
Author: Carmelene Siani
Editor: Renee Jahnke
Images: M Car-Flickr
~