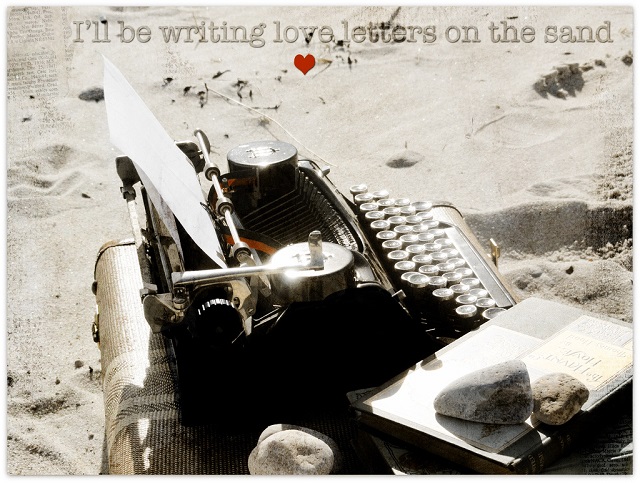 Two poets that leave my heart pounding are the late Pablo Neruda and the contemporary Christopher Poindexter.
I know some about the first and nearly nothing about the second.
Each pierce my soul with their words.
I find myself scribbling down verses of poetry onto torn bits of paper and stuffing them into my partners lunch, his chest of drawers, under the pillow…anywhere that his hands are sure to turn them up.
Words make me cry.
Words make me want to live out loud.
Poetry and sentiments create rivers of wonder within me. I was not always a lover of poems, especially at school where haunting verses were stripped of their mystery under the scrutinizing gaze of my Literature teacher.
I have never been a fan of ripping apart what slipped from someone's heart in order to understand it.
Poetry is not to be understood, it is to be lived, breathed…consumed.
As life brought me face to face with poets past and present, I grew to cherish the precious drops of beauty that fell from a stranger's pen, I learned to feed my spirit with what I could not write myself.
While curating the quotes for this post I found it difficult to choose what to share with you. So much was left behind, but perhaps you will make your own journey to discovering more.
Artists, poets, authors, musicians, creators of every variety, make the world a splendid place to exist, and many times, bearable. They are a gift to humanity.
Pablo Neruda is the pen name of Chilean diplomat/politician/poet Neftali Ricardo Reyes Basoalto. He was born July 12, 1904 and passed September 23, 1973. Mr. Neruda won the Nobel Prize for literature in 1971.
It is said that he became known as a poet at the age of ten. I especially like his words in the book Twenty Love Poems and A Song of Despair.
"You came to my life
with what you were bringing,
made
of light and bread and shadow I expected you,
and Like this I need you,
Like this I love you." ~ Pablo Neruda
"I crave your mouth, your voice, your hair.
Silent and starving, I prowl through the streets.
Bread does not nourish me, dawn disrupts me, all day
I hunt for the liquid measure of your steps.
I hunger for your sleek laugh,
your hands the color of a savage harvest,
hunger for the pale stones of your fingernails,
I want to eat your skin like a whole almond.
I want to eat the sunbeam flaring in your lovely body,
the sovereign nose of your arrogant face,
I want to eat the fleeting shade of your lashes,
and I pace around hungry, sniffing the twilight,
hunting for you, for your hot heart,
Like a puma in the barrens of Quitratue." ~ Pablo Neruda
"I love you as certain dark things are to be loved,
in secret, between the shadow and the soul." ~ Pablo Neruda,
"I do not love you except because I love you;
I go from loving to not loving you,
From waiting to not waiting for you
My heart moves from cold to fire.
I love you only because it's you the one I love;
I hate you deeply, and hating you
Bend to you, and the measure of my changing love for you
Is that I do not see you but love you blindly." ~ Pablo Neruda
"At night I dream that you and I are two plants
that grew together, roots entwined,
and that you know the earth and the rain like my mouth,
since we are made of earth and rain." ~ Pablo Neruda
Christopher Poindexter is a mysterious young man whose words often found me while browsing the internet looking for wisdom to share on my author's page. I found myself drawn to his profound understanding of life and eventually began poking around seeking anything that would tell me who this poet was.
Christopher has recently put out a book of poems called Naked Human published by Underwater Mountains Publishing, available on Amazon or on his website. This is all I know, truly.
As much as I wish to ring him up and beg for an interview, I somehow am reluctant to break into his privacy when he seems to be a man of solitude…or so I like to think, as I do not see him splashing himself all over the place. Therefore, I will quote him unabashedly, and hope to expose more of the world to his poetry and prose.
"I loved her not for the way she danced with my angels, but for the way the sound of her name could silence my demons."  ~ C. Poindexter

"Your darkness is a symphony
Played in explosions of silence to a crowd that has fallen in love with noise
If they refuse to applaud you
It isn't because your music isn't beautiful
It is because they have no idea how to love what they don't understand
And that, my darling, is the most horrific flaw in this mixed up world."  ~ C. Poindexter

"It was rather beautiful: the way he put her insecurities to sleep. The way he dove into her eyes and starved all the fears and tasted all the dreams she kept coiled beneath her bones."  ~ C. Poindexter

"My hunger for writing will die when I have bled for the humans that never found the strength to find the words themselves."  ~ C. Poindexter

"Not only did
I love her,
but I could tell
the universe loved
her, too.
More than others.
She was different.
After all; I would
be a fool not to
notice the way the
sunshine played with
her hair."  ~ C. Poindexter

"Never ever go by the book. They will want you to, but you musn't. If the lust is too strong, tear one page from a hundred books and make your own way. There is no formula for life, no equation on how to be a human being." ~ C. Poindexter

"I watched a girl in a sundress kiss another girl on a park bench, and just as the sunlight spilled perfectly onto both of their hair, I thought to myself: 'How bravely beautiful it is, that sometimes, the sea wants the city, even when it has been told its entire life it was meant for the shore." ~ C. Poindexter

"She buried her ears into the calm of his heartbeat, and in a matter of seconds; fell terribly in love with the way her loneliness fell softly and suddenly, asleep, in his chest." ~ C. Poindexter

I hope you have enjoyed this short trip with me to the magical world of Neruda and Poindexter.
Source: Goodreads 
Poindexter quotes and information
Author: Monika Carless 
Editor: Renée PIcard
Image: Karen Cox at Flickr