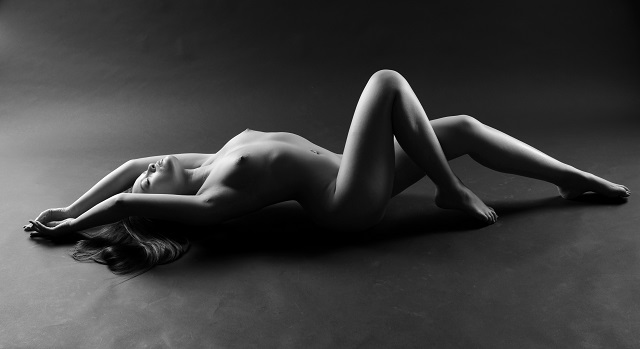 One of my favorite things to do when visiting a new town is lingering in an independent book store.
There is a spectacular one in Tofino, British Columbia. Like many other small book stores, it has a unique selection of offerings—ones that I would never find in a large box store.
Unsurprisingly, my suitcase is always overweight at the airport check-in. Oh well. C'est la vie. I gladly pay extra for the sight of my travel treasures on the book shelf.
This time, I came home with a book called Wisewoman's Cookery: Food, Sex, Magic & Merriment. It's a guide to aphrodisiac cooking, sensual simples and folklore erotica.
Now how could an erotica writing, food loving, solitary witch resist that?
There are many wonderful recipes in this book written by two women who have travelled the globe and scoured some of the oldest libraries to bring us these elixirs, lotions and seductive magic.
I couldn't resist contacting the authors, Shannon Loeber and Mary Elsie Edwards. Their mission began with wanting to bring natural, organic sex play accoutrements to market, and in the end produced this truly sensual book.
You'll have to read it for yourself if sensual love arts appeal to you—I could hardly do it justice trying to explain it—but I am going to share the recipe for Sacred Body Ink here with their permission.
Painting a lover can be an incredibly erotic pastime. From the gentle strokes of a brush on one's skin to the intimacy experienced while freely giving one's body over to be so decorated, body painting is a delicious way to start out on a seduction ritual.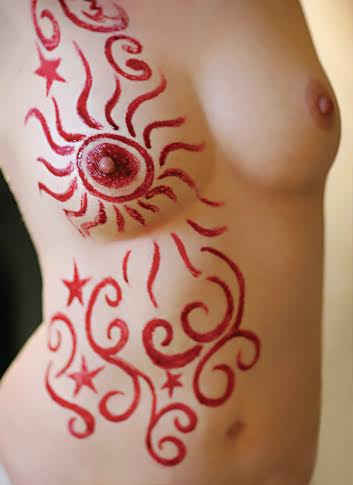 What is Sacred Ink Craft?
Practiced within the ancient cultures of Persia, India, Turkey and African, Celtic and Aboriginal tribes, body painting is an offering and a primal art meant to awaken the magic within.
Mystical symbols create pathways to the divine, and open the body to the life wave of the planet, bringing vision and awareness for both empowering the chakras and for protection.
Body art was practiced at weddings, burials, rites of passage and preparation for warfare. The ink imbues the body with the hypnotic effect of specific colors, painted on the head, breast, belly and sex.
What to paint?
Anticipating the act of surrendering yourself to your lover's artistic hand, prepare to:
Have your breasts anointed for a sexual offering.
Feel the strokes of a brush on your feet and allow for the possibility of toes being drawn into your lovers' mouth.
Paint the hands of both and savor the look of painted hands on the naked body.
Paint your lover with ancient symbols and lure him or her to the wild abandonment of surrendering to ancient symbols.
You may feel yourself opening in new ways to your lover, as your inner sanctum is awakened to the magic of ritual and even a longing for an ancient period of time. Take as much time as you need; savor the moments.
I assure you that this will not be an ordinary night of love.
The Recipe:
"We are going to use the vibrant red juice of the beet. When cutting one open, notice the cycle of life cradled in the flesh. A spiral of connecting circles in the never ending wheel of life, this is sex magic at its best.
Call upon King Arthur and his half-sister Morgan le Fay, for a consecration of sexual spirituality to the God and Goddess if in the mood for a sacred act.
Beets, an aphrodisiac root, contain a mineral called Boron, which boosts sexual function and an amino acid Betaine, which combats depression.
1. Clean and cut five beets (leave the skin on). Using a juicer, make 1 cup of beet juice. Strain it through a fine cheesecloth.
2. Pour the beet juice in a pot and add 1/3 cup of white vinegar. Simmer for five minutes.
3. Add dye thickener—¾ teaspoon of sodium alginate.
4. Simmer for ten more minutes, stirring constantly.
5. Let cool to allow the ink to set.
6. Enjoy—it's edible. Choose brushes with a pleasant feel to the skin."
~
Source: Wisewoman's Cookery.
~
Author: Monika Carless
Editor: Toby Israel
Photos: Wiki Commons // Author's Own