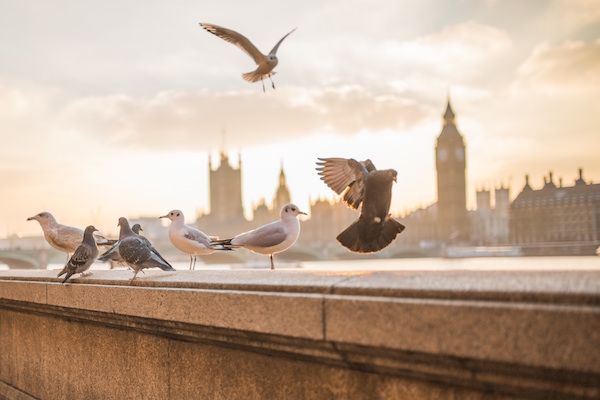 I was rushing, sprinting, trying to catch up to that other, better version of myself—the one that is 50 feet ahead of me and never late to dinner parties.
I was lost in replaying the memories of a difficult divorce, contemplating career changes, and the nagging feeling that I was keeping my girlfriends waiting.
Lost in my thoughts, I was ignoring my surroundings; the big oak trees with the approaching summer sunset were lost in the haze.
Fortunately, my inner guidance, gut, intuition—whatever you want to call that place from within that shepherds us onward—chimed in and told me to take a freakin' breather and embrace this preciously hot evening.
As I glanced up to soak in the warm evening, from the West, a falcon speared through the sky and swooped onto a light pole.
In all my years of living in dense urban havens, I've never seen a falcon in the flesh.
This bird perched like it owned the skyline and surveyed the land. This falcon had chutzpah and all that was missing was its crown. I decided to call him Freddy.
I surrendered to the moment and took in the scene that Freddy was governing. As I became ever more rooted into the present, I felt myself tiptoeing out of my future focused destination and into my body and the present.
Simply appreciating the moment instantly calmed me. My frustration with the clock, with traffic and with myself eased and lightened. A passerby walking her shih tzu mix smiled at me as she glanced up and mentioned that the falcon was becoming a regular visitor. We commented briefly on Freddy's size and on the pigeon perched easily within his reach.
My enthusiasm for spotting Freddy was a welcome discussion piece at dinner that evening. We checked the usual topics off the list—guys, work, family—and added googling falcons to the mix.
Paying attention to my environment for a couple of minutes shifted the energy I brought to the table from exhaustion to excitement. Before my head hit the pillow that night, I reflected on how Freddy resonated with me. Falcons are decisive and see the big picture in life. As a recovering people pleaser, I wanted to continue etching my way toward trusting myself more, especially when faced with the opposing opinions of well-intentioned folk. It dawned on me that falcons never feel crappy for failing to roar like a lion—they proudly own their falconness.
Observing my surroundings allowed me to slow down, become present, and in turn feel revitalized and get inspired. Seeing a falcon mirrored my desire to take a broader more courageous stance in my own life. Of course I still worry over the big and small (will I miss the bus, when will I be in another relationship, and so on), but I'm always glad when I drop into my space. So cheers to finding Freddy and to finding ourselves in the present.
~
Relephant:
~
Author: Sonya Tomas
Editor: Caitlin Oriel
Image: Foundry/526 Images/Pixabay and Luis Llerena/Unsplash