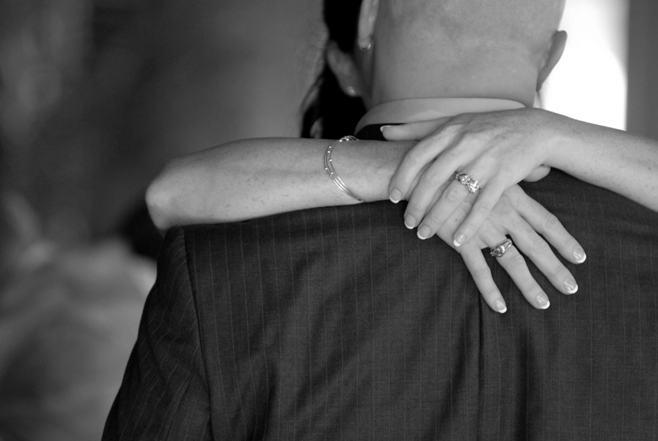 My husband's birthday was fast approaching.
I wanted to do something special for this milestone occasion and asked if there was anything in particular he desired.
"A threesome would be fun." he said.
My heart sank to the pit of my stomach. Although we talked playfully about it in the past, which had served as an aphrodisiac to our love-making, I didn't think he was seriously considering it. Now I knew the truth—after only four years of marriage, he wanted to sleep with other women.
That is how I looked at it anyway. I told myself he wasn't attracted to me and the sex wasn't satisfying anymore.
Boy did I have that wrong!
A little about my husband:
He is a hard bodied, sexy man and a personal trainer, who is around other women all day long. During the course of a training session, he may have occasion to touch the small of woman's back in order to show them the proper form of an exercise. And then there's the mini-massage he gives his clients at the end of their workout—a nice bonus for those hard-worked muscles!
These "intimate" moments didn't go unnoticed by me.
A little about me:
Although I'm an attractive and hard bodied woman myself, I have been known to be extremely jealous and insecure, and when I have witnessed my husband looking at or touching another woman, it has felt like imminent death!
Needless to say, this invitation to invite another woman into our bed was not only out of my comfort zone, but was completely and utterly unfathomable. Or so I thought.
Another thing to know about my husband is he is quite persuasive.
He convincingly stated that we could invite a girl over for dinner with no expectations and whatever happens, happens. No big deal, right? Ha!
"What girl, I asked?"
"Where are you going to find this girl?"
My husband was quick to respond, "No worries, baby. I'll take care of everything."
Trying to warm up to the idea, I established some criteria:
"She can't be prettier than me, younger than me or thinner than me," I insisted. So, before I could protest any further, he quickly made plans to have someone over to the house on the evening of his birthday and I was scared shitless. But, if I'm being honest, I also felt a little juiced.
On the day of our planned encounter, I made my way through a long, busy day at work, trying to immerse myself in paperwork and meetings, all the while my stomach filled with amazon-sized butterflies and my mind filled with the looming question—what had I gotten myself into?
That evening, we showered and primped and went over the ground rules, the most important of which is that I got to call the shots—things wouldn't go any further than I wanted. Before I had a chance to reconsider, there was a knock at the door and my heart raced. After letting Miss X into our home, I took a good look at her and she looked a little familiar to me. Then the brief welcome remarks exchanged between Miss X and my husband confirmed it—she was someone my husband knew from the gym.
"Oh shit!", I thought.
I forgot to include another all important criteria—the woman can't be someone my husband knows and will see time and again! Sadly, it was too late, the horses were out of the gate.
She was a gracious guest, bringing a bottle of wine and Adele C.D. I discovered the wine was for her, as she was nervous too. To break the ice, we put on the C.D. and, upon my lead, Miss X and I began to dance on the coffee table. Dancing turned into dirty-dancing—again, me leading the way.
Then, an "I" that I didn't recognize started taking off my clothes. Miss X fell right in line and took hers off as well. I started kissing and touching her, as my husband watched excitedly like a kid in a mega-sized candy store. With the inside of my thighs pulsating and wet, I pulled my husband into the mesh of hot, naked flesh, to be kissed and stroked by his fantasy.
My husband was shocked and amazed. He thought we might have a pleasant dinner with a little innuendo, but definitely hadn't expected me, with all of my initial protest, to take charge of this sexy scene.
After Miss X departed our company, and the sexual energy was still running hot, we made love again before settling in for a peaceful sleep. Despite the fact that my husband just had sex with another woman, all of my deep rooted jealously melted away and, in that moment, I felt more secure in my marriage than ever.
While on this self-esteem high, I had a profound realization that what my husband and I shared was much more than sex. One of the biggest turn-ons of our wild night was that we were sharing it together, as partners.
My previous notion that my husband having sex with only me made me special, was put to the test and I learned that I was already special just for being myself, despite my self-judgments. As I stepped off the edge to the unknown, my fears were alleviated and replaced with a vast expansion of energy, trust and love.
It's been four years since our experience and our relationship is sweeter than ever.
It wasn't the threesome that was solely responsible, but it offered a significant contribution to the deepness of our connection. It redefined our way of being in relationship that transcended the cultural identify of what love is, and opened more possibilities to include different aspects of each other.
We have not had a similar encounter since, but you never know what the future holds—I can be quite persuasive too!
~
Relephnant read:
Bonus:

~
Author: Harper Bennett
Editor: Ashleigh Hitchcock
Photo: courtesy of the author, flickr/Kedai Lelaki