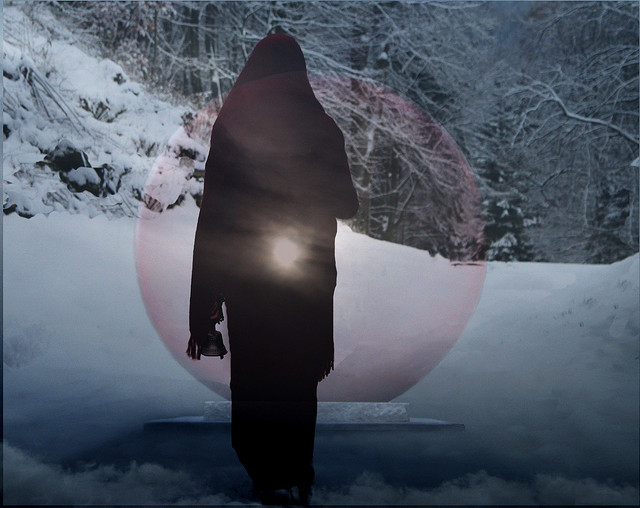 Author's note: Poetry offers a means to meaning. It is a vessel by which the subconscious mind can be explored through subjective interpretation and critical thinking. The purpose of my writing is to encourage these very skills. You will find no objective truths here, only possibilities. It is my greatest aspiration, as a writer, that you might be able to relate to my poetry and, therein, find inspiration and insight.
What sad indifference it is that has brought me here in the final moment.
What feigned providence it is that I should be the author at the end of the world.
Though it was not of my own design, I saw it all unfurled.
Witness, was I, to the preachings of the evangelist cast against a backdrop of pale moonbeams, trickling over winter's bitter issue.
What flames sweated my brow at the great council fire as I danced around it like a beast possessed in wild admiration.
All of these memories to be lost without further narration.
Was it the heels that treaded the earth or the fires that lit the skies? Was it the emptiness of men's souls as they filled their coffers with death and whys?
Prophets rose and fell while we no longer stopped or cared; gentle babes lay in the streets while we no longer stopped and stared.
We had tread great waters only to be washed back ashore; though where we landed, none can tell anymore.
It was on beaches and isles that we fell from grace; it was here in these places that we lost all face.
Did Tannhäuser level his gate to let the flood sweep in?
Or might it all have lasted had we not been let in?
And thus with all great endings come beginnings anew.
Without men, perhaps, the world will not remain askew.
Grasses will once again grow and the trees will soar high.
Winds will blow and seeds spread by and by.
Here do I stand, the author at the end of the world.
The beauty in this design shall not be lost in the new world.
Author: Phillip Brum
Editor: Renée Picard
Image: Flickr/Hartwig HKD