"You don't love the person you can live with—you love the person you cannot live without." ~Unknown
Baby, love me like a wrecking ball.
You've been gone too long—and we've spent one too many nights alone.
Crash through my door like you did into my heart—and promise you'll take no prisoners.
Love me hard.
Love me with everything you have in you.
Love me until you think you can't take it one more minute—until your knees give out and your heart feels like it's gonna explode.
And then baby—love me some more.
Don't hesitate—come and back me up against the wall.
Press your fingers into my ribs until you feel like you've melted against me.
Make me look into your eyes and let what you see there bring you to your knees—because baby, I'll be on mine too.
Let your breath singe my neck and mine intoxicate you with the promise of what will be.
Take your hands and hold onto my hips as tightly as I hold onto your heart.
Press your mouth against mine until we burn and we come up gasping for air.
Grab my legs and wrap me around you carrying us into a fantasy that continually lingers in its reality.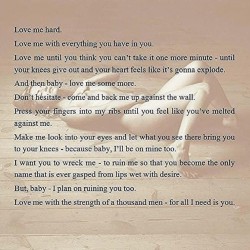 Baby, love me like a wrecking ball.
I want you to wreck me—to ruin me so that you become the only name that is ever gasped from lips wet with desire.
But, baby—I plan on ruining you too.
I want my tongue to burn a trail from your neck down to your stomach, I want my fingertips to leave ashes in their wake as they dance across your skin making you lose your mind and forget the world around us.
Let the house burn and quake with the desire that has been building like pressure beneath the earth.
Love me with the strength of a thousand men— for all I need is you.
And while we continually become drunk off this cup of passion, overflowing in its deliciousness, it never seems to empty.
So crash through everything I have built up and all of your what-ifs and good intentions and just love me like a wrecking ball.
There is always tomorrow to worry about doing it right, but right now I am here sitting alone.
The stars are my only company, and the moon the only witness to my bare skin that is waiting to be touched—by you.
Because baby, you really do turn me on.
My grandfather's worn old Woolrich shirt unbuttoned falling off my shoulder exposing summer tan lines—my stomach quivering in anticipating of your touch and my body already tingling at the thought of what you would do to me if you were here.
Because honestly, I don't know if I care about tomorrow, or making the right choice if that means that you aren't here.
So baby won't you come on over?
Won't you forget about everything except the fire that burns between us?
Because the truth of it is—there isn't anyone else who's made me feel like this—ever.
My desire for you says more than all the other answers you have stumbled upon.
Because baby, I think you've been asking all the wrong questions.
Maybe this time we should just ask—why not?
Why not jump in head first—swan dive style?
Why not say the hell with it all, and just see what happens.
Why not just love like a wrecking ball?
Relephant read:
~
Author: Kate Rose
Editor: Ashleigh Hitchcock
Photo: deviantart