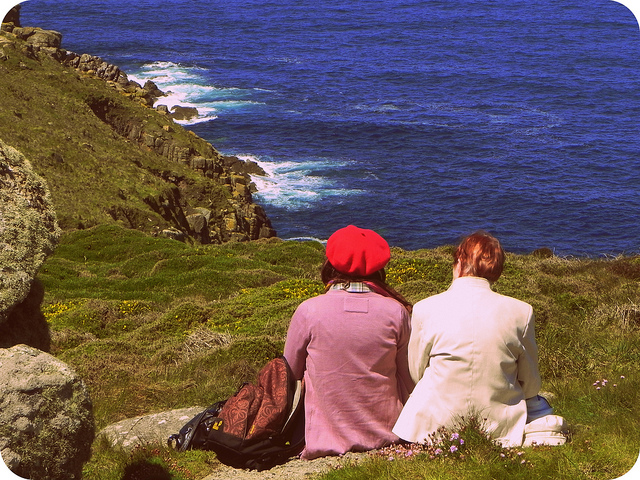 The perception of being twenty-something today is somewhat paradoxical.
Older generations view us as entitled and flippant—not the loveliest of combinations. Meanwhile my peers rebel against their fading constructs, offering up excuses for excessive partying and delay in seeking out life-changing opportunities because it's "not time" to get real—"yet."
It's the pressure of expectation we want to escape from, but it never goes away.
On our travels cross-country, and across the Atlantic and Pacific too, us twenty-somethings navigate with newly-received credit cards, look for temporary employment, and search for some cinematic experience of enlightenment. This wanderlust, as it is so glamorously named, becomes a gateway concept that leads to justifying a lack of responsibly.
We enjoy our exploration, but something feels a little empty.
It's the seriousness of early adulthood peeking through from time to time—the small thought at the back of our heads that asks, when is "yet?"
What I find most challenging about being twenty-something is the acceptance of escapism as a formidable way to enter into adulthood. How the credited need for escapism can linger far past a desirable stint of trial and error in early adulthood, and follow as a tool for coping throughout life, if one isn't careful.
What does it mean to grow up, then, if adults are trained to escape their troubles and the hard realities of life? What does it say for our generation if we decide to hide in the woods instead of help change the environment we live in when we are unsatisfied?
This poem is a reflection of my understanding of escaping at my age, and the realization that a life of running from my personal baggage has only enabled that baggage to influence my life. Suppression is not victorious, and suppression is not wellness.
To me, being twenty something is the recognition of obstacles one has had overcome, what one still needs to surpass such obstacles, and the need to press against the toxicity of developing deflecting tendencies.
Far from whimsical, I want to let realism empower me in my twenties.
I want to be tuned into myself and the world, but in order to do that I need to see myself clearly—to hug myself for the things I cannot change and for the optimism that I will challenge every ill thought with perseverance.
Understanding before I speak. Learning the power in "I," so I can bracket the power of "we." Finding my trials and tribulations to be beautiful because I am a product of them. Living for my own expectations and goals of being in control.
This is my unapologetic and owning-up version of twenty-something:
~
My Inexplicable Age at Twenty-Four
Episodes internal forever
Noise; a lot to unloop
Wind-whipped ears while the sun meets the crest of the earth
Fountains with trapped birds and beat men gaze with carnality
Slashing Thames
9,000 feet high and climbing to the basin still sapped in snow
Ceramic, compostable, giving with intention
Whispering, "Please just go away."
I let you take me down to the golf course on your back
I soothed your Frozen Planet
I let you
For you, I let you.
For all of you I will
Risk is addiction
Space away from everything that sees me
Dreary moments with the Wall
Spinning with my secret
My secret that has shaped me.
~
Author: Jenna Blaszczykiewicz
Editor: Toby Israel
Photo: AisforAmy91/Flickr
~