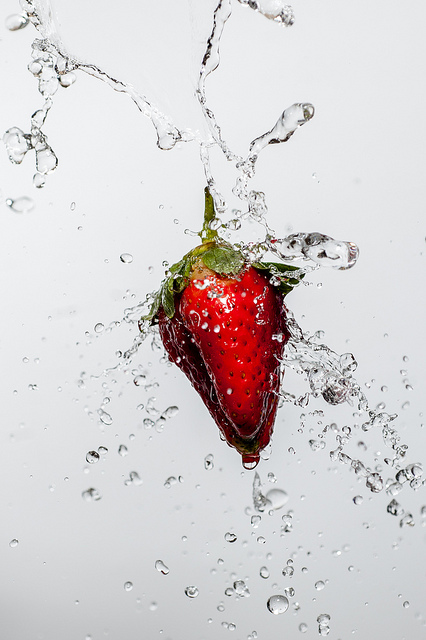 Water is essential for every living being. Recently, with all the hype going around, I decided to try out one of the popular infused waters. The taste was pleasing, I must say, but I had a few questions that bothered me.
What else is added to it? Which new compound have they developed to replace sugar? What other preservatives are added?
This is when I decided to make one on my own. I won't shy away from saying that it's not worth purchasing these heavily priced bottles when you can simply prepare one at home.
There are a few things you should keep in mind though, before you start preparing the best infusions possible.
My nutritionist advised me to increase my water intake, but drinking the same plain water was making the effort tedious. Am I seriously done with plain water? How about adding some of my favorite flavors to regular drinking water? Sounded like a big relief from my redundant regimen.
Fruit- and vegetable-infused water is a huge craze in today's diet and nutrition discipline.
If you visit supermarkets, you will see the attractively colored bottles with fruits and veggies infused in plain water. What gives them the colorful and saliva-dripping aspect is the beautiful (or rather nutritional) mix of fresh natural foods with natural colors.
While I was curious to drop by the nearest food mall, an old comrade of mine advised me to be wise when choosing an infused drink.
Some brands just want to cash in on the latest "infused water" hype, offering consumers incorrect nutritional information on infused water bottles. This in turn raises the doubt: Do flavored drinks really have any more value than plain water?
For instance, a famous brand in United Kingdom charged $6 for 1 bottle of water infused with 3 stalks of asparagus, which most diet experts called senseless because of their opinion that asparagus loses its nutritional value when added to water. Nonetheless, the store management was genuine in accepting their mistake.
What do nutritionists have to say?
On technical grounds, here's how nutritionists weigh in:
First and foremost, are you drinking your infused water right?
Vegetables like asparagus, which lose nutritional value upon infusion, can be avoided. Instead, we can simply eat them without adding to water in order to take full advantage of their nutritional content.
Not all fruits and vegetables provide the same degree of nutrition. Some could be better, while others could fall short of adding value to your flavored drink.
Drinks flavored by using any other means besides fresh fruits and vegetables are not worth it.
Citrus fruits and strawberries should be top preferences when it comes to infusing water. They release more vitamins in the water when squeezed.
Infusion should be done with "real" fruits and vegetables.
What are the health benefits of infused water?
Before jumping into the ideal foods for infusing water, I would like to explain how infused water can be beneficial to your health:
You can limit the amount of fizzy or sugar-filled beverages you consume.
Great for those of us who get bored of plain water, which sounds spoiled to say, but does happen if you are committed to drinking a lot of water every day
Not drinking enough water can cause problems that you would not be aware of.
Infused waters are superior to "vitamin waters" that are made with artificial coloring and chemical vitamins.
Superior to diet sodas that are loaded with caramel coloring and aspartame.
The two best gifts you can give your body: adequate water intake and a daily vitamin load from natural, fresh plant sources.
What are the best ingredients to go for?
Hydration is necessary for your body, but when done with some flavor, it's a different story altogether. Here is a list of some great additions for your infused water:
Carrot (vitamin C, E & K, potassium)
Cucumber (anti-cancer components, B vitamins)
Strawberries (antioxidants, vitamin C)
Grapefruit (vitamin A & C, phytonutrients)
Raspberries (multivitamins, fiber)
Grapes (flavonoids, resveratrol)
Orange (vitamin C)
Lime (antioxidants)
Lemon (vitamin C, pectin fiber)
Edible flowers—rose, lavender, citrus blossoms, hibiscus, pansies, violets (or any that are 100 percent pesticide free)
Spices—cinnamon sticks, cardamom pods, fresh ginger, cloves, vanilla bean
Herbs—rosemary, thyme, mint, basil, cilantro, parsley
Cooking for infusion?
We eat vegetables and fruits for nutrients. But, what if these vital components are destroyed while cooking?
This is where cooking techniques come into the picture. If you're a person who cooks, you would know the level of cooking at which the vitamins and other precious nutrients are not destroyed.
Preparing vegetables and fruits for water infusion is similar. While boiling is commonly used as a means of cooking, experts suggest dry cooking methods (including grilling and roasting) to retain maximum nutritional benefits. Vitamin C is one of the most unstable nutrients, and tends to leach out into the cooking water if the food is over-boiled. On the other hand, vitamins A, E and K have been found to be among the stable ones.
Nevertheless, if you still prefer boiling, make a point to not discard the cooking water, but rather use it in soups or sauces so that you don't miss out on the nutritional benefits.
Some perfect examples of infused water?
A lemon infused water is the easiest and most refreshing to prepare. Lemons are a natural slimming aid and help in cleansing the liver. They release their flavors immediately.
A rosemary orange & lime infused water is simple to make too. Slice two limes, one orange, and a spring of rosemary and add to Aqua or Citrus Zinger. Top up with water, shake, and leave for an hour. Rosemary contains powerful antioxidants and is believed to improve memory while orange contains natural vitamin C. There are no calories in this drink.
These are just some basic infusion ideas. You can find a plenty of interesting recipes on various blogs.
Here are some which I fancied to try myself:
Blackberry Sage Flavored Water
Green Apple Raspberry Rosemary
Cantaloupe, Honey & Mint Agua Fresca
Champagne Mango-Lime Agua Fresca
Watermelon Coconut Agua Fresca
With plenty of recipes online, drinking water has become way more fun.
Now that I know my water drinking regimen can never be boring again, I recommend you try preparing your own infused drink with the help of these guidelines. Cheers!
~
Further Reading:
Are you drinking your water right?
Health benefits of raspberries.
Health benefits of lime juice.
~
Relephant Read:
~
Author: Dr. Victor Marchione
Editor: Toby Israel
Photo: Flavio~/Flickr
~