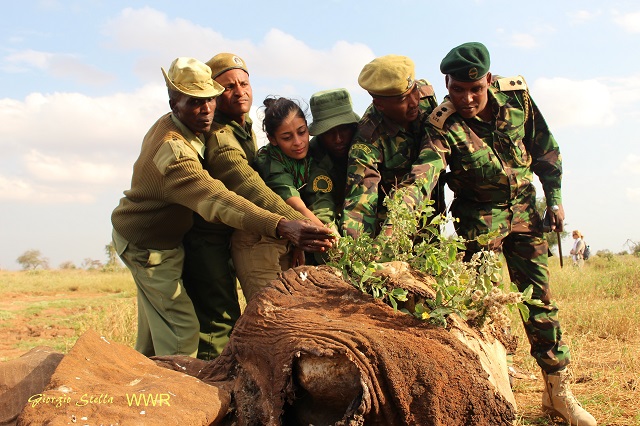 It is August 3rd 2015, late afternoon. Heartbroken, some of us can't stop crying.
For most of us, it's our first time seeing a dead elephant.
He was a gentle giant, aged about 45 years old—shot by a poisoned arrow.
The sands around him tell of a struggle in his last moments—footprints of how he dragged himself, and poachers on his trail waiting for him to fall, so they could take his tusks.
There is elephant dung nearby, some fresh and some dried up, signs of a visiting family mourning the loss of a loved one.
Mike—a ranger for Samburu County, and also a member of the Samburu tribe himself—explains how his tribesmen have lived side by side with these gentle giants for hundreds of years. They believe that elephants are the custodians of earth, and therefore, conservation comes naturally to them.

Mike goes on, telling us that when an elephant comes across the grave of a human, or any dead animal, they pluck a twig with leaves and place it near the grave or body.
They too, pay respects in a beautiful way.

The Samburu have emulated this, and Mike asks us all to pay our respects to this soul the same way.
So we all line up, place a twig, and say a small prayer: May his soul rest in eternal peace, and may none of his kind ever endure this kind of suffering to satisfy an insatiable greed.

On the days that followed—whenever our walkers came across a carcass, we all paid our respects the Elephant-Samburu way.

We are grateful to Mike for teaching us this beautiful tradition. Elephants have taught us so much, and there is so much more to learn.
The image above shows our founder, Raabia, rangers from Lumo Conservancy, Lualenyi Camp, Mike and Chris from Samburu County and also "Save The Elephants," as they pay their respects, the Elephant-Samburu way.
Immense gratitude to all the rangers for keeping the elephants alive, even if for just another day.
We will never stop. We will never give up.
.
Relephant:
.
Author: Fazeela Mubarak
Editor: Yoli Ramazzina
Photo: courtesy of the author.