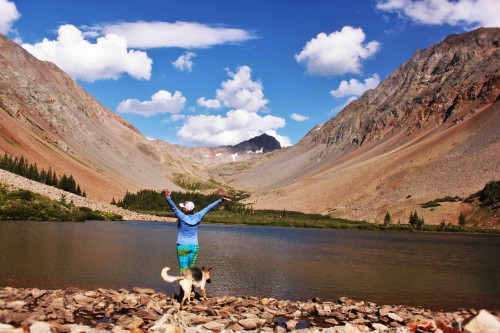 Last month I quit my job. Part of me wishes I had made a big scene, overturned my desk and stormed out.
Instead, I gave my two weeks, smiled through it all, and calmly walked out the door.
It doesn't matter how you do it, quitting is quitting—and damn, it feels good. With my rental lease coming to a close and no new opportunities lined up, the future was more unknown than ever before.
Rather than shutting down in fear, I engaged in that unknown and welcomed it with open arms. As a result, I've been up and down, near and far.
I've hiked mountains right outside my bedroom window, which until I quit my job I never seemed to have time for. I drove seven hours to experience a concert in a world-renowned venue (red-rocks amphitheater). I solo road-tripped two states North venturing through wild Wyoming and Montana. I went mountain biking through the desert in Moab. I reconnected with old friends in the middle of an elk refuge, watching nothing but the stars at night. I stayed up late, talking, connecting and outlasting a breathtaking bonfire late into the dawn.
On a Tuesday, I had nothing to do, so I slept the entire day, lounging with my dog. I broke my pinky toe galloping through the forest. I safely experimented with new libations, in turn igniting my creativity and forging lasting friendships.
I shamelessly took advantage of my month of unemployment. I used every resource I could think of and then some. I borrowed showers from friends, couches from strangers. I partied too hard too long, going on a 10-day bender.
Afterwards, I engaged my emotional baggage. I turned inside and ask myself why.
You've suffered through a job you've disliked for over a year, why quit now? Why do you hold anger towards failed relationships? Why don't you spend more time and energy on the things and people you claim to love?
Although I don't have very many answers, just defining some of these questions is a great starting point. And trust me, the list of whys goes on.
Because of this, there have been more than a few low points. Being unemployed and essentially homeless forced me to look at my life—re-examine from this new, outside angle I now had access to. I destroyed old relationships and questioned new friendships. I intentionally hurt people with an equal force to the pain I felt was valid.
I kicked and screamed and cried and smiled.
Through it all, I am grateful for the financial stability that held me through this month of unemployed exploration. I am grateful for the short-term opportunity to have absolutely no responsibilities. I am grateful for the time and space to look inward, to ask myself these tough questions.
I am grateful for the friends—and for the foes—along the way.
More than anything, I am grateful for the intimate way in which I've learned about myself.
I learned to trust myself. I stopped listening to what everyone else had to say and formed my own opinions.
My name is Kayla Dreisinger, and I am strong, smart and intelligent. Quitting my job does not define me.
The self-assurance I've acquired after making this bold move is invaluable, and by far the most important upside of quitting.
Don't be afraid to quit the job you hate, to leave a place of employment where you are undervalued. It might just surprise you how many upsides come your way when you least expect it.
~
Relephant Read:Â 
~
Author:Â Kay Dreisinger
Assistant Editor: Brook Bentley / Editor: Toby Israel
Photo: Courtesy of Author
~