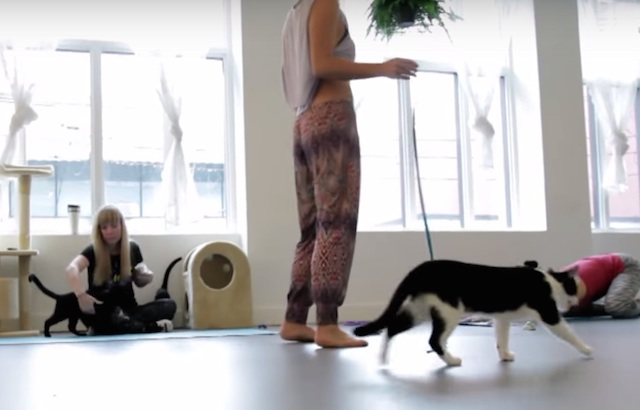 Last week, a Vancouver yoga studio offered a special class where yogis could practice in a room full of cats.
The class was held to benefit rescue cats in need of forever homes and to bring awareness to the plight of homeless felines, and I think it sounds like a fantastic idea! Sometimes in yoga, I find myself getting a little too serious and I think the cats would bring a much needed calming, playful energy.
I can't think of anything better than a warm kitty brushing against my leg while I try to exalt my warrior, and I bet the cats could give us a few tips on our cat stretches and Sphinx poses too. Just think of how relaxing savasana would be with a soft cat purring on your chest as you meditate.
Check out this heartwarming video. If you're a cat lover, it will make your day. I'm hoping it's the start of a new trend and that pretty soon studios across North America will begin offering more Cat Yoga classes!
Here's more from Victoria! 
Author: Victoria Fedden
Editor: Renée Picard
Photo: screenshot