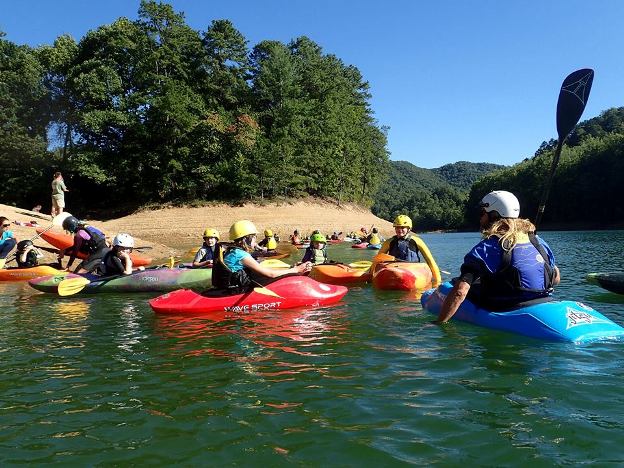 This spring I bailed from what might have been considered a good career track and dove headfirst into a not-so-glamorous-job as a whitewater kayak instructor.
Stacked along with the notorious egos and macho-ness of other kayak instructors, were learning opportunities and experiences which would challenge my own fragile ego, and push me towards finding new ways of interacting with people. The first month was a blur as I struggled to keep up. There was no standard learning protocol, so I had to stalk other instructors and imitate to the best of my ability. Gradually as the season swung into full swing I was able to gain confidence myself.
Life, like kayaking, is dynamic and fluid. Things can change in an instant. In kayaking, it's not so much about what you do "perfectly" that matters, as much as it is about how you recover when you hit a rock you didn't see and spin out at the beginning of a rapid. There are a lot of parallels between kayaking and life, and lessons I learned on the river over the past summer can be applied, almost directly, to my life as well.
1. We never stop learning.
Some of my mentors have been teaching 9-25 years. Most evenings we would gather around with a fermented beverage, and I would learn from them—but they would also learn from me. They were constantly trying to update their technique, and learn new tricks to help students achieve the "aha" moment. They realized that some of the old tips were outdated and irrelevant. This humility and willingness to change showed in their daily lives as well. As a group, we were always trying to find better ways of eating or discover new yoga styles that challenged us.
2. Remain humble and relatable.
No one wants to learn basic kayaking strokes from a dirt bag that is boasting about running a 30-foot drop. I found people more apt to listen when I talked about learning how to kayak myself, and how much I struggled. The same is true in real life. People are more likely to be drawn to you if you are approachable.
3. Encourage people to make decisions for themselves and empower them.
This is the most important thing I learned. I thought I would be guiding my guests down every rapid, holding their hands at the bottom and telling them every detail about the next section. But, as my mentor explained to me, the goal is to have them make decisions for themselves—not follow the pack. In life, we need to do this as well. We need to learn how to use all the information available to make the most well informed decision possible, instead of merely following the path of everyone else.
As the months passed, I developed not just tan and toned arms, but also a confidence I've never had before in my life. As a female, there is something empowering about lifting boats over your head to stack on top of cars. Sharing my love for kayaking with other people—and watching it transform their lives, much like it did mine eight years ago—was also one of the most empowering things I have ever done.
The fear and doubt, from when I first switched job fields so rapidly, lingered into the middle of the summer. Then it was finally suffocated by my newly found sense of self. As I grew in my new role—empowering others to change their lives—my life also developed an element of confidence I had never before known. It wasn't so much the power-trip of being a teacher, as it was simply realizing that I'll never know it all—and that's okay.
Relephant:
.
Author: Annabell Plush
Editor: Yoli Ramazzina
Photo: Author's own.