Sweet update! "'Selfie' sorority girls refuse free tickets to future baseball games offered by the Diamondbacks and Fox Sports. Instead, they ask that the tickets be given to families at A New Leaf, an organization that helps victims of domestic violence."


"Alpha Chi Omega at Arizona State University would like to thank the Arizona Diamondbacks and Fox Sports for reaching out to the chapter after last night's game and subsequent media frenzy. We appreciate their generous offer of tickets to tonight's game. However, instead of chapter members attending the game, we have asked the Diamondbacks and Fox Sports to provide tickets to a future game for families at A New Leaf, a local non-profit that helps support victims of domestic violence. Today, October 1, marks the beginning of Domestic Violence Awareness Month. If everyone who viewed this statement took the time to make a donation in recognition of domestic violence awareness, which is Alpha Chi Omega's national philanthropy, we would be so grateful! We are happy to have the opportunity to shed some positive light on such a sensitive subject. All proceeds will go directly to A New Leaf to help struggling Arizona families get back on their feet by providing housing, food, childcare and more. You can donate using the link below. We appreciate your support!"
As someone who has just arrived high up in the Rocky Mountains—surrounded by 14000 foot peaks, golden aspen leaves and elk…and instead blogging this…I can't fail to see the irony. So…let's enjoy this…and then remember to get off our phones and actually enjoy our next walk, or baseball game. ~ ed.
"Somebody help us!"
"Every girl in the picture is locked into their phone."
"That was the best of 300 photos of myself I've taken today!"
"Here's my first bite of the churro"
"Here's my second bite of the churro"
Click for video: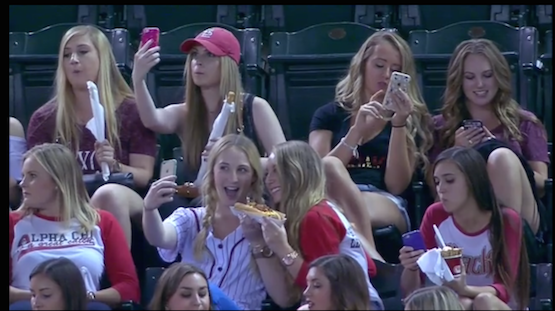 Two great reddit comments:
Girl in bottom right corner at 38 sec in gets nervous everyone else has their phones out and takes hers out as a reaction lmao
Relevant video haha
Bonus: Keep it simple:

Mindful technology use:

A mindful instagram star: